Posted in Engine Programming | Apr 16, 2013 | by Bern­hard Kle­men­jak
Kilian has alre­ady told you about the dif­fe­rent pos­si­bi­li­ties for tel­ling the story of our game. The way of sto­ry­tel­ling is quite signi­fi­cant for the enjoy­ment of game­play – so it's not an easy decision.
Of course, a game is for being played. If half the game would con­sist of just watching an ani­ma­ted cha­rac­ter having adven­tures in the swamp, it would rather be a movie than a game. Nevert­he­l­ess, we find that cut sce­nes are a great oppor­tu­nity to give the player some well-earned rest. And at the same time he may learn some new details about the won­d­rous world around him.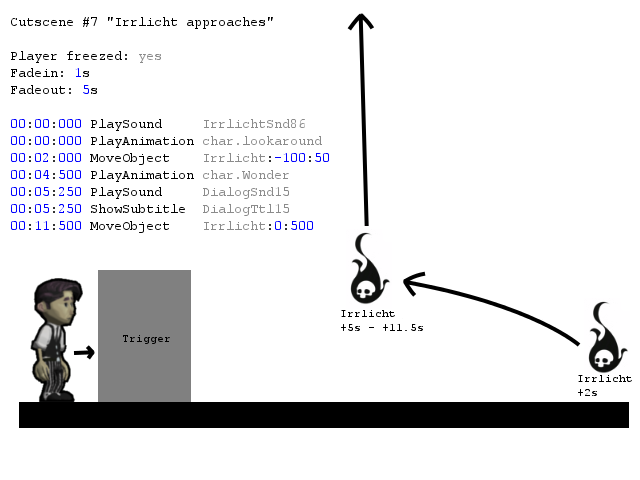 Tel­ling the story with in-game gra­phics (instead of cartoon-like videos) requi­res a well-integrated cut scene-system. The player should gently be brought to a halt, and needs to be cle­arly infor­med, that he may now lean back and enjoy the show. Then game objects, ani­ma­ti­ons, sound and sub­tit­les need to be per­fectly syn­chro­ni­zed, to offer the player an ama­zing spec­ta­cle. But only if he wants this to hap­pen – if he should by any chance alre­ady know this scene, or just want to get on with the game wit­hout delay (which I would never under­stand), then he must be able to quickly skip it. Because seriously, what can be more annoy­ing in a game than cut sce­nes which you don't want to see, but are forced to watch…