We have launched a new version of Monster Puzzle RPG to the Android Platform!
Click here for the new version on Google Play!
This isn't a simple update, though. The game content has more than doubled and many new features have been added.
First, the story. The first version ended with Soleil finishing up the first Phoenix Dungeon, as anyone who played might recall. He met up with Ciel there, an orphan girl who starts to go accompany him in his adventures. Their relationship that was introduced deepens in this update, which has more than doubled the story segments of the previous version. You'll get a deeper insight in to Soleil and Ciel's past and a new character is quickly introduced, who'll become more important as the story continues in future versions.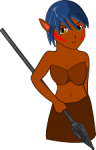 The new character!
Alongside the story segments we have 11 more Story Stages, filled up brand new monsters! This time we have 3 new normal monsters and 2 new bosses. Adding that to the previous version, we have 9 monsters in total, each with their own range scheme. That brings new challenges to the table as you figure out the best strategy at each level!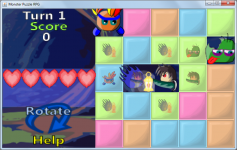 One of the Challenge Stages!
A new challenge mode was also created, for those who want to prove their skills. There are no story segments, but there 30 challenge stages, which should keep players pretty busy, as some of those are pretty challenging. Coupled with the ranking system, it's quite a treat for those who would like to complete the whole thing.
With a total of 51 stages, we all hope you enjoy this new version of Monster Puzzle RPG for Android. If it's better received, we'll port it to the desktop too!