A new tutorial
[Last week], I said ...
Woseseltops wrote:

I wonder if there's anyone who will ever beat Cheesetale.
... and probably on the same day YukiaEpin broke the record, as can be seen [on the new highscore page]. And not only did he break the record, he also shared his knowledge in a crafting tutorial, which can be read [on the forums]. I know [JoeyXtreme's guide] is used by lots of people, so I'm happy there's more material now. If there are people looking for more stuff to write about, I feel the gun customization could use some explanation: all people that responded to [this blogpost in which ask for people who want to write about it] haven't produced anything so far.
A new font
One of the bugs Windows XP users get sometimes is that 'freesansbold.ttf' can not be found. The .ttf extension refers to fonts, so apparently a font is missing. I've never really understood this bug: I don't use 'freesansbold', and why on earth would this only be a problem for Windows XP? And, even weirder, downloading the 'Microsoft Office Compatibility Pack' solved the problem, as discovered by tester Metaloid.
Fortunately, this week a new hint was given. Tester Metaphonia is trying to [get the game working on Linux], and got exactly the same bug. What do Linux and Windows XP have in common, related to fonts? Yes, they don't have Calibri, which is the font the game uses! That's why the Office compatibility pack helped: it installed Calibri. Whenever the game couldn't find Calibri, it tried freesansbold, which Google told me is the standard font of the code library I'm using. And because I hadn't included neither Calibri nor freesansbold in the game files, the game crashed.
I used a Calibri as placeholder font so far because it does look serious and friendly at the same time, exactly what I needed. But now I know it causes problem for some people, this might be a good moment to pick a better font. After trying out quite a lot of fonts, I've chosen for [Museo Sans 500], which looks very similar to Calibri, but with some more 'personality'.
Roads
Last week, I've spent most of my time improving the appearance of roads. I felt the gray strips we saw last time were rather boring, so I wanted to add paves, like in the mockup images. But how do you do that? I can't add paves to every square the roads consists of, because that would be too repetitive: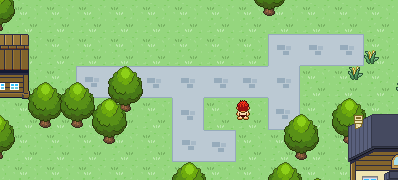 And I can't make it random either, because that can lead to ugly situations (and the fact that it changes every time you start the game would also be weird):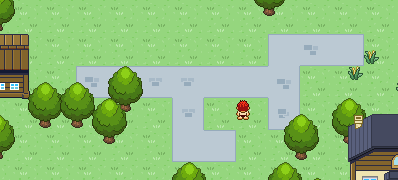 The solution I'll probably go for is to only show paves when the x-coordinate AND the y coordinate are both odd or both even. This results in a checkerboard pattern: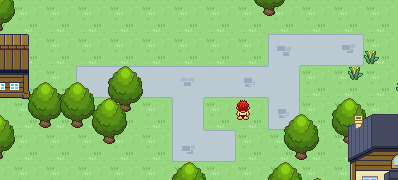 And to add a little bit of a 'random' feel to it, the various sprites of paves I'm drawing on top of the road will not have the paves on the same place, making it even less repetitive. Although it may not be very clear in the situation displayed here, having all the paves on the same place looked weird sometimes (like on town squares).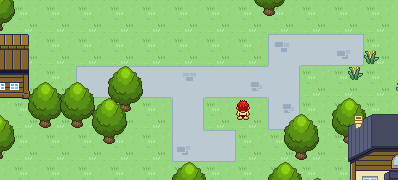 If you want more development, see [twitter] or [facebook]. If you want to be a tester, you can subscribe on [olvand.com].