XOOM
Welcome to the introduction of the newest Development Roadmap. Thank you all for patiently waiting, the moment is finally here. We have several highly requested items going on the list (some of which are already underway), game engine upgrades, brand new vehicle development, player improvements, game world expansions, new building development, new subscription products and whole lot more coming (pictures inside)! The #1 priority at this stage is to increase funding support via subscriptions to make these things possible, and we need you to step up that subscription support. Do so now at www.wwiionline.com/account and let's bring this Roadmap to life!
---
2018 Roadmap Delivery Overview
Here is a review of our specific completions for the year. We completed a large number of assignments and deployed them to the game.
Check the full release history of 2018-19 here which provides all specific release updates now in WWII Online.
2018 Completions
1.36 Hybrid Supply (Delivery April 2019) - Currently in Closed Beta
US Paratroopers Added
Italian Infantryman Added
Game Munition Audits

Kinetic Energy
High Explosive

Plane Variants

Me 109 E-4 Jabo (as pictured from the war on the right)
US P39D-1
French Hurri IIb
FW 190 A3
Hurricane Mk II D
Kittyhawk II F/B
Bell mle 26
Ju87-G2

Tank Variants

Matilda MkII CS
Crusader MkII CS
Churchill MkIII CS
Crusader MkIII CS
Churchill MkVII CS

Mk VI 15mm Besa
Stug H 105
Firefly
Achilles
Pz III L

Smoke rounds for certain tanks
Tank turret and main gun reloading speeds adjusted to historical values
Pending Roll-Over Deliveries (In Progress - Active Development)
64-Bit Applications (In Progress / 75% Completed - Active development continues)

Mac application remains supported and available meanwhile

Integrated Voice Communications (Plan Outlined - Pending Dev)
Allied .30 Caliber LMG (In Progress 90% Completed - Animation stage)
German STG44 (In Progress 80% Completed - Animation stage)
Allied M1A1 Carbine (In Progress 80% Completed - Animation stage)
US Aircraft (Pending new cockpit gages - 90% completed)
Me 109 G-2/R-1 Jabo (95% completed)
2019-20 Roadmap Key Items
We are working to accomplish most if not all of this within 2019 but we do expect to press into 2020 a bit as the number of things being worked on is quite extraordinary thanks to our Cornered Rats and CRS Volunteers.
1.36 HYBRID SUPPY (GARRISONS & BRIGADES)

Currently 1.36 is in Closed Beta and will very quickly be released to the LIVE CAMPAIGN server for a 1.5-2 week Open Beta soft-release test. This is a major development for all players as it is the highly acclaimed release containing both Town Based Supply (GARRISONS) and move-able brigades / divisions, merged into one system.
Full release of 1.36 is estimated by end of April 2019.
Review the 1.36 Briefing/Manual (CRITICAL READ) here to gain more understanding of the mechanics and how this works.
Join the 1.36 Hybrid Supply discussion forums to ask questions, learn and participate constructively to produce the best outcomes.
NEW SUBSCRIPTION PRODUCTS COMING
Very soon (yes, we mean that) WWII Online ORGANIC CHANNEL (ONLY) will be receiving the following new products (subscription plans) added for non-premium active account holders:
Note: Organic means non-Steam account holders.
All Infantry Subscription: $9.99/mo USD

All infantry classes
Includes all Airborne & Airborne Transports
Includes Trucks / Haulers
Includes Light ATG and AA guns
Includes Fairmile Boat

All Air Force Subscription: $9.99/mo USD

All fighters, bombers and airborne transports
Includes Airborne Infantry
Includes Rifleman and Trucks / Haulers
Includes Fairmile Boat

All Ground Forces Subscription: $12.99/mo USD

All Army Persona access

All Infantry
All Tanks
All Guns
All Haulers
All Airborne / Transport Planes

Includes Fairmile Boat
Other notes on Products
Premium subscription plans will remain, offering full access as it does now
Starter subscription plan will receive a redo in offering and price
Steam products will remain as they are


New products listed above will not be added to Steam
Steam DLCs will not be coming to WWIIOL organic
Changes to the starter sub will affect both Organic and Steam
MAINTENANCE RELEASE SCHEDULED Q2/3-2019
We have a maintenance released scheduled to solve several outstanding bugs impacting players experience. One of those include Anti-Tank guns tipping over while being towed. Another item is to make sure that all aircraft components have the correct damage properties. There are currently 100+ ticket fixes in this release and we'll keep you posted on this as it progresses. The emphasis is cleanup and bug resolution over new content.
VEHICLES TO RECEIVE LOADOUT OPTION
We're ecstatic to inform you that WWII Online will receive VEHICLE LOADOUTS as requested for many years. We will start with Bomber load outs and work our way throughout the spawn lists which will allow you to select within the game interface what sort of historical bomb options you want to launch with. This is a highly requested and massively valuable thing to all players, we hope you're excited about its potential!
The below picture shows a rudimentary implementation of load outs for development purposes. We'll be cleaning this up a bit to improve the user experience, but it does illustrate a proof of concept and is actually being used to create this.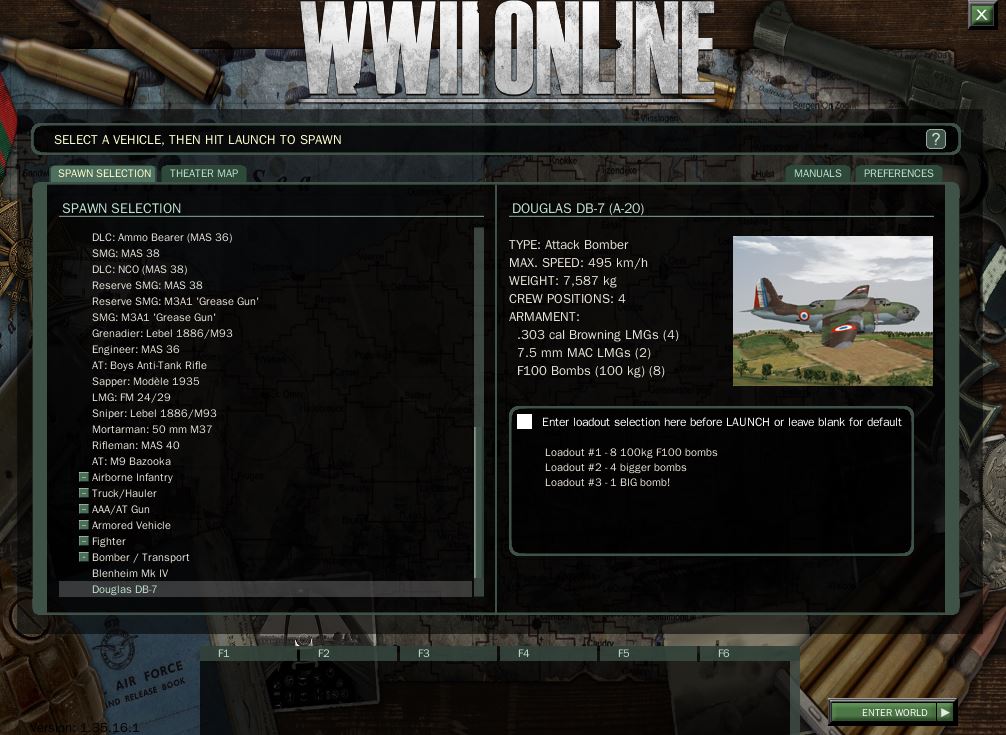 SERVER TRACKED BOMBS
We have been evaluating how to make Server Tracked Bombs a reality and we believe we have a strong path to doing so. Our goal is to first focus on STO Bombs to improve RDP and other high-altitude bombing capabilities. This is a major development for bombers, as right now you currently have to see your target in order for your bombs to penetrate / have an effect.
UPGRADING SPEEDTREE TECHNOLOGY (GRAPHICS)
It is our goal to upgrade SpeedTree technology from version 4.2 to version 6.0. By doing so we should see a quantum leap in terrain visuals, improved shader management, and we are currently exploring ways to offload other terrain objects onto the SpeedTree technology because it relies nearly exclusively on the GPU (Graphics Card) where as most objects in WWII Online currently run on a single CPU. We anticipate this will enhance performance whilst improving the visuals of the game.
Upgrading our technology from within seems to be the most viable option at this stage for taking the game further graphically. We are evaluating any and all ways internally to upgrade our core technologies, and our team members at CRS are becoming more well versed / familiar with the code base.
USER INTERFACE REVAMP (WORK IN PROGRESS)
For sometime in the forums now we have been discussing the need and recognition that we need to improve WWII Online's user interface. Here are a couple of concept images we have put together to help illustrate the direction we're looking to take.
Disclaimer: These are work in progress photos and may not be the final result.
MAP OVERVIEW (CLEANER)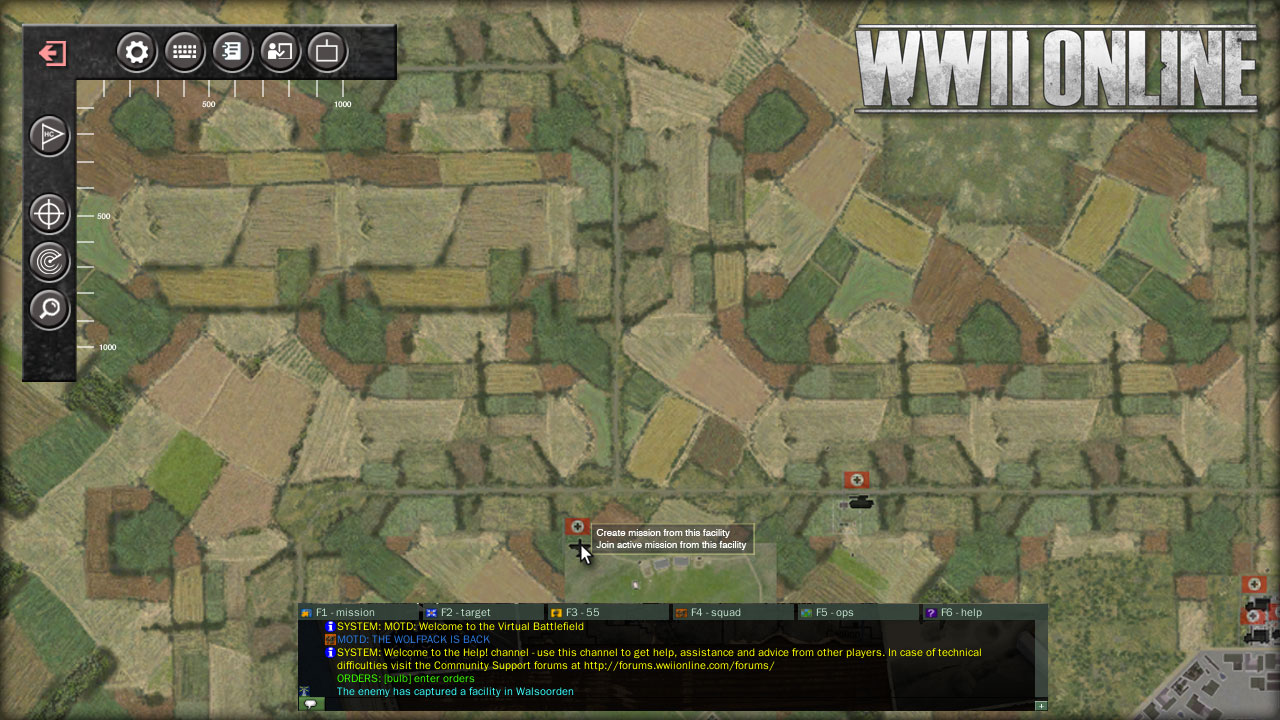 CREATING A MISSION SCREEN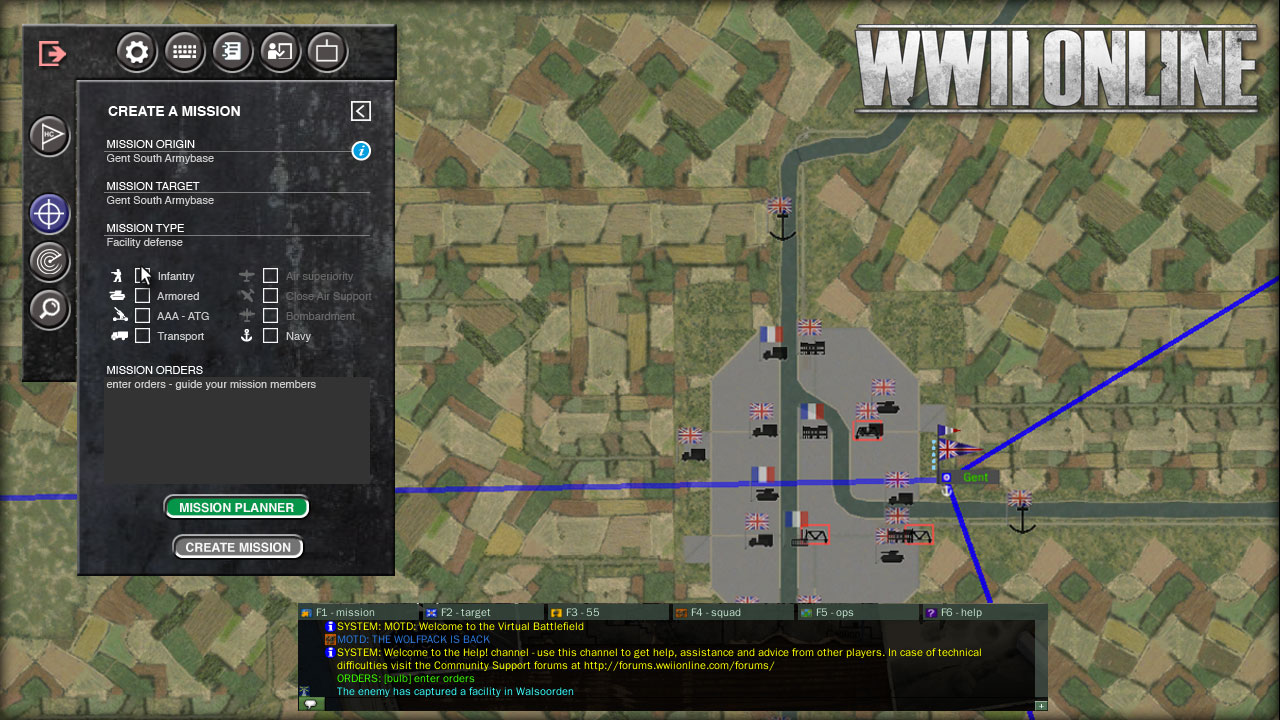 MISSION PLANNER - MISSION LEADER TOOLS CONCEPT
Giving our mission leaders more tools to better direct users has been discussed for sometime. This is a concept within this UI plan to achieve that. This will take a bit of code work involved to achieve, tell us what you think.
UPGRADING TRACKIR TECHNOLOGY (INFRARED CAMERA SYSTEM)
We're exploring and have been communicating with the devs at TrackIR to expand our support from basic head movement (left to right - up and down) to include leaning (forward - backward) and sitting up / hunching down movements. The objective of this is to create a substantially more immersive environment for our pilots primarily to engage in. However if you use TrackIR currently you could use it in any fashion in WWIIOL.
CONNECTION ISSUES (AUTO-DESPAWNING)
We're aiming to solve the majority of auto-despawning concerns without removing its original purpose of being implemented. We have a lot of feedback from players and plenty of data now to work with to help guide us better in providing solutions. This is both continued analysis and improvements of our networking from a code base and physical network …