A gameplay video!
Hi all, let's start with a happy message: somebody made an Olvand gameplay video! Or actually it's more of a quick demonstration. Thanks a lot, Gui250999!
I have no idea what he's saying there (it's Brazilian Portuguese), but he's clearly demonstrating some of the things he built. I was also happy to see that he managed to replicate [this set-up], which was one of my first blogposts :).
Painting the roof
Futhermore, this week was a busy week: I'm currently writing my master's thesis, and at the same time preparing to find a job, so time flies! Fortunately, I did find some time to work on Olvand. As I said last week, I'm working on paint. Crafting and mixing paint is now fully done, so I'm now concentrating on painting things. I've decided that for now I'll focus on painting cloths and the small wooden houses, because those are the things most people use; other things (other houses, scooters, guns) will be done much later in development.
My idea for the small houses originally was to paint them all in one color, but early mock-ups showed that was incredibly ugly. Which makes sense, when you think of it: a completely blue wooden little house would look weird and ugly in real-life too, right? [Here's some proof]. My next idea was to make it possible for people to paint the roof and the walls separately. Although that looked much better, I still wasn't satisfied with like 90% of the possible combinations. [Click this link] for some more mock-ups - I'm not showing the picture here, so people who don't read the text won't think this is part of the game.
For days, I was a bit confused and sad about this: at the one hand, I have always been very excited about the idea of being to recolor everything in the game with self-made paint, but at the other hand, if I implemented it I could be sure that from now on, Olvand would look ugly. It's what I call the freedom-prettiness-conflict: you can build everything for your players to make sure it's beautiful (think: the world of World of Warcraft), or give them more freedom and be sure 9 out of 10 players will build something ugly (think: penises in Minecraft). I think a good in-between was the Spore creature editor, where you could build everything, but it always looked beautiful, so that is more or less the quality I'm aiming for.
But that's hard: how do I allow players to paint something in a color they want, while making sure it looks good with what is already there. After hours of playing around, I discovered that if I only recolored the roof, but left the color of the walls the same, it always looks nice. So that's what I'm going to do: for wooden houses, painting is going to be limited to the roof. It gives you some freedom to give your town a personal touch (I imagine a town where all roofs are green, for instance), but it will always look pretty, whatever you do. It's definitely sacrificing some freedom, but I think that'll be worth it.
I'm currently in the process of implementing this all, this is a roof I painted this morning: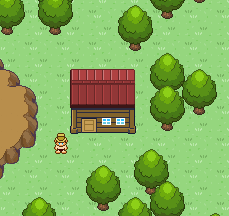 If you want more development, see [twitter] or [facebook]. If you want to be a tester, you can subscribe on [olvand.com].