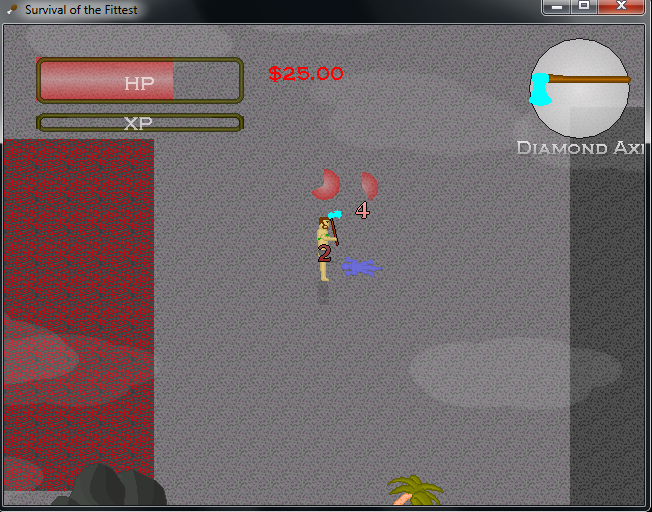 Survival of the Fittest is tackling, well… survival. You have to drink water, sleep and eat to survive. My main goal with this is to give players meaningful objectives that spring off of the simple need to survive. I want you to think of this, and in turn, come up with goals for yourself that feel connected to the experience.

"Oh, I need some food or I may die. The best course of action would likely be to go hunting, but for that I need to craft a weapon of some sort. Or I could steal the weapon from a local tribe. Meh, maybe I will go it the safer way and simply trade for one. Then I can hunt the local crabs in this area and eat that meat. Or, I could sell the meat to traders and invest in some better food and weapons since you do need to have money to make money. Oh, now I am full so maybe I will explore this local cave and see if it has anything neat in it."
That is what I want you to feel.
***
Survival is something that has been handled before in games, like in the Hardcore mode of Fallout: New Vegas and Minecraft, which are both big inspirations in this case. I don't want it to feel tacked on so I built the game as a game about survival first and foremost, unlike New Vegas which was designed simply as a open world RPG, and Minecraft, which was designed around survival, but for a while it was simply just building.
***
How it works is relatively simple, but will hopefully do the job. Of course, this is all subject to change and since I have lots of time to do what I want, things may be added or removed.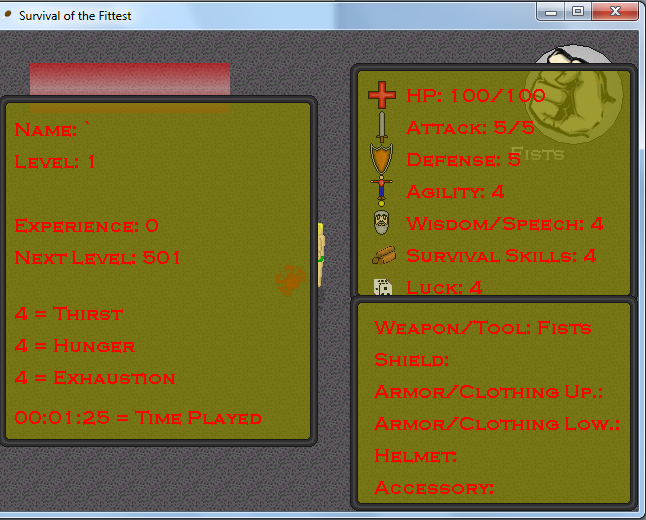 Your hunger, thirst and exhaustion stats go up at a set rate. When one (or all) reach 100, you die. Eating food and drinking causes you to lose a bit of their related stats, thus making you less hungry or thirsty.
Sleep, on the other hand, has you pressing the "R" button, asking you how long you wish to sleep and then you get some rest that way, and this causes exhaustion to lessen, depending on how much sleep you get.
***
This way, I hope our game's survival simulation feels familiar but not tacked on. Instead, it is one of the core elements of the experience.