Hello there.
In 2014, I started working on "a dead world's dream" as my first project.
The objectives were simple, provide an adventure that could last hours for free while happily stepping on a few game design rules to offer another take on a platformer.

It took one year, tons of week-ends and holidays after my regular job to complete the first released version. The few Indie db feedback I had at the time were interesting and encouraged me to push further. A few NPC were added to add a little bit of flavour and smoothen the pretty cryptic scenario.

Then, a french gamejam I participated on was the occasion to add an unfair mode that made its way into the final version as a hard mode. Truth be told, I think no player ever played it more than 5 minutes. The hard mode was a lot more that monster doing more damage :
a 4 hours countdown (more for psychological effect than a real nuisance)
a different breath underwater rule
lots of new monsters in strategic places, some unique to this mode
a unique "hard" area, even harder than the rest of the level
and a few dumb surprises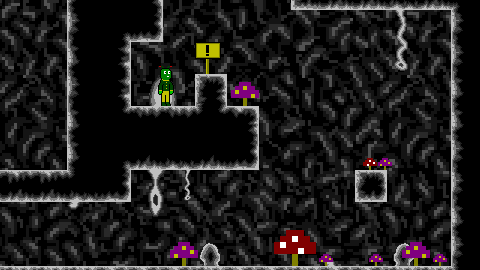 To my delight, after a lifetime of napping in greenlight, "a dead world's dream" was mysteriously validated to reach a broader public. I had to get my hands into the ugly piled up code once again and work.
If you have already tried the game when first released, you should definitely try again:
more polish added now that I have more experience (try out the experimental branch for latest developments, players hating ice-skating will appreciate)
13 achievements that will make you hate me
and if you like pain, try to unlock and play the hard mod



Please be careful, will you ?
If you haven't played before, try to look past the graphics and get ready for a challenging adventure that could surprise you now and then. If you are cautious and observant enough, you can avoid any trap the game throws at you!
As I am currently working on other titles and would like to put all my focus to bring you better new games, I won't maintain indie db version. I would like to thank indie db for the space it provides to amateur games.
Don't hesitate to pm me if you are curious about anything in the game.
Kind regards,
JoqLePecheur