It is that time of year again for us at the Thrive Forums to bring you an update of our team's progress. Although we have been quite for a while, we have worked on concept for all the stages of the game. We are now ready to come together and bring to life the first stage of the game, the Microbe Stage. As such, this update will focus mostly on cells, microbes, and primordial soup.
First off, let me introduce myself. I am NickTheNick, a recent arrival to the Thrive team. In the little time I have spent at the forums I have been amazed at the level of depth of the concept, and the knowledge of my team members. Not to sound cheesy of course, but I am glad to be able to rely on them to help create this epic project. I have also been fortunate enough thanks to sciocont's generosity to be promoted to a team lead of the project.
So, how better to start an update than with another one of Doggit's magnificent compositions. Doggit, aka Alessandro Penna, is well known on our forums as the music lead and a brilliant virtuoso. He has basically composed a full set of themes for the Microbe Stage. These themes will play softly in the background as you play with your cell in the struggle for survival.
We on the forums have had a flare of activity towards completing the Microbe Stage. This excerpt from sciocont gives a very good summary of the current concepts for Microbe Stage.
----------------------------------
Environment
The environment is top-down, with only one layer to move about on. This layer is the midground, where you and most of the things that you interact with are.
Underneath the midground layer, there is a background, which is just the texture of the surface you are on.
Between the midground and background is the film layer. On this layer grow the bacterial films on which you may feed. Bacterial films are simply colonies of bacteria, all growing together. This, in a way, acts like the plants of large multicellular stage. We'll include a few types of film for different conditions, which have different compositions. This will be investigated further later.
In front of the midground is the foreground. The foreground consists of any parts of the environment that are in front of you- bubbles, other films, etc. Its purpose is essentially decorative. it's not really essential for the first build.
So, the environment is set up
foreground
midground
film layer
background
Gameplay
You swim around and eat things. Gameplay is probably the thing we've discussed most, so I'll be expanding this more later with info from past threads. I'd like to change it so that it focuses more on evolution than endocytosis, since cell stage is where we'll be testing auto-evo. We'll still include things like mitochondria and chloroplasts being developed through endocytosis, but most of the other "proto-cells" don't seem extremely necessary to me.
You begin as a eukaryote, basically a simple protist. You'll respire anaerobically and have a nucleus, ribosomes, and simple golgi apparatus and ER. We'll assume that the mechanics of DNA replication and protein synthesis have already been perfected.
Editor
The editor will allow you to edit your cell when you are selected to evolve. In it you can edit your membrane, cytoskeleton, and organelles, as well as basic behavior. It will essentially act like a mini org-editor.
Cytoskeletal
Here you shape your cytoskeleton. This is done by taking skeletal fibers and drawing them into your desired shape. Essentially, you are engineering your cell like you would a bridge. The fibers pivot wherever they attach to each other, and you can snap fibers to other pivot points to create a rigid shape. With this, you can create a wide array of different body shapes, and the skeletal structure will have a profound effect on how your organism moves and interacts with its environment. You'll only have a limited budget to create the skeleton, so efficiency is key.
(To programmers- how easy would it be to make the fibers slightly bendy? or bendy to separate degrees so that we can designate certain areas that are more rigid than others?)
Organelles
Organs are placed within the limits of the cytoskeleton. Their position isn't extremely important, but their functions do have an effect on their shape. Upgrading their efficiencies will change their size and shape, but most will be fairly malleable so that you can put them into your cytoskeleton correctly.
Membrane
The membrane surrounds your cell. When you go into the membrane tab, a membrane is automatically generated around your skeleton by connecting a segmented line in between all of the convex outer points of your cytoskeleton. The line attaches itself to these points, so the generated membrane only flexes over concave portions of the cytoskeleton. You can add to the membrane by pulling portions of it outwards. You can also add an inner ring of membrane somewhere (so long as it does not cross any cytoskelatal fibers or organs) to give your cell a torus like shape to increase surface area.
On top of the membrane, you can have the game create a rigid cell wall to protect the inner cell.
Color
You can change the color of the membrane/cell wall to any color, but you cannot change their opacities.
Here's what I think the skeletal/membrane tabs will be like. And I mean exactly, this is what They'll look like. They'll have a GUI, but the shapes here are what I expect us to be able to make.
I'm going to be basing pretty much all of my visuals for this off of this cell design. Let's call it lunacellula (older members: remember evobeast?)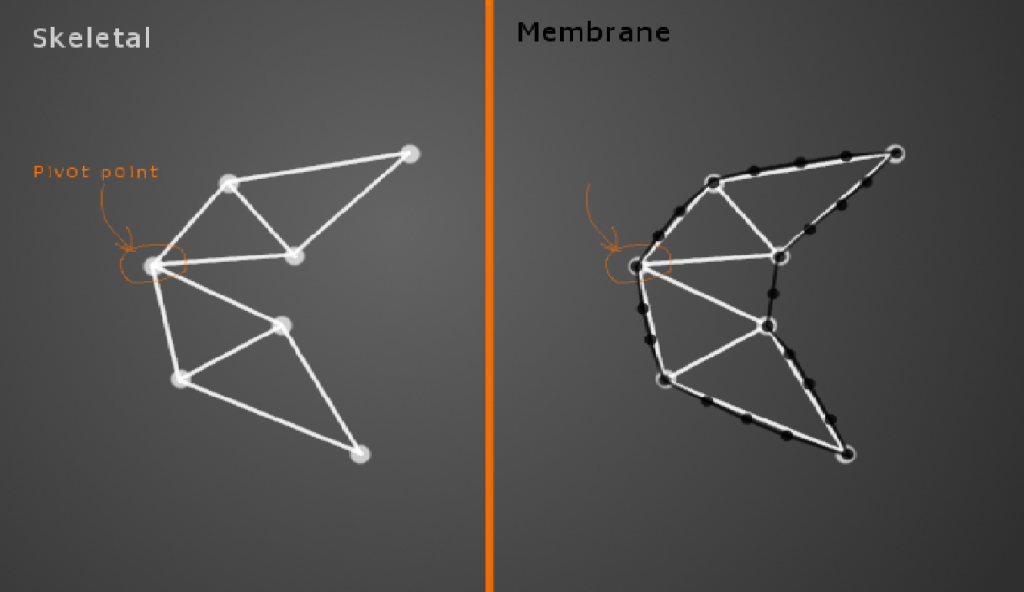 I know there's a lot more to add here, but that's what I have for now. I'll update this with more illustrations soon.
----------------------------
So, to create this first stage I have heeded the advice of Roadkillguy, one of our old programmers. To start the hard development, we need to "A) Start from scratch! B) Only discuss what you can write in code! C) ??? D) Profit!". Now, don't get worried, we aren't throwing everything we have right now out the window. Instead, I started a new thread in which we organize step by step everything that will be included in the Microbe Stage and how it will work.
Here is where you guys get involved.
There are two tasks we have run into at the moment. Firstly, cells. There is a lot of concept and maths as to what cells do and how they do it, but we need to go back to the basics and get some models for the cells. We are calling out to all 3D model artists to come join us and help us complete this task. Artists need to be able to use software such as Photoshop, Blender, 3D StudioMax, or others to create the models and sprites. If you want, you could also send any models or sprites you make our way, and if we like them we will include them in the release, with proper credit given of course.
Ideally, we want to create a 3D top down environment such as was in Spore, below. Then, from there we improve. However, bear in mind that our cells won't have big cute eyes, and the colour scheme will be less cartoonish.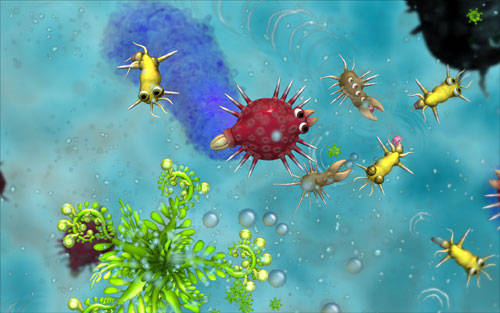 Secondly, as we tackle how to build the Microbe Stage from the ground up, another fundamental step of ours to overcome is creating organelles as well as their functions. Organelles are also essential inasmuch as we need them for cell propulsion, consumption, and the newly created compound system. For this we are calling out to all scientists and biologists to come and join us on the forums to help us out with this step. You don't even need any programs for this, just a readied brain.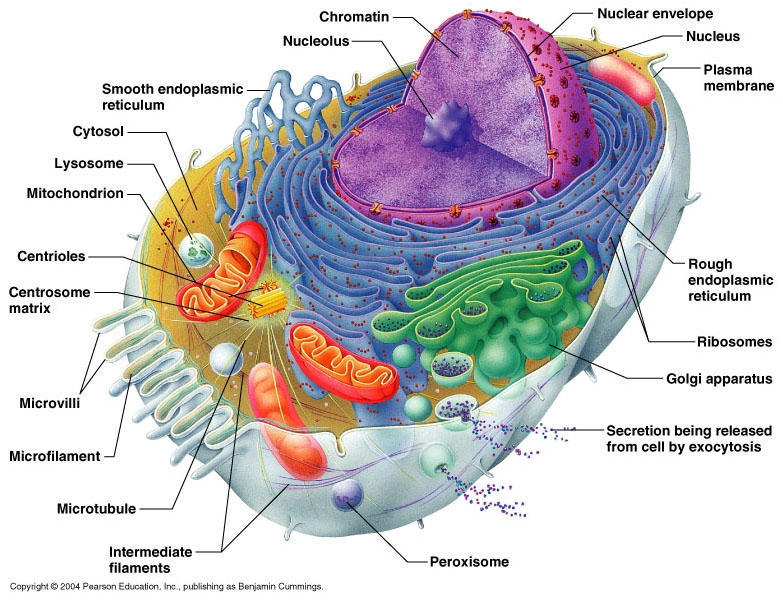 Of course, other skill sets are always welcome. Above are just the two in current demand. Also, this update is only a fraction of everything that is taking place with our team.
Remember, we are always here in our corner of the internet, working on this massive project. Also remember that talented and devoted individuals are the very fuel of our project. We need you, so don't feel shy. Please, if you have any questions, ask them here, and if you know any programmers, send them our way.
Regards from the Revolutionary Games team to all you fans,
-NickTheNick