Long time no post. A lot has happened since last time. We have gone through some re-modelling and autumn cleaning and in the process we have re-invented ourselves. Due to bureaucracy of really starting a company, (and finding out that we can't in fact be called Boogie Games in Finland), we are from this point on known as Afterlife Entertainment.
There's still a ton of stuff we need to change because of this, but we don't mind building it all again. We like our new image. Facebook, Twitter, e-mail, webpages...they were all under the name Boogie Games, but gradually we'll change them all under the new name. But more on that later.
Now I'd like to present you our new logos and tell a little about the process of making them.
After landing on the name Afterlife Entertainment we wanted to create two things for the newborn company: A typographical logo and an image to go with it. For the image we juggled with some ideas. We thought about a tree, that would grow from our name underground, but that felt kind of a passé. We also wanted to make the text and image separate from each other. We finally agreed on an idea of a skeleton swinging, with the swing having uncannily long ropes. After all, that would tell it all: afterlife entertainment.
Making a logo involves some basic rules:
Make it simple
Make it work on dark and light background
Make it represent the things you want (in our case, the name, and a borderline with casual and hardcore)
Consider it having motion (Twitter vs Facebook)
Make it scalable to very big and very small sizes
So we began to iterate through maybe dozen steps, to land on a composition we wanted to iterate further. You can see an image below with some of the designs, from which one shows the image in inverted colours. The character on the swing very quickly turned into a little girl, since the dress and long hair make a clear distinct silhouette. It also lost the grim look, and became maybe a little Limbo-esque representation of afterlife. The reasoning behind this was what it represented. The grimmer the look, the more hardcore our company image would be.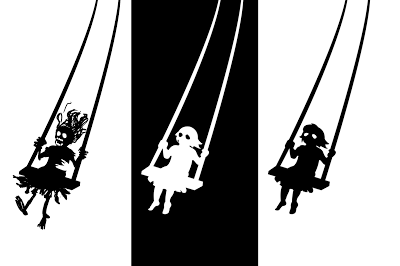 So, now we were at a design branch, much like software version, where we were happy with the girl being more human. The look was still not right. We wanted to add more motion to the image, but still keep a certain feel of serenity. So, began to iterate the motion and things that add & affect to it. We also changed the look of the girl and the posture at the same time.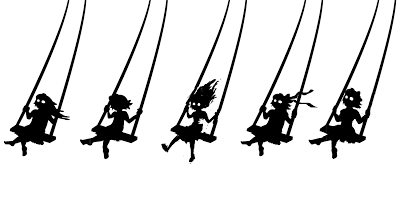 So, we gradually noticed, that changing the girl from something like 8-year old to ca. 12, we go a lot nicer silhouette and motion. This was because...well...small children are a bit stump all around. For a long time the cross-legged swinging position was our favourite, but it seemed a bit princess-like, and we wanted the child be more like children are - wild and reckless, and not really care about how they look. So we ended up with the middle choice. We were yet again at a new iteration branch.
Now we studied what made the middle image tick, and polished those parts. Through some minor adjustments, and making a vector-version out of it (for re-sizing indefinitely without losing quality) we ended up with the final version. (seen at the bottom of this post).
Moving on to the text side. The process was basically very similar than with the image. Following the guidelines of what makes a good logo, we iterated through various fonts and adjusted them to fit our needs. Our company name had two parts, so the 'entertainment' one ended up having a different font. Fiddling around with two different fonts can be dangerous or even disastrous, but we finally ended up with a logo that we liked. 'Afterlife' was written in a way that would represent itself, and stand on its own. 'entertainment' was below it to tell people what we do and give a professional look to what we do. Without any further ado, here's our final logo in black & white scheme.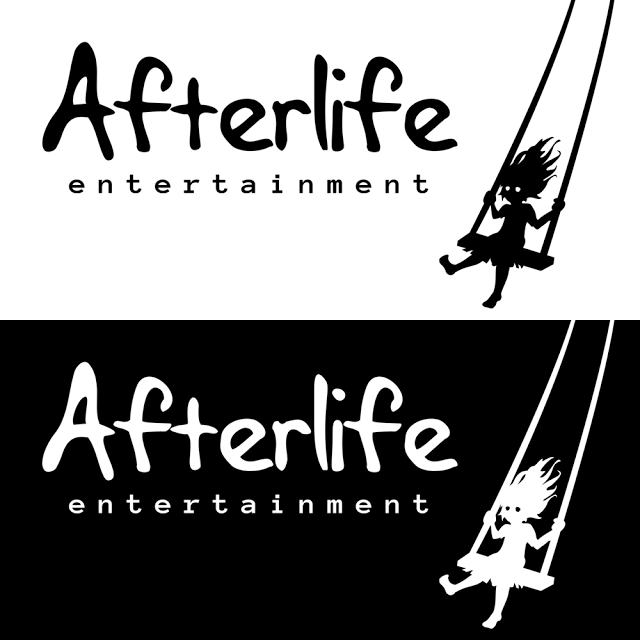 P.S. We're working on a webpage and various other stuff as we speak. Stay tuned to find out when they are open to public. Drop a comment if you want to discuss the process or the final logo. Did we nail it, or did we fail it?