For hundreds of years, harmony has left the world of Ascender. It was once a captivating habitat for celestials, humans and creatures that live in unity. These humanoids were living in magnificent environment made by placid surroundings and they work together in balance. However, there is no such thing called perfection…
The Celestials, felt their existence threatened due to being outnumbered by humans, combined their power and bring the lands towards the sky, calling it Atlas, and creating their own civilization. Below Atlas, they created a barrier called Ut by bringing up water terrains. Enraged by their action, The Scientists decided to build a floating island using science and advanced technologies in order to reclaim their beautiful land. They call this floating island, Spunk Island. The rest of the civilization was left on Ataran, the cracked ground full of sulfuric gas.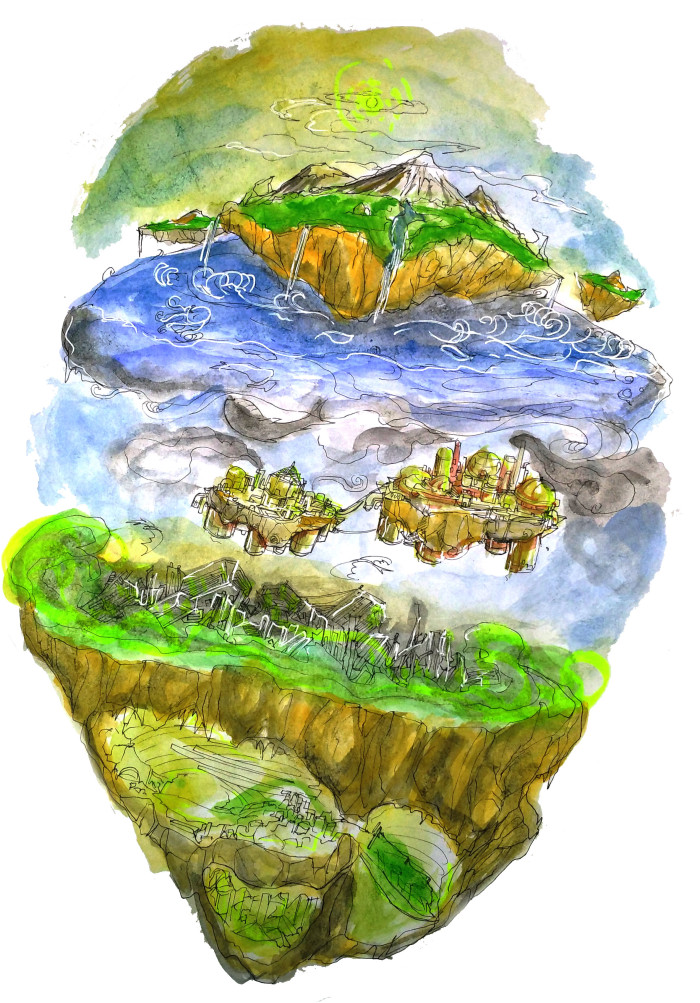 Civilization Divisions Concept Art
Professor Toro Hudo was an inventor and key person in Ataran's civilization. He was betrayed and deserted by Spunk Island developers, but his big heart and wisdom has kept him away from revenge. With his wife, Marr Hudo, he decided to stay in poisonous Ataran land and help others by making equipment for them. Both of them didn't have any child, they were living in modesty and humble life with one goal: everyone in Ataran can get a better life. They invented survival tools for individuals, families, humanoids, and animals in poisonous environment, then they get foods and raw materials supplies in return.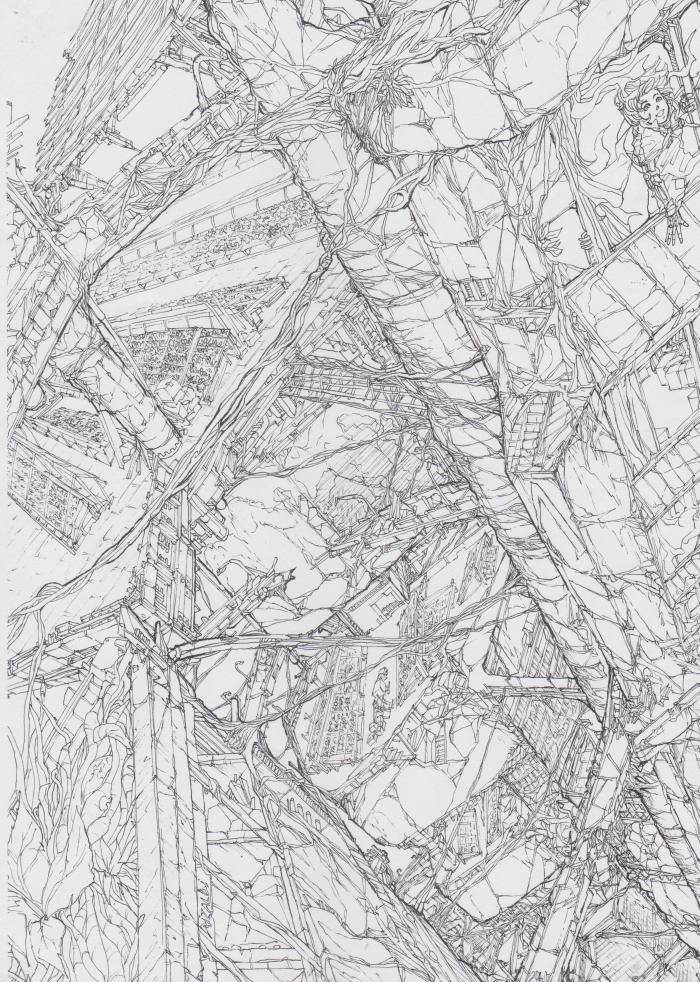 Ataran's Concept Art
One day, Professor Toro Hudo was on his way exploring Ataran, he saw a shiny light in the shade of clouds. A golden-haired limbless baby was going down rapidly from the Ut direction straight to his standing area. He caught her and saw her eyes, strong intense feelings made him hug her tight and tears just came out. Realizing that the baby couldn't survived long in Ataran, he took the baby to an undiscovered area deep down in the world of Ascender… to a mythical area… to a place where it all starts…. Goa…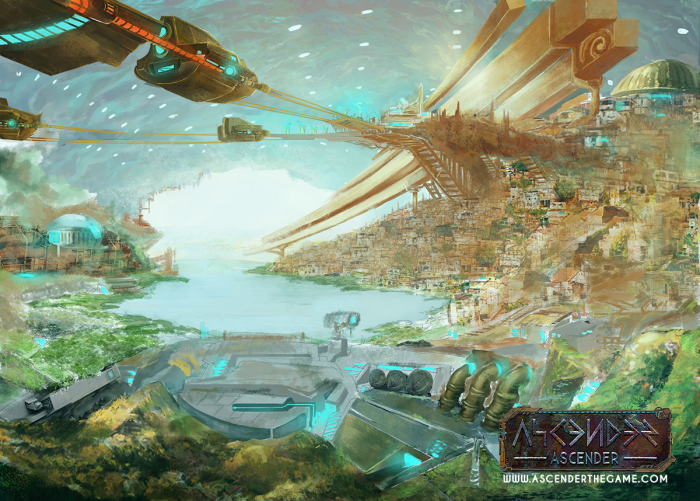 Dolopo – The Central Capital of Goa
We are also announcing one of the most important thing of the day. After months of hard work andmany sleepless nights attempts we can finally show you the Next Version of Ascender, we call it Public Preview Version.
You can download it at our indiedb's download page link : Bit.ly
It will include some part of the new district called Mustang As mentioned by peridot, There aren't a lot of buildings here (compared to Dolopo of course), because the farms are the main feature in Mustang. Its farm fields based on an agriculture technique called 'terracing'. I helped with the drawing on the farm fields behind the focus ground using traditional watercolors with a little digital polishing (We do have technology). Oh yeah, to be able to make the crops grow properly until harvest time, they used an artificial sunlight. Well, I don't know what to explain anymore about the Mustang situation, so here are more sneak peek of Mustang.

a cute bridge of Mustang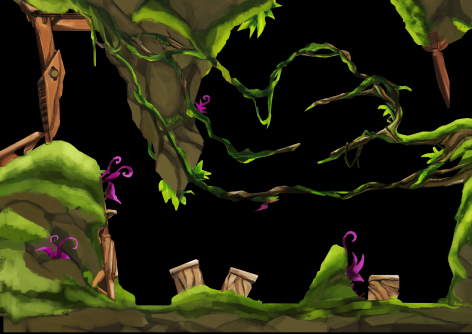 Wooo, an awesome green area
Hope you can enjoy playing Ascender & don't forget to give us some feedback before we release the Final Version on May 2016.