1) Clearer source material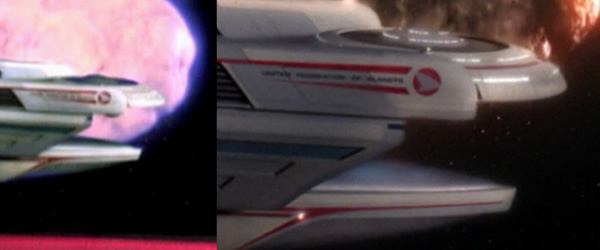 When I first started out modifying and creating content for Bridge Commander in late 2002 one of the biggest problems was getting good reference material. There were some specialist websites which hosted images (does anyone remember STinSV.com?), but these would generally be low resolution and fuzzy at best.
Thankfully a lot has changed since 2002. We are spoilt by wikis like Memory Alpha which are brimming with information on the shows, we have dependable access to an archive of thousands of screen captures on TrekCore. Best of all we have blogs from people like Doug Drexler, John Eaves and Alex Yeager who made the stuff in the first place, telling us how they did it and showing off their work in clinical detail.
But by releasing the shows in this remastered form we get a whole new weapon in the armory;the clearest view of the ships, props and sets under the conditions they were meant to be seen in; something which helps us recreate the look of the shows as closely as we can.
2) New resources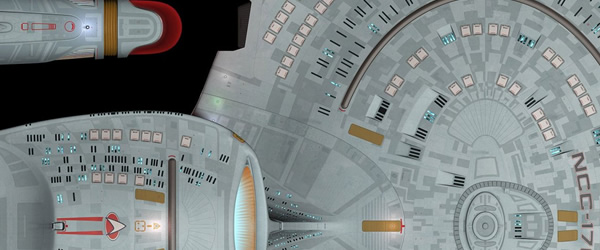 Any remastering project like this brings up problems and sometimes highlights the need for more than just cleaning up an image. In the remastering project for the original series of Star Trek the special effects were entirely replaced by new CGI scenes, and to a much lesser extent there is some need for CGI on this new project.
This gives us a whole new set of models to look at and scrutinise. While these CGI models may no be the "real" thing, their digital nature makes it much easier for us to get a clear look at them and help us better understand the models as a whole.
3) A reminder of Roddenberry's ideals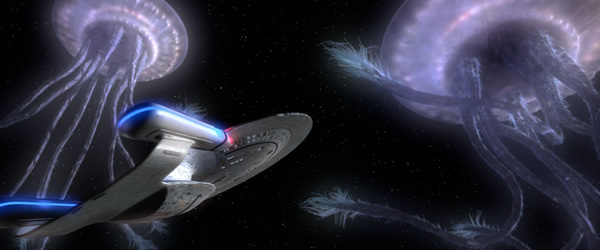 I know Star Trek fans can go on about this too much so I'll keep this bit short, but Roddenberry's philosophies behind Star Trek are what made the shows unique. There are some great stories from the writing staff about just how difficult they found working within Roddenberys "box" as they called it, but out of that challenge came some amazing stories which really redefined science fiction.
With the first "reboot" Star Trek movie such a huge commercial success and the second already highly anticipated these ideals are becoming less core to the franchise. Hopefully with another chance to enjoy Star Trek The Next Generation like new, we can keep in touch with Star Trek's roots.
4) More interest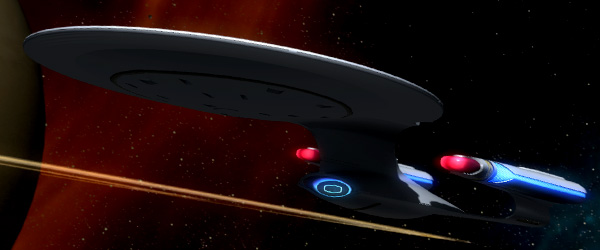 It sound's a little selfish to say, but it's also pretty obvious, that with a new release like this there will be more people thinking about Star Trek. For a community driven project like Excalibur it's hugely important to have an interested and engaged public with a hunger for more Star Trek content. I'm really excited to see more people joining the community with fresh ideas inspired by watching TNG Remastered.
The other side of the coin is, of course, that it inspires all of us as developers to dig deep and make things happen as quickly as possible. Watching "The Next Generation" again reminds me that I've got a Galaxy class to finish painting... the sooner I can use it in game the happier I will be!
5) The promise of more to come...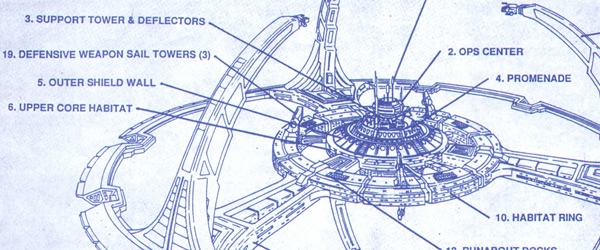 This release shows that Star Trek still pulls in enough dough for CBS to warrant one their biggest remastering projects ever. The studio have already confirmed that they intend to complete every series of TNG by the end of 2015 and there is already talk of moving on to Deep Space Nine and Voyager after that if there is enough interest. If that's right we can look forward to rejuvinated Star Trek series coming out regularly for the next eight years or more.
Beyond that the improved standards make the shows accessible for a whole new generation and will be ideally placed for syndication on streaming services for as long as they remain popular. Great stuff!