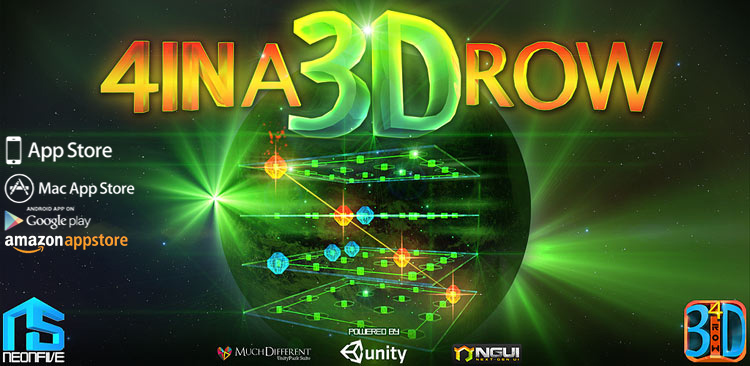 4 IN A 3D ROW is the latest title of the start-up company NEONFIVE STUDIO and it´s out now on iTunes & Google Play.
4 IN A 3D ROW IS FEATURED IN MORE THEN 1500 CATEGORIES!

ITUNES LINK:
Itunes.apple.com
Google Play
Play.google.com
PLAY THE NEW 3D DIMENSION OF CONNECT 4!
Train your 3-dimensional sense in a completely new kind of puzzle game.
4 IN A 3D ROW is not a classic Connect 4 game, it offers a brand new gameplay twist.
PLAY DIFFERENT – THINK 3D!
* INNOVATIVE AND UNIQUE GAMEPLAY
Turn the 3D cube, place your gems and go for 4 gems in a row. But be careful your opponent has the same goal. A fantastic gameplay simply working with a one tap / swipe control.
* LEADERBOARDS & ACHIEVEMENTS
4 IN A 3D ROW offers an awesome Leveling system. Unlock several levels of difficulty, Achievements and Turntime Modes! With every success you earn more XP. Level up your Character to earn more points. Be number ONE and keep winning!
* FANTASTIC NEW KIND OF MULTIPLAYER
Play against thousands of other players around the world from any device you have and wherever you are.
Display your results in the Worldwide Ranking System and show the world who is the Master of Dimension! Share your game progress to any device you have. No matter which device you use, your other device will be up to date and ready to play.
4 IN A 3D ROW is innovative, addictive, challenging and offers a fun-to-play game for everyone.
TRAIN YOUR BRAIN AND PLAY DIFFERENT!
FEATURES
✓ A brand-new game style
✓ Single / Multiplayer Mode
✓ Simple and innovative control
✓ Addictive Leveling System
✓ Tons of Achievements and unlockable modes
✓ Worldwide Ranking System
✓ Stunning 3D Retina and HD graphics
COME AND PLAY THE NEW DIMENSION OF 4 IN A 3D ROW!
Follow us at:
Facebook
www.neonfive.com