Technicals

Revealing a handful of information about technical sides related to our production and about our work's progress during the past year we could proudly let you know that we have discovered Unity's every last gear wheel. In the meantime we've also replaced Unity3 with Unity4, and because of that the game will have new graphic effects implemented and we have learnt to manage the screen and engine's resources. It means that we've overcame a hard, bumpy road which led us to a soft road, thanks to which we will be able to finish our lifetime's work without any major issues.
Works on the Mecanim system we've began already in the past year's quarter. For now, it's scrupulously implemented into our animated character movement system. Lately we've been through some hard time introducing this modern technology. Additionally we've been making very complex network solutions which the game required. There also appeared elements of physic and smooth animation transition, thanks to which we've paved the way for the "Mocaps", for the character's definitional skeleton and for many other fascinating things enriching the game's world!
In a heartbeat we will present you the new animation system at its loveliest!
Also, during the past few months our programmers staff have created their own character positioning system, which will prevent teleportation and weird behavior on the battlefield! Team's experience and your opinions after watching the first footage of PvP combat has pushed us in a way of "kill or cure" solution of the issue and creating the whole combat system from a scratch.
Thank you for every accurate comment, and thanks to our team for its toughness and determination!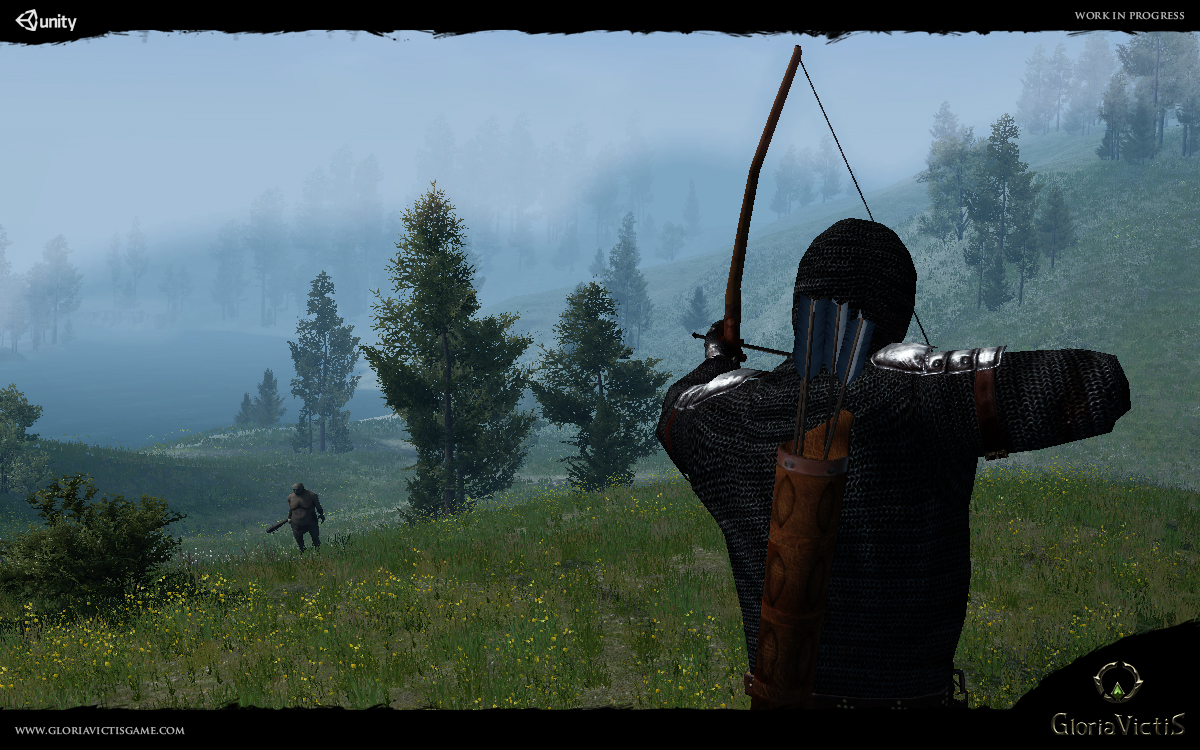 Also, for "perfected" RPG games lovers we have a very important information! Lately we've been working on developing the database system, which presently keeps up to 32 equipment values. It's the element which will provide you a plethora and diversity of your character's accountrements
Our works have also focused on implementing a weather system, which will provide our players four seasons, thirteen types of day and night along beautiful sunsets and sunrises, as well as different rainfalls: blizzards, storms, etc. We assure you that in the winter time real snow will fall, it will cover buildings and it will truly be a winter atmosphere! You will have a first-hand experience of how the sun glares and how rainy afternoons may affect broody on your mood.
For enhancing graphic side of our production we have polished the rendered quality and efficiency of our engine. Many-months tests have let us create our own style and quality of projected graphics. The team has learnt how to appropriately display lighting and rendered image.
During our latest work we have also focused on the player's character. Presently it has more details giving it a realistic impression, more precisely adjusted skeleton and higher quality textures. Thanks to these changes, we're counting on our players and community's approval.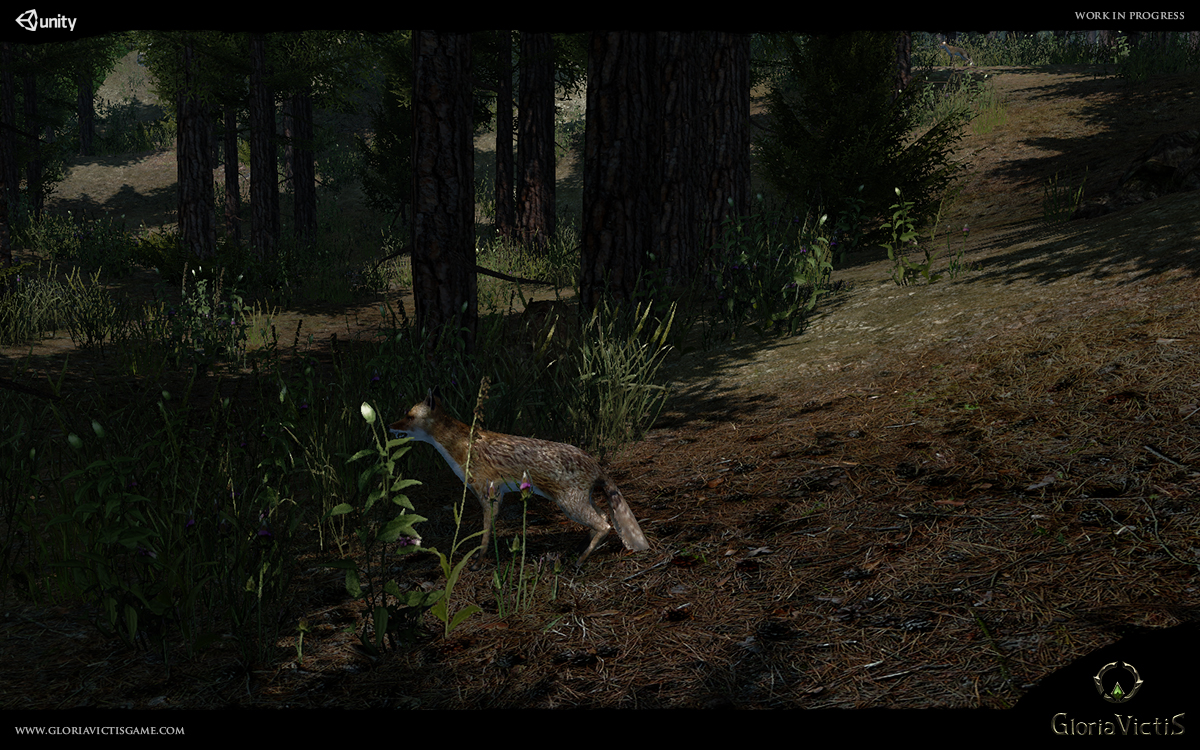 Lately, combat system and it's polishing has also became a priority to us. Apart from perfecting animations and introducing the new system, we've also busied ourselves with implementing weapon physics. For example - a flail. It's a steel, spiked ball attached to a handle with a rope or a chain (physics affect on these weapon's elements). It's a spectacular medieval weapon, which spread fear on battlefields. History has met a diversity of variations, e.g.: steel elements were replaced by animal bones. What makes it more interesting - it's rarely witnessed in games, and surely that's because of a complex design, connecting the parts causes lots of trouble and it's really high graphic-dependant.
In the last few months we've created a complete in-game GUI, which is supposed to be intuitional for the player. For this moment its successive implementations and connecting to the database are in progress. There are numerous network issues linked with the process, which are continuously solved by our programmers.
We have also prepared an important information for lovers of medieval ballads and history, as well as people who want to fully get to know our world. Last few months have let us begin works over a new location that will move the players into a vastness of deserts - to a world of Asks and Nuntians. Thanks to this distinct culture you will get to know the life spiced up with dune sands and fight for survival. Asks and Nuntians will welcome you with their own culture and customs.
For classic cRPG lovers who take delight in hard, knotty tasks we've prepared over two hundred non-linear quests. Additionally we've prepared countless books with written tales, diaries, journals once belong to court scribes and jottings of historical events and battles. Some of them will be presented to you as audiobooks, getting you closer to the world we're creating for you!
At the end of the last year we have founded Black Eye Games Ltd. company located in London and we've settled our company our team's status legally. We can avowedly admit that we have taken care of providing appropriate conditions for our coworkers, so that they can peacefully continue their work on the project under protection of Polish and English law. We are no longer a group of dreamers - we have became a team under our own company banner!
The greatest success though, are you, our community. You have arrived into our universe seeking for steel, medieval theme and we will give it to you! We are thankful that you exist and actively participate in our community!
Problems we had to deal with
Certainly - the start was the hardest part, because making an MMORPG is truly a challenge, both under the organization and finance terms.
However our main problem at the beginning was creating a proper team. In a short time though, it turned out that gathering people who would like to help us, even indirectly - is not impossible after all.
In the past year's last quarter we found out about our product's standard and what impressions will it get among the gamers community. As the Kickstarter showed - we didn't stack ourselves up. Also, experts from Poland and foreign countries have appeared too late, who have taken care of the marketing side of our project and who supported us technically in proper advertisement issues. No loss though, these people are with us now and they will lead us to victory in a next crowdfunding campaign!
After analyses have been made we got to a conclusion that many logistic and social mistakes were made, but in the future we shall avoid them.
In the meantime lots of network problems were appearing, which presently have gone into the oblivion. However, we're trying to develop our own systems which will provide our players a comfortable gameplay.
Also we're encountering problems with animations and meeting our future players' expectations is a true challenge! We're learning from one another and we're exchanging experience, that's why we were able to implement the Mecanim system, whose possibilities you can see here :
You can read more here:
Forum.gloriavictisgame.com
Take care!