In this phase we are proud to present all you future astronauts out there with our Challenge mode, where you must figure out the best way to tackle a solar system by landing on each planet while conserving fuel in a race against the clock. Each level and planet is procedurally generated and increases in difficulty, giving you a different challenge each time you play. Keep an eye on the website for updates on the game's progress including new modes, missions, ships, and more!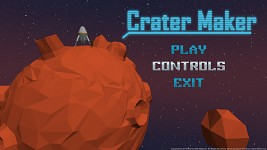 If you preorder via the Crater Maker tab at the top of the site, you'll receive new alpha and beta builds as we release them as well as DRM-free versions of the game, plus we will include keys for Desura and Steam once those are available. In the meantime, check in on the forums to post feedback, ideas, and chat with your fellow astronauts! We'll also be posting regular dev updates and details on the builds there, so make sure you pop in often.
Finally, we want to thank you for dropping in to check out our work! If you like the project, make sure you tell all your friends about us - we're relying on you to help us get all the feedback we can to make the game the best it can be.
May your landings be lacking in explosions,
The PWM Team