Hey guys,
Lots of good stuff in this update -- things should be feeling more balanced. I made some changes to make commonly unused things more useful, like the "Consumables" skill, pistols & launchers. Consumable items (like health and energy) are more expensive & come in smaller packs, but the "Consumable" skill has been made much more powerful to get more out of each consumable use. Pistol accuracy has been improved (which was their main complaint), but the range has been reduced. Launchers will now always have a special statistic, like leech, stun & corrosion damage.
The main menu looks much nicer now & is dynamic: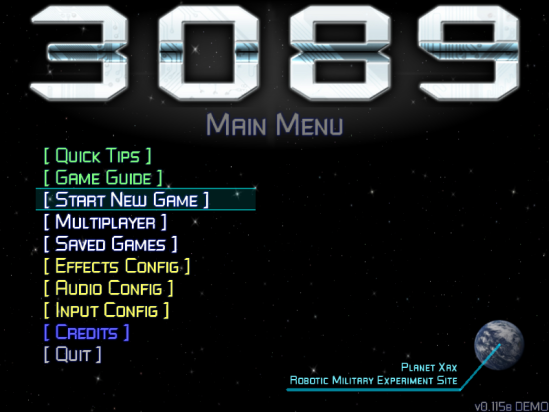 The pause screen will also now show the game in the background -- it just all looks more polished. New item graphics also make the inventory look much better.
There is a new "escort" quest task -- you will have to find a friendly robot & escort him safely to a specific position. I made the robot move quickly & stay very close to you, so as long as you are safe, your escorted robot should be too! After you finish the quest task, your escorted robot will continue to follow and support you -- even if you didn't have the "Prestige" points to request him as a follower.
Another welcome change will be quick exits from towers after defeating the leader at the top. When you start to go down floors, you will be prompted to be teleported outside.
Head over to the version history to see all the changes: 3089game.wordpress.com
What is next? I'd like to get the "merge-mode" feature in co-op multiplayer implemented!
OK, back to work,
- Phr00t