Yesterday's release (0.7) featured lots of new stuff and an overhauled level generator; however, the difficulty became a bit steep around level 8, and there was a bug in the joystick support causing issues with certain USB mice that also register as joysticks.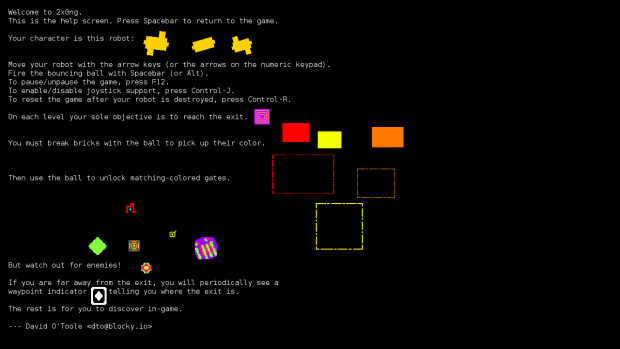 Today's release 0.8 includes smoother difficulty progression, a bugfix for the joystick issue, a new help screen on the F1 key, and other tweaks and enhancements. Download links are below:
So what's next for 2x0ng? Once I finish the procedurally-generated final boss I'm working on, there's little left to do but extensively playtest the game, respond to player feedback and suggestions, and find/fix any bugs that remain. I'm planning to apply for a beta release on Desura sometime in April.
One more thing: the Mac version has been delayed a bit. It should be available at the time of beta testing.
Thanks for reading! I'll keep you up to date on 2x0ng.
Windows version:
Indiedb.com
Unzip the file, open the resulting folder, and double click the 2x0ng.EXE file.
Linux version:
Indiedb.com
Unzip the file, cd to the resulting directory, execute the file ./2x0ng.bin
As always, please see the 2x0ng homepage for up to date compatibility information.
Blocky.io