Steam Store: Stay Alive: Apocalypse

Features

Unity updated to version 2018.2.14f1
New dynamic world for floating points problems (shaking animations, incorrect object positions, shadow moves ect) - Fixed
The color is determined according to the type of diseases in the disease indicators
Added dirtiness for liquid foods. Dirty liquids increase zombification. No effect on taking shower. It needs to be heated to clean.
Acid rain that causes pollution was added. Containers filled with acid rain will be 100% dirty directly.
Ruined building added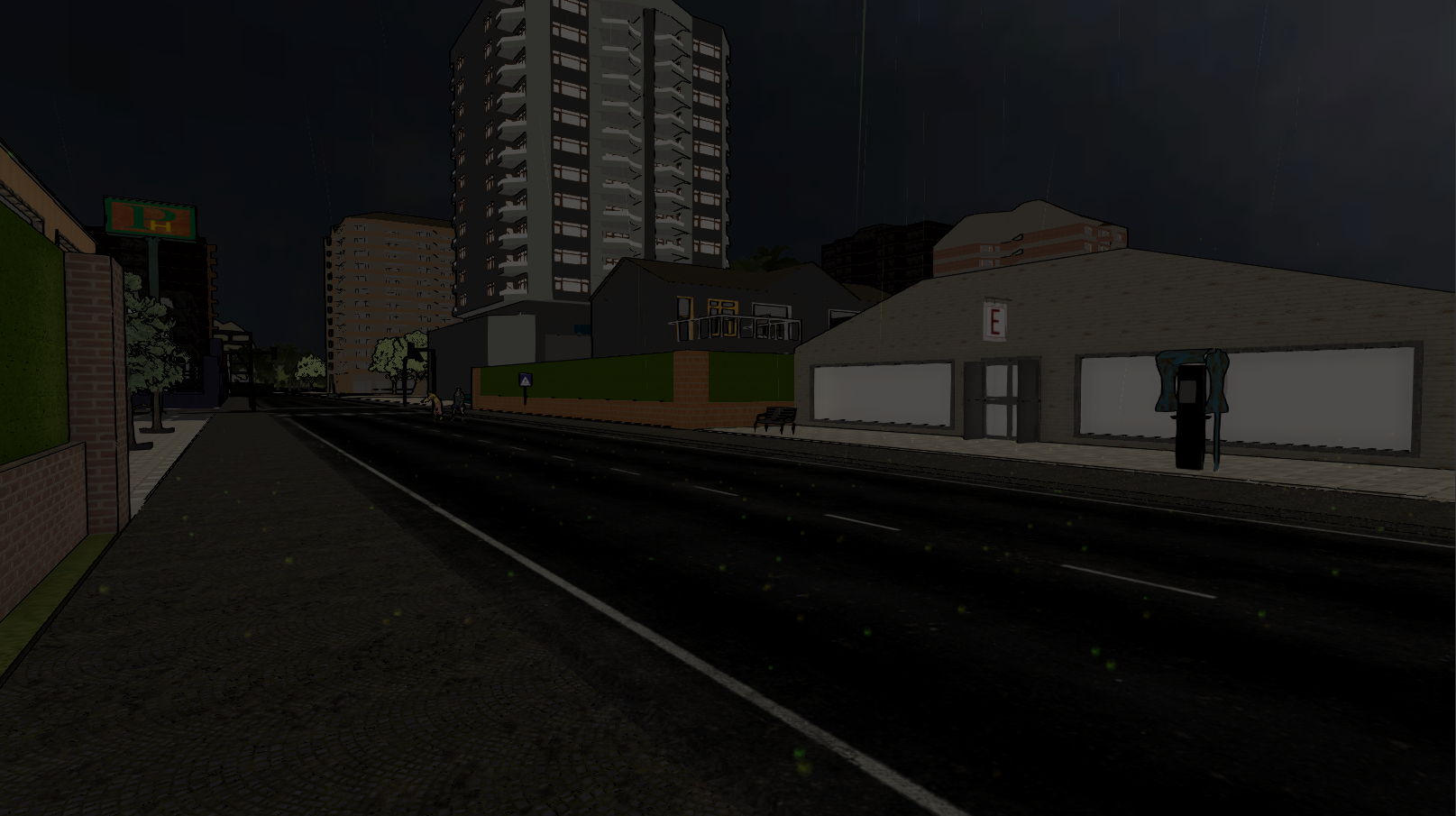 7 new job added: Taxi Driver, Engineer, Chef, Rich, Nurse, Manager, Turist
Halloween Special: Witch. It will be replaced by the Architect after Halloween.
Addiction added. The first aid materials used will cause addiction over time. It is treated with serum.
New Objects: Leather Piece, Anti Bacterial Coats, Broom, Serum, Chef Hat, Nurse Hat, Kitchen Apron, Wheel Wrench, Black Briefcase, White Briefcase, Chef's Special, Baked Dough, Turbo, Tactical Vest, Water Backpack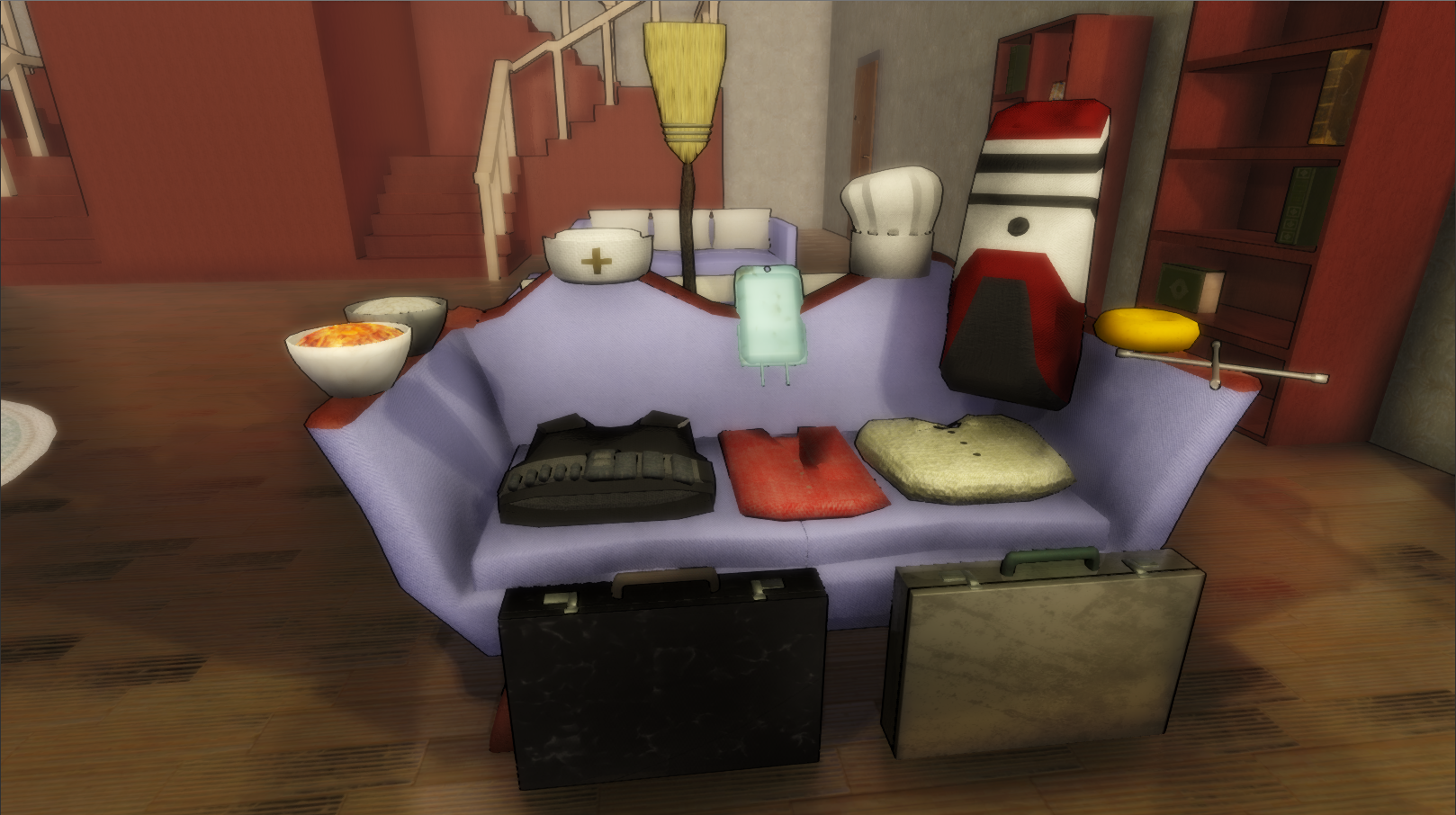 New Crafts: Gas Charger, Model House, Special Safe, Gravity Generator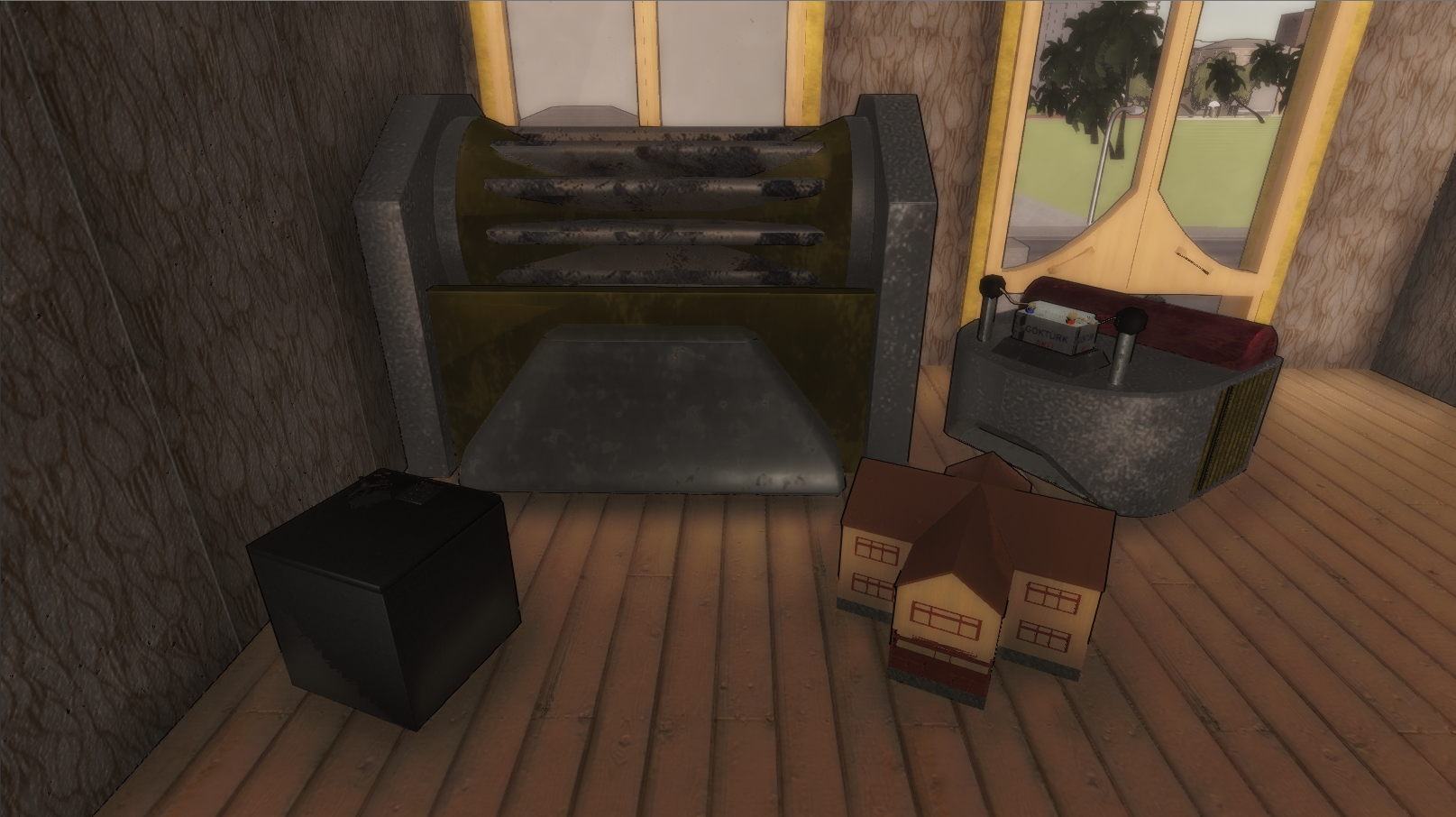 Background color of the inventory objects shows their condition
If present, animals are now spawned with a random color.
New Animal: Frog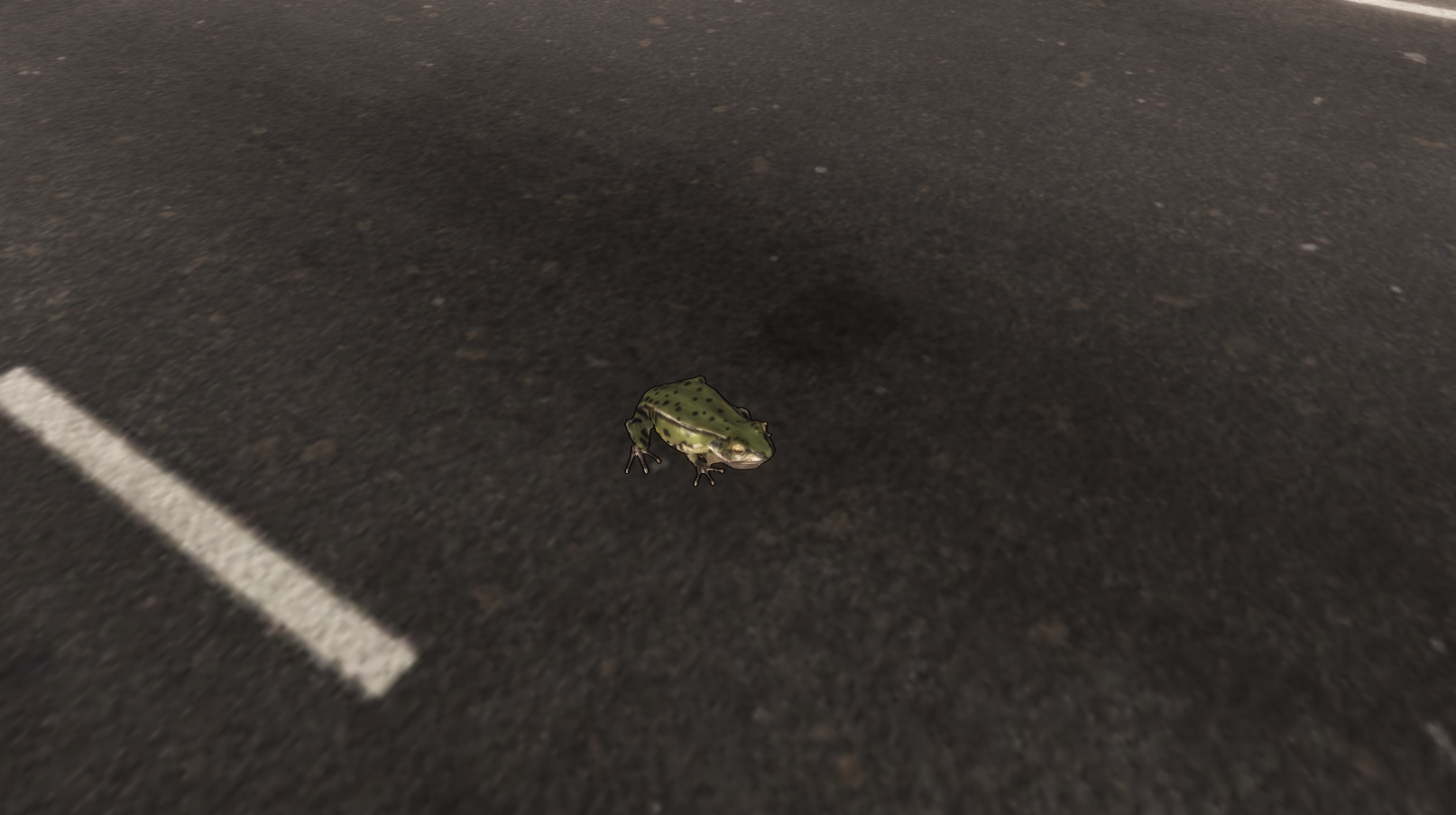 For Halloween: Pumpkin, Pumpkin Dessert, Pumpkin Pie, Pumpkin Soup, Pumpkin Lamb, Stew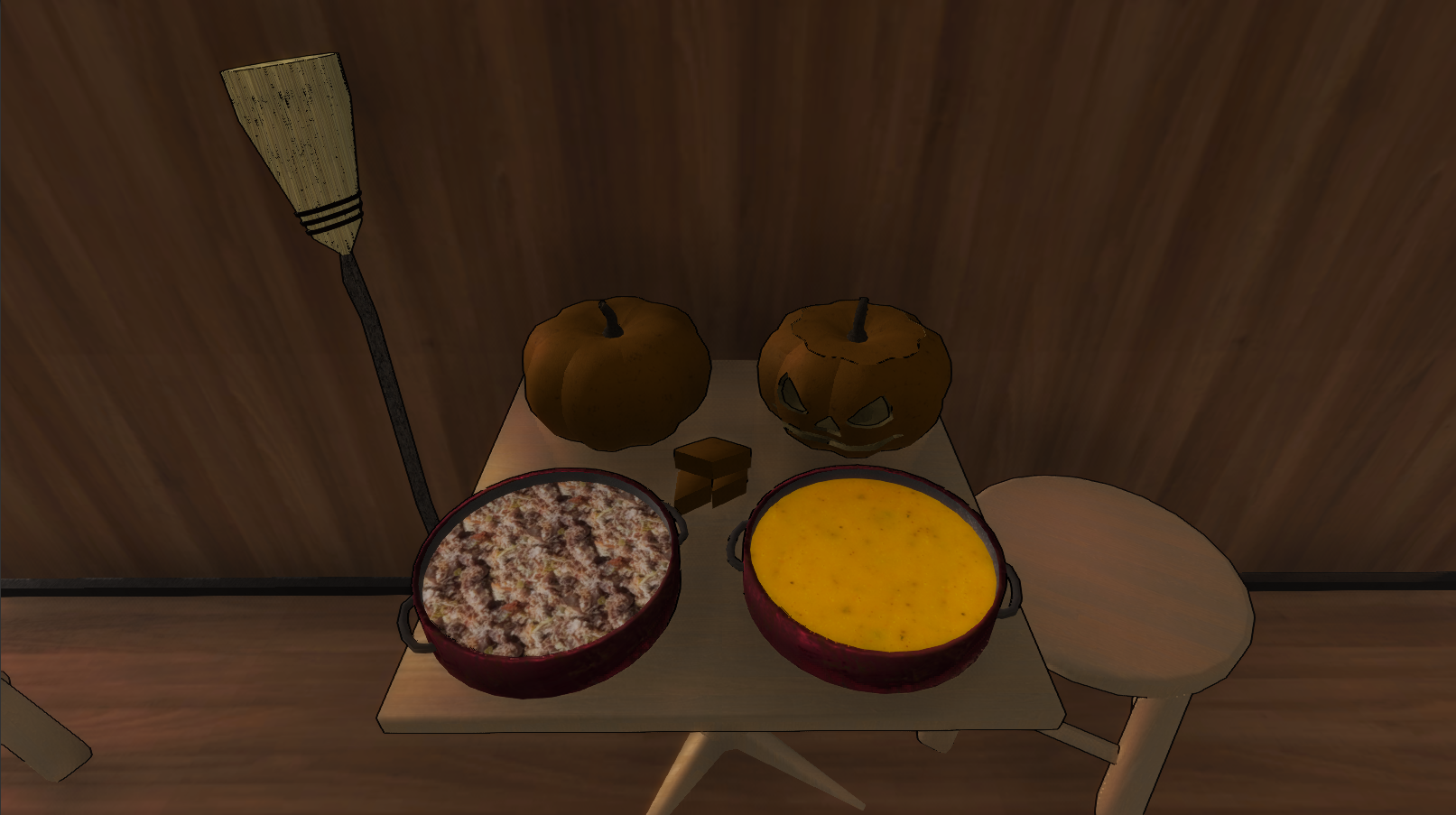 Changes

Now the NPCs that attack the first attack do not cause a loss of karma, but after the attack, killing the ones who escaped or provoking the NPCs to attack causes a loss of karma.
Balanced graphics set to the top
Component of many objects changed to leather piece
Top and compare screen informations fonts size changed
Standby delay after stand up reduced from 2 seconds to 1 second
Screen blood effects now appear in the case of bleeding
Editing of object information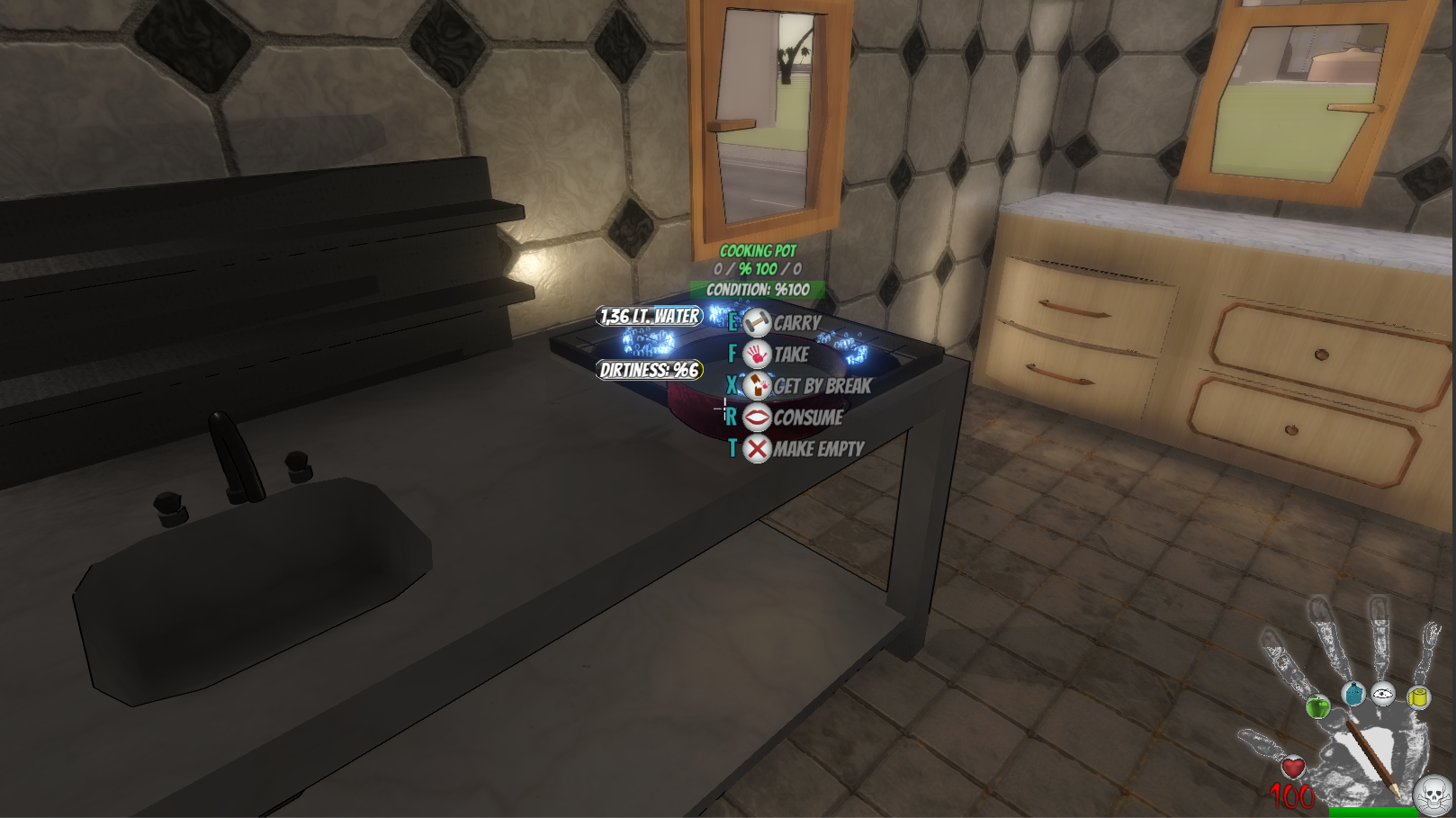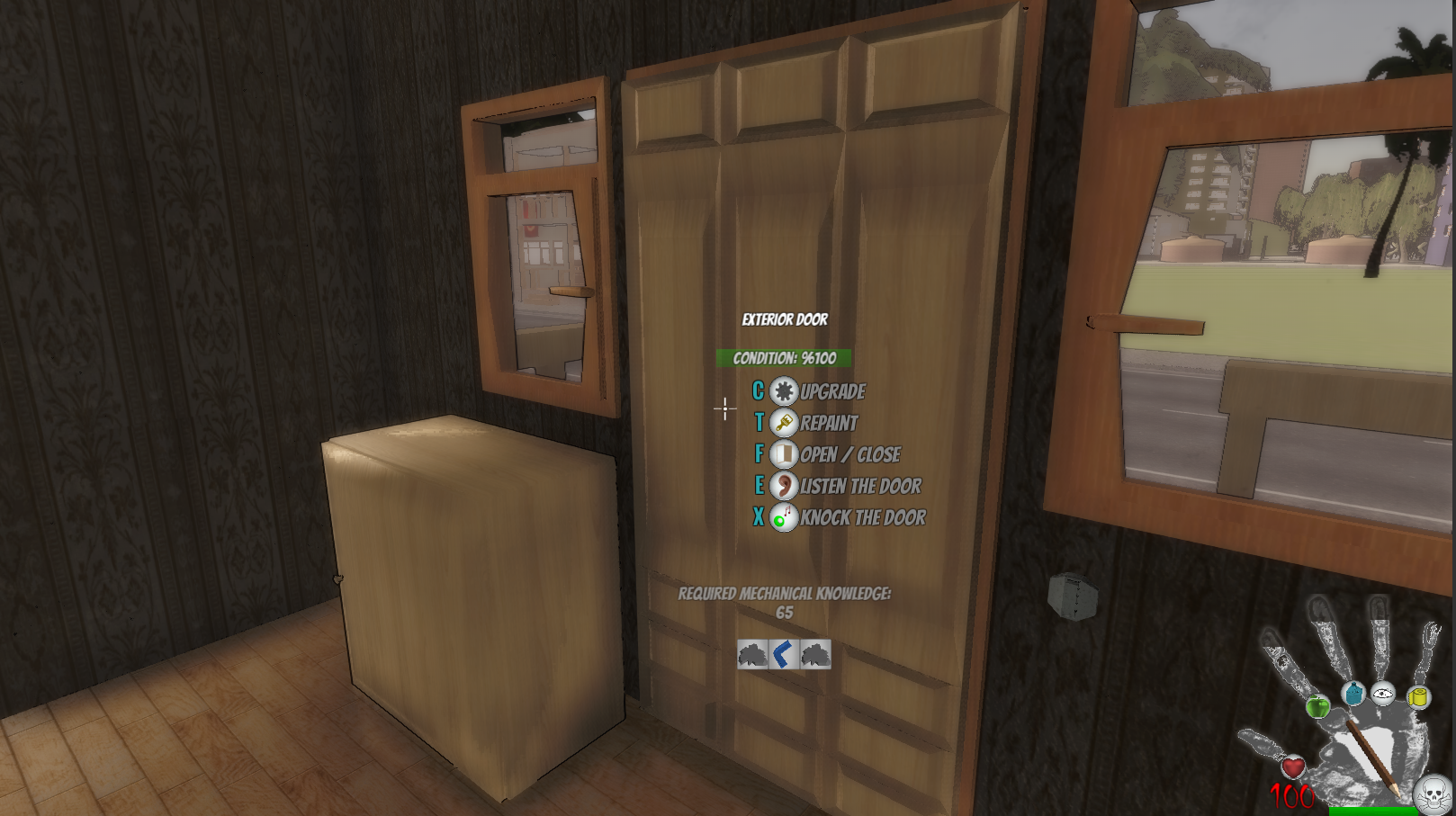 Can continue as a zombie now after dead if you die another reason but you have a zombie virus (Except die for zombie atack)
Booming zombie booms like poison. Explosion causes +% pollution and poisoning
Closed objects cannot be filled with rain or water
Zone control system changed
Changes made to the character creation screen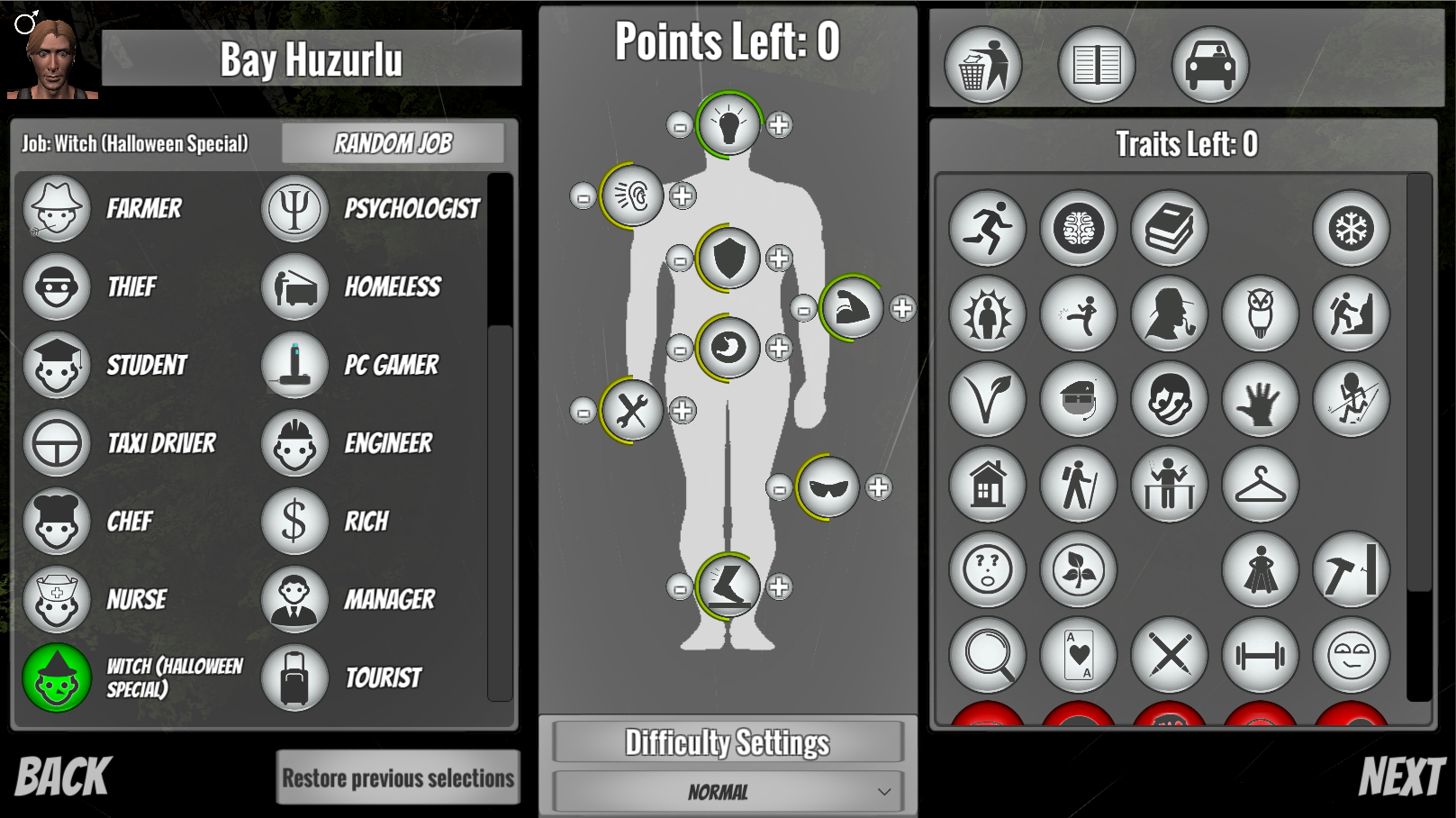 Added to the driver trait: "starts with the car key"
Now you need to have a wheel wrench in the inventory to remove and install tires
Freedom and Peace now gives 10 point instead of 15
Effects on abilities are now shown on the K screen with coloring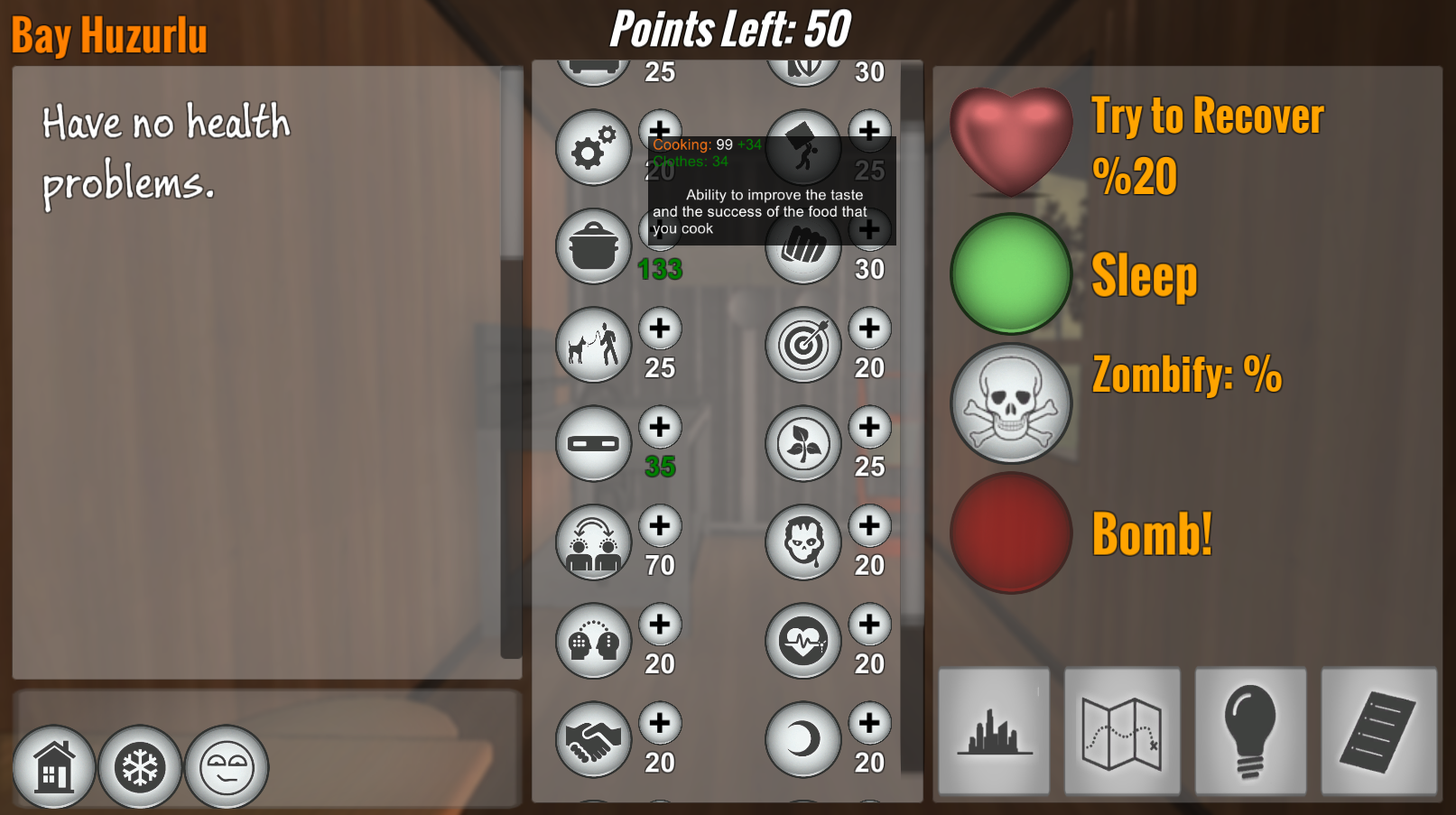 Location indicators connected to main hud display
Melee weapon attack control times reduced by half
Asabuy industrial buildings pulled down


Fixes

Immediately destroying when melee weapons are thrown into nothing. - Fixed
Problems with NPC, Animal, Zombie saves- Fixed
Big Farming Crate bugged after loading - Fixed
Cooked solids foods have a risk of disease - Fixed
The FOV setting conflicts with the All Terrain setting - Fixed
Zoom options such as binoculars etc. conflict with the All Terrain setting - Fixed
Bookshelves and Barbed Wires not visible - Fixed
Energy Generator can be operated directly without object inside - Fixed
Tool table description is wrong - Fixed
Problems with toy car - Fixed
NPC shelter claim problems - Fixed
Listed keys Do not work on Engine, Battery and NPCs - Fixed
Upgraded van and ambulance rear right door does not open and close - Fixed
Visuals of upgraded glass-based objects do not change - Fixed
Broken glass still looks broken when repaired - Fixed
Karma reset is not working - Fixed
Oil Extractor bugged after loading - Fixed
Traps resets after loading - Fixed (However, they cannot be taken to inventory until they are activated
Fat trait dublicate after each loading - Fixed
Free upgrades works only in replace missing doors etc - Fixed
The books for items "Tandoor" and "Barbed Trap" can be used, but not learned - Fixed
Problems with the Cookery Table - Fixed (Cookery table in previous saves will cause loading problems)
After a while trading with black market is not allowed to trade anymore - Fixed
NPC grouping and base claim issues - Fixed
Problems after fainting - Fixed
Theft or donating product does not work - Fixed
No "required object" translation on locked doors - Fixed
Pictures inside bank vault is have loading problem - Fixed
Street Smart description wrong - Fixed
Gas Generator not working in some cases - Fixed
Infinite loop formation during base claiming - Fixed


Fixes (Need more tests)

Changes have been made to solve T-Pos problems on animation start-up and supervision.
When some open doors or windows are upgraded, it is opened again - Fixed
"Take your life under X" missions not working - Fixed
Weapons act like melee if change weapon at reloading - Fixed
No animal sounds or animals have NPC sounds - Fixed