I've just realised that after releasing several development updates we've not actually introduced 2112TD or the development team.
First, let me say a big thank you to everyone so far who has taken a moment to check out our work in progress materials and leave feedback through social media. We've put so much time into the development and we still have a lot to do, so knowing that we have your support makes us feel good about what we are doing.
My name is James and I'm leading the development of 2112TD. My background is predominantly in sound engineering and this is the first game project that I've managed. Since a young age I've had a real sweet spot for science, science fiction and gaming. The thought of ever unifying those interests in order to create something is a bit of a dream come true. I've spent the last 8 years working with audio and more recently games audio. As I became more and more involved in game projects I gained an insight into how the development process works.
Then one day I thought, 'bollocks… I'm gunna make my own game!'.
The project started out with just two of us, myself and Stirky our developer. This is Stirky's first game as well so there has been a great deal of research and planning involved. The initial game concept came into existence almost a year ago but we didn't start full scale development until around May 2013. Stirky and I have actually known each other for quite some time but neither of us were aware of each others technical backgrounds or interest in the subject of games development. It all started as we got talking over a few pints at the pub, throwing ideas around about the possibility of making a game. As we were both fans of the tower defence genre that seemed like a perfect place to start. Weeks passed and we talked more and more while at the same time I started to come up with a concept and story. Stirky started experimenting with the Corona SDK to see what he could come up with and by the end of Summer 2013 he had a working tower defence game.
It was absolutely rubbish and it looked awful.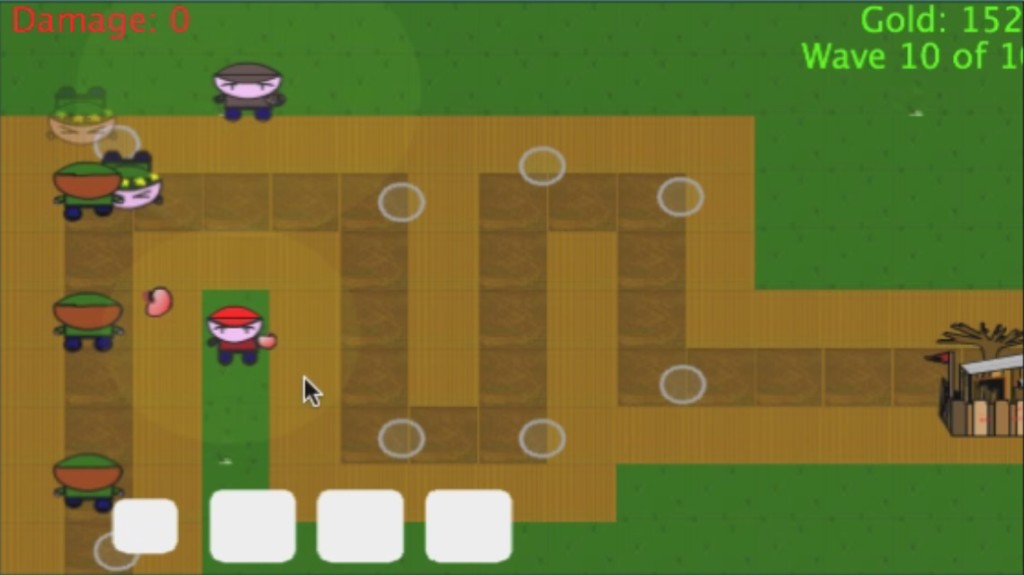 The original 2112TD. The evil leprechauns don't really carry the same fear factor as the more recently introduced hell spawn.
We realised that we couldn't achieve our vision of the game without a solid art team so I put out an advertisement on web. I couldn't believe the response we got, considering we had nothing solid to showcase, just a very rough story and the phrase 'Sci Fi Tower Defence'. Bare in mind to this day we have not had a single penny / dime of investment in order to hire staff. This game is being built as a true indie title with a budget of zero. It was reassuring that there were a lot of people out there, very talented people, who were willing to get involved even though we couldn't guarantee any success.
It took us many months to build our team. We wanted to make sure that the people who joined shared our passion for creating a sci-fi game and whose artistic style complimented the overall vision and story. As of April this year there are now eight of us working on 2112TD.
Let me take a moment to introduce everybody. I've provided links to their portfolios - check them out if you get chance.
James Mazur (Game Director / Music / Sound Design)
I'm responsible for the overall direction of the game, managing the development process and dealing with all external communications. I have created the game story and will be providing the audio content.
Stirky is our developer and he is responsible for bringing 2112TD to life. As I mentioned already I've known Stirky for quite a while but only since we started working on 2112TD have I properly gotten to know him. He has put many hours in so far and he has engaged in a lot of self tutition in order to ensure that the game features are properly implemented.
Mike Fong (Concept Artist / Content Design Aritst)
Mike is designing all of our games technological assets such as towers, vehicles and some structures. He has also provided a great deal of technical support relating to the overall visual design and will be producing concept art for the story. He hasn't been with us long but he has demonstrated a very strong technical understand of applying visual art to a game environment. His attentiveness to detail has resulted in some really awesome looking content for 2112TD.
Simon Jody Lazzari (Environmental Artist / Map Artist)
Simon is responsible for creating the game maps as well as environmental concept art that illustrates in detail the locations where the game will take place. Simon's has done an outstanding job of bringing the game universe to life, using gloomy and erie colours that play on the atmosphere all while ensuring that the map art tells the story.
Alistair Seamer (Content Design Artist)
Alistair is designing everything evil in the game.
Pierre Duchon (3D Model Artist / Animator)
Pierre is responsible for turning Mike's sexy turret designs into super cool, fully functioning evil cleansing machines.
Andrea Avesani (3D Model Artist / Animator)
Andrea is a very multi-talented modeller, covering a range of the games 3D assets, including monsters, structures and vehicles.
Daniel Leijonberg (3D Model Artist / Animator)
Daniel has been with us for quite a while. His primarily focus on the monsters models but he has also produced a number of other 3D assets and his technical support has been invaluable.
It's been a real privilege working with such a great set of self motivated and talented individuals. Most of us are freelancers and we are working remotely. This has its pros and its cons. Not having overheads to deal with such as a premise takes a lot of the pressure off but it has taken us a long time to establish a schedule and put systems in place for how the game is going to be developed. Most of our communications take place via email and Skype as our team is spread across Europe.
So what is 2112TD... ?
Well If you'd have asked me 6 months ago I would have probably told you something very different. Naturally the game has evolved over time and the game features have been refined. It has only been in the last month or so that we have settled on what we think should be make into the will be in the final release. There's many unpublished features that I'd like to introduce but it all depends on how we are for time. I'd rather we delivered a solid game rather than lots of watered down features.
Game Description
2112TD brings you a beautifully immersive tower defence experience. Expect to see all the classic ingredients that make TD games so timeless and everlasting, complimented by features adapted from the real time strategy genre. Set 100 years in the future, you must battle inter-dimensional hell spawn across the solar system in a desperate struggle to defend Humanity from total annihilation.
The pace is steady, but the tension is high as the relentless hordes amass in an effort to overrun your fortifications. Towers alone cannot stop them and you will need to think strategically, taking advantage of the games unique assets such as the fortification wall, the armoured drone, the surveillance drone and the aerial bombardment craft.
Key Features
11 HIGHLY DETAILED MAPS
All beautifully illustrated and based on locations throughout the solar system
4 PLAYABLE GAME MODES
Easy, Medium, Hard and when your ready, see how long you can hold back the hordes in Survival Mode
4 TOWERS
Burn, blast, and obliterate the hell spawn with the Machine Gun, Flame Thrower, Artillery and Plasma towers
8 PROTOTYPE TURRET ENHANCEMENTS
Gain access to the most sophisticated weapons technology by upgrading your turrets
GET STUCK IN
Deploy the Fortification Wall and impede the monsters while your towers lay down fire or bring out the big guns with the armoured drone
DEATH FROM ABOVE
Is the battlefield getting too hot to handle? Why not call in an aerial bombardment or U.A.V to assist in the cleansing of evil
16 DISGUSTING MONSTERS
Who are they? Where did they come from? Nobody knows but they want to suck the brains and souls out of every last human in the solar system. Encounter four armour categories: light flesh, tough flesh, reinforced flesh and demon flesh
IMMERSIVE VISUALS
Watch the epic battle come to life as your cargo ships drop off your turrets for deployment and the bomber craft swoops down and blows monsters to smithereens
TACTICAL RESEARCH CONSOLE
Research technological enhancements to improve your defensive capabilities on the battlefield
TACTICAL DATABASE
Discover what U.E.R.I scientists have found out about the invaders and research how best to use your towers in the tactical database
That pretty much brings us up to speed. You can check out the game story on our website. Thanks for reading and I hope you like what we've got in store for 2112TD.
If you want to keep up to date with how the game is developing then remember to watch our page.
You can also find us on: