International: Most of the cast are from different parts of a post-WW3, 22nd century Earth.
Students: Yes, this story only has one adult character in it.
Trying to Survive: For people who are practically walking targets in their respective homeland, maybe this is the only place they can experience a proper adolescence.
Winter: Unlike the rest of the world, the Empire's students have two options to take classes: summer or winter. Most would want summer classes so that by the time they'll return to their own countries, it'll be summer still. Unless if you're from down south, of course. This story is about a bunch who went the other way.
in Delinquency, Discipline, and Disorder is the story of one Elisa Augustine, a high school senior, as she tries to put in line her schoolmates in a rather unusual setting. "Studies first, romance later." has become her motto of sorts, but that doesn't mean she won't have romance as well, after all, she's expected to live longer than her classmates and do better than everyone else.
---
Main Characters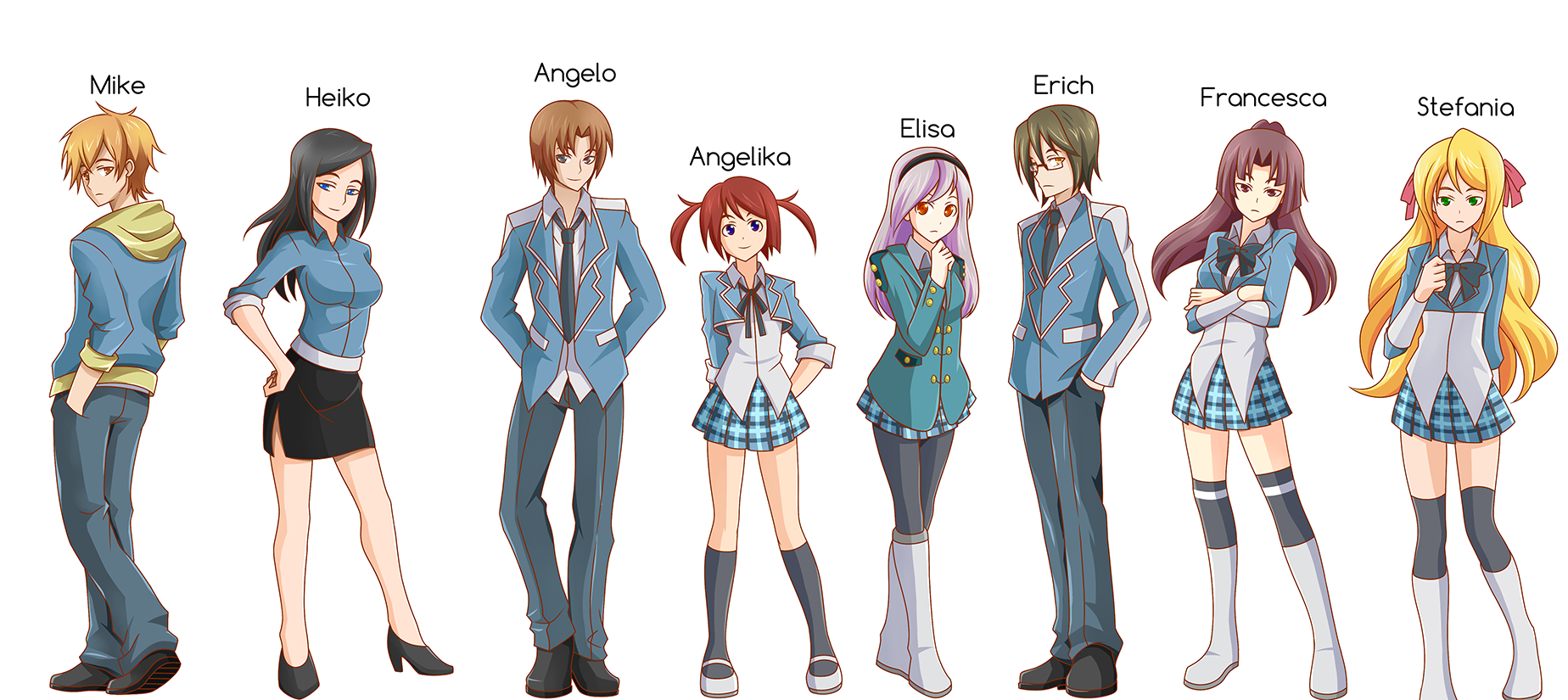 Elisa Augustine - The protagonist of this game. Elisa is a 8th generation sprite-human hybrid, meaning she has more magic in her than a normal human. She also lives thrice as much. Elly, as her friends call her, is a quite but sociable character but she's rather vulgar when it comes to some things.
Francesca Jenna Helminen - Elisa's best friend. She does her best to support Elly in their mutual quest of running the student body in the darkest of times.
Stefania Justina Moretti - A two-time winterover, meaning she has forsaken the sunnier side of things for one of solitude. A rather introverted character to a stranger, but her friends would say otherwise. She is the captain of the fencing club.
Angelo Testarossa - Elisa's classmate since 1st year. An annoying chap who likes to pretend he's Casanova. Notoriously known among female students as someone who asks for dates but gets rejected most of the time. He is Stefania's childhood friend.
Mike Godfrey - Mike is a man of few words. He prefers to let his fists do the talking, well not until Francesca told her to stop or he would be deported right away. Despite his rough past, Mike enjoys the arts, as such is the only wintering member of the art club.
Erich Staedtler - The bookworm. Erich is a calm and collected individual. He is rarely seen among his peers, preferring instead to hole up in the library. He's very interested in history and will talk about it when a chance presents itself.
Heiko Ayanami - Elisa and company's homeroom adviser, and the acting principal. She is very friendly and almost motherly towards her students. She also works part-time at another school.
Angelica Wurzel - Some newcomer who happens to be friends with Stefania and somehow knows Erich. She wears her previous school's uniform because she enrolled late, and the ateliers won't open 'til summer.
---
Setting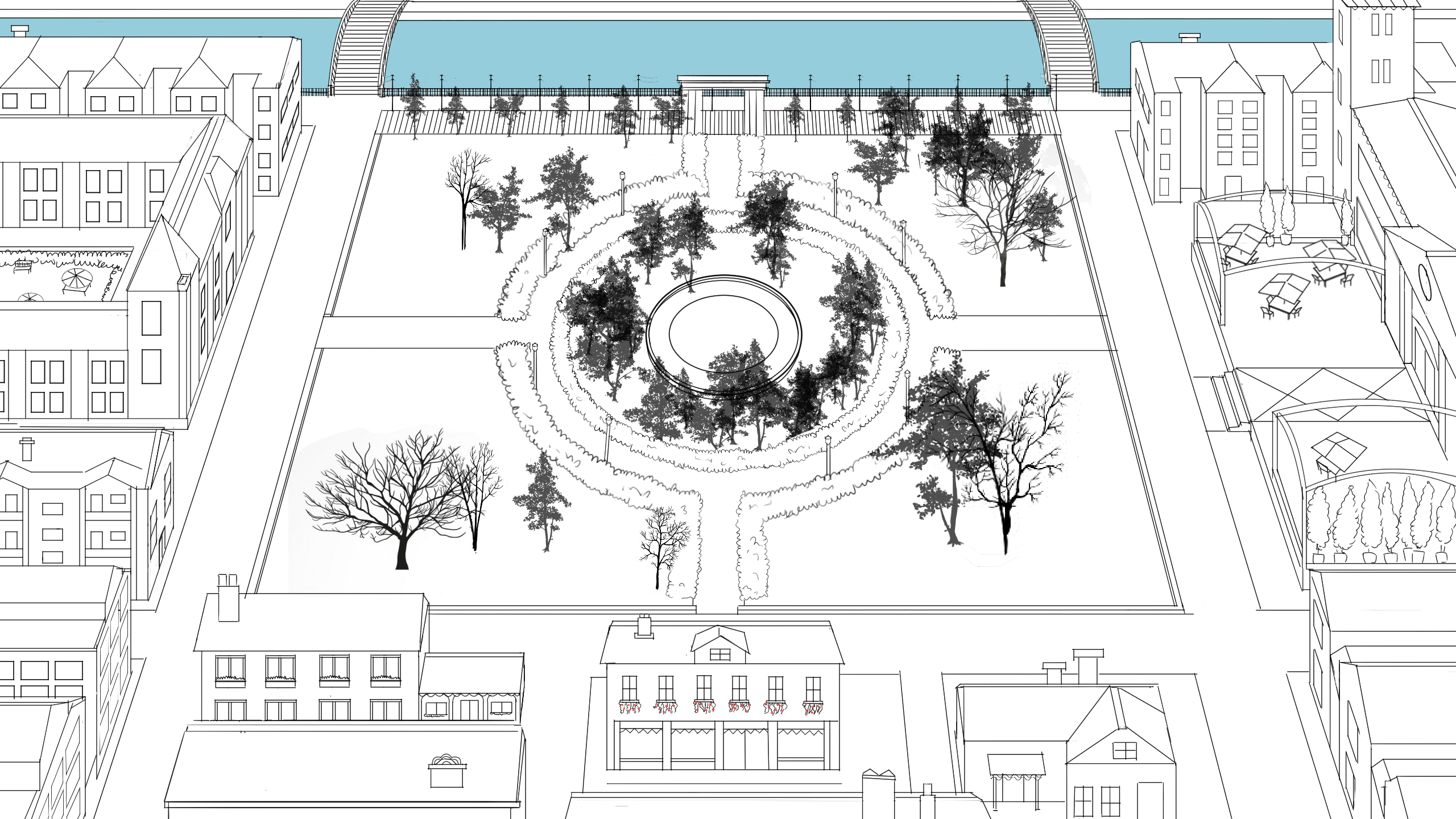 The game takes place in the fictional city-state of Concordia, a subject of the Empire. Imperial city-states are autonomous, fully self-supporting organizations that are able to sustain their local population with minimal interference from the Empire. Concordia's district 2 is a so-so part of town where most of the city's immigrant population is located. Due to Concordia's location, it experiences extreme weather but is otherwise protected by magic.
---
Gameplay
Like all dating-sims or sims, in Delinquency, Discipline, and Disorder involves stat-raising, a lot of it. Plus the management part of things since your character does manage a student council.
Only God knows how much feature creep and changes this game has gone through. Gonna use some old screenshots.
Stat Raising
Building up your stats is essential for your conquest of this academy's student council the discharge of your duties as student council president. The red stats are your main stats, needed for day-to-day life in Concordia while the green stats are derived stats for duels/battles.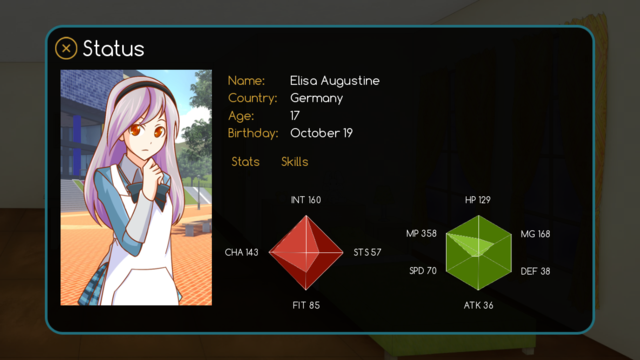 Relationship Building
Depending on your relationship levels with someone, some things might end up better, or just worse. Things like stat-raising and success rates.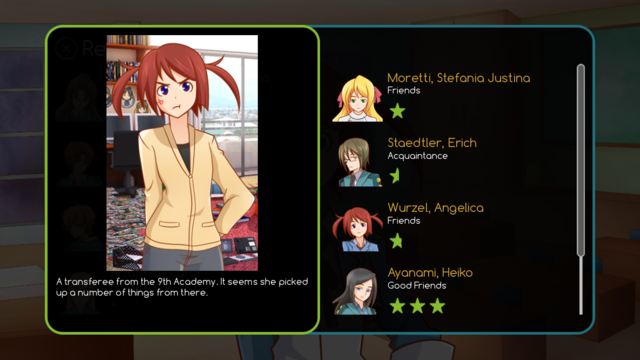 You also get to go to other places within the district, maybe you'll encounter some locals as well. Club management and relationship building might be merged into one thing.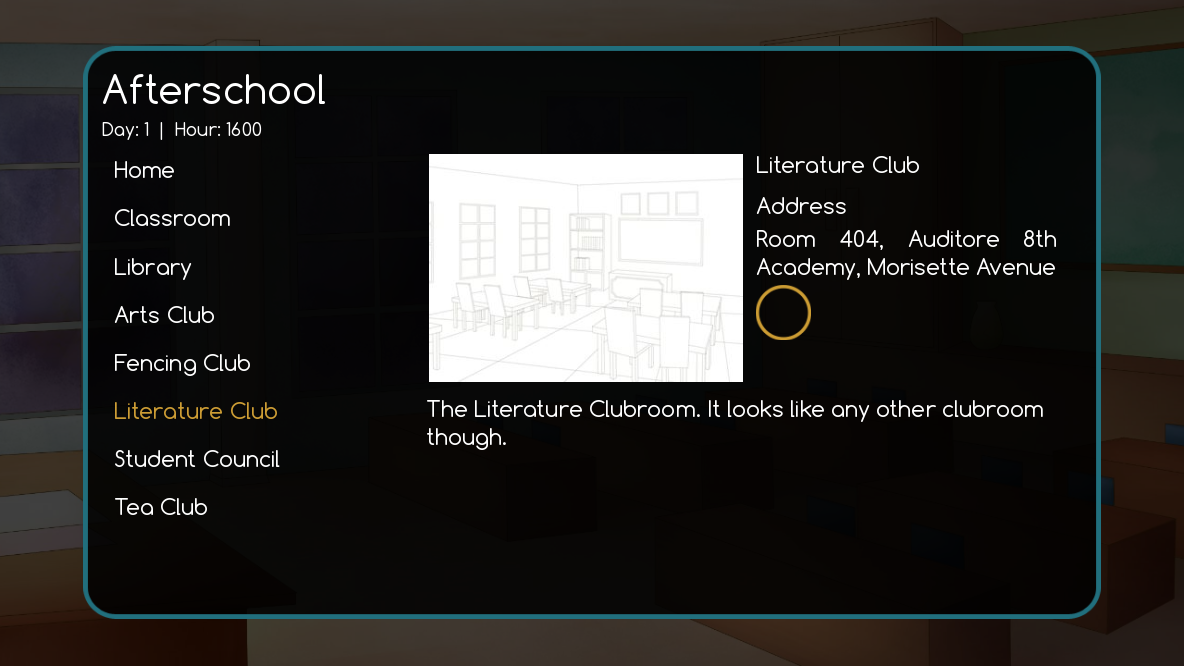 Club Management
Something like the relationship building mechanic of the game, except it's for groups of people. This is the youngest feature of the game and should not be taken in as final (just like everything here).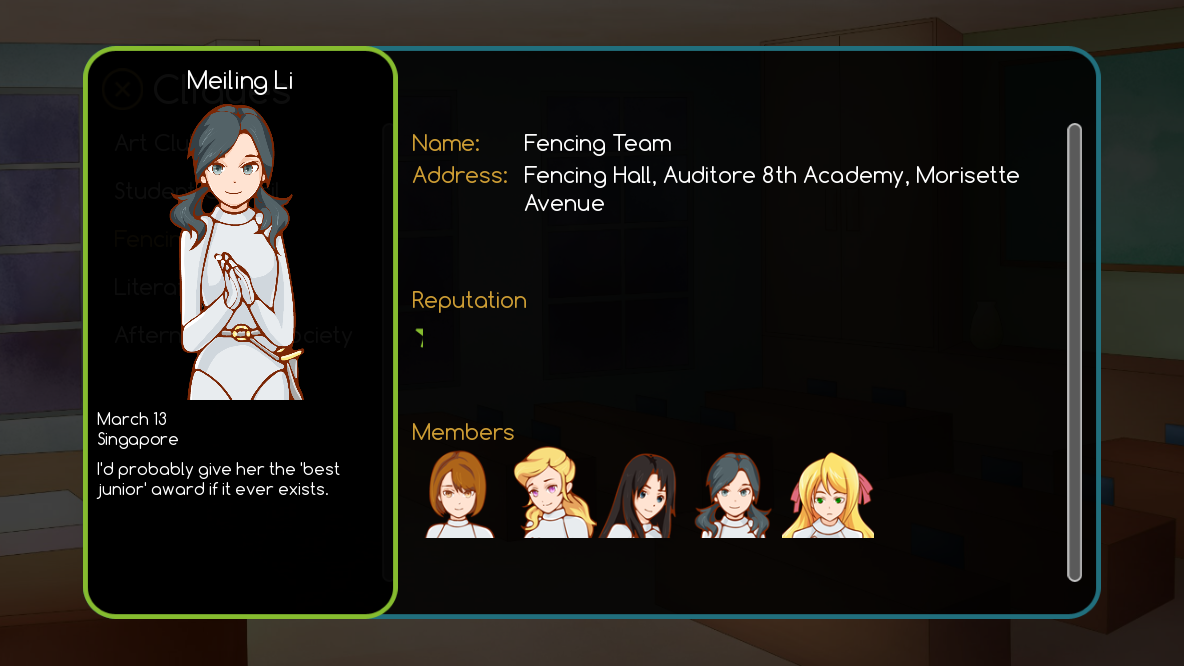 Battles
Elly gets to use guns. Don't ask why. Originally, this was a minigame but then it turns out it could play a larger role in-game. Relationship building is also possible here. Currently working on forking Sheepstorm for this one game.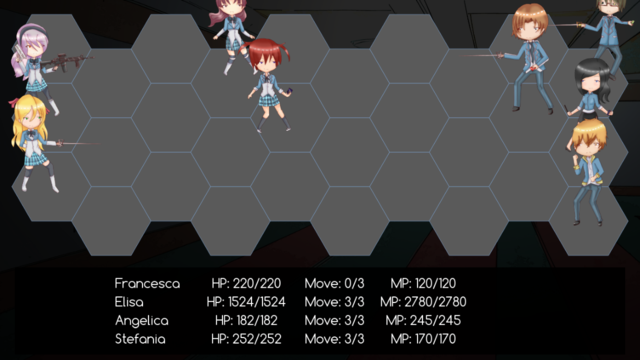 ---
Technical Details
Projected Word Count: 75,000 words split over 60+ days in-game.
3 Possible Endings
1280 x 720 Screen Resolution
Noncommercial
Still no CGs