Welcome to the Boss 101 Update!

As you know we are dedicated to bringing you our best effort. At this stage the news is really about polish and cleanup. Let's talk about that, shall we?

Equip Panel in the Make A Boss

This one has come up a few times in recent updates and there's a reason. It's an important area for the player and has a lot of moving parts to understand. For us that means testing and retesting things that will make YOUR game a lot more fun in the end.

So here we have an example of the panel being iterated on. This is a nice little idea here and improved from version 1.0 (see prior updates). Upon closer inspection we thought it could stand a little more cleanup and brought the whole she-bang into the Boss 101 lab to work on it.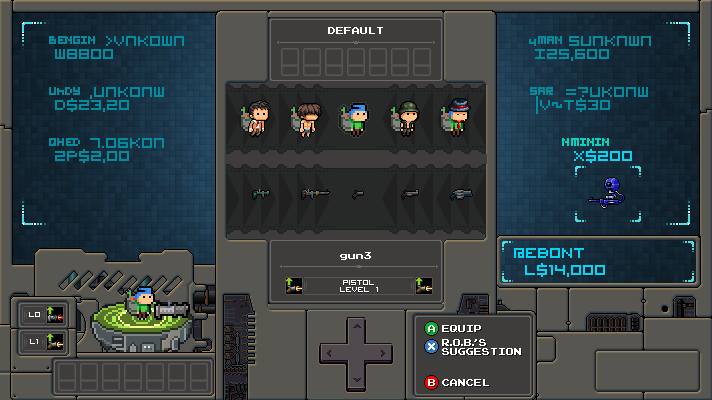 We looked at what was working and how we could make things even clearer. We lightened up the panel to make the guns and hats pop out as well as added a few labels to clear things up for you the player. I'm not a huge fan of tons of small text but I believe there can be a place for information and decals when used correctly. In this case there is so much information happening in this room it seemed to warrant a little more text information.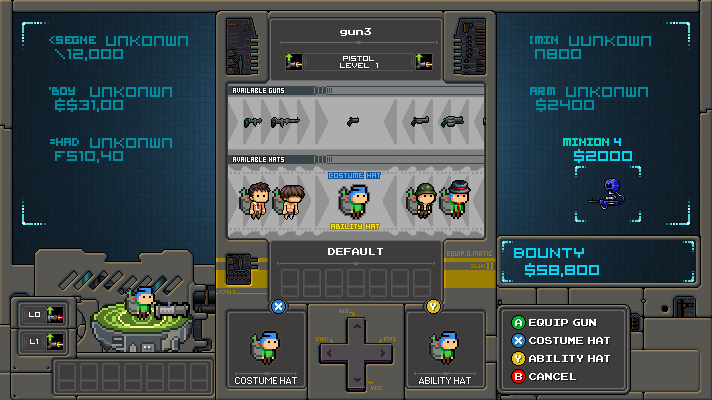 You can see we also have nice nods to the hat room way of equipping your hat as a costume or an ability hat. This is one of those design moments when we asked ourselves "What have we been teaching the player up to now?" When we did that we felt it was necessary to put in this function since a player might rightfully expect it here. Originally we did not want to do that and ONLY wanted to deal with the ability hats since they are all that matter on this screen. Of course the issue with that sort of thinking is we are making choices for the player instead of giving them the decision.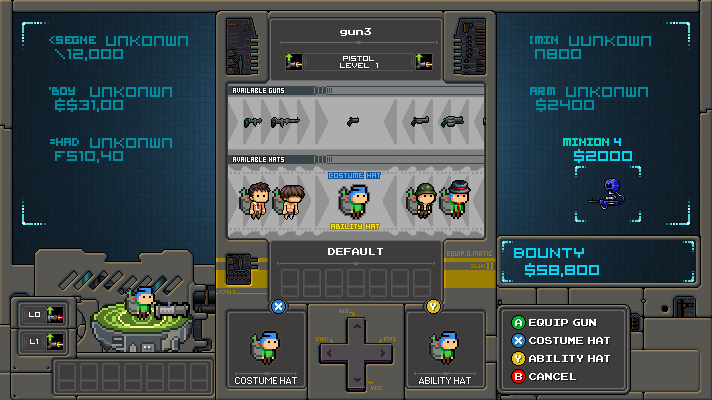 It was easy enough to add the hat equipping idea from before anyway – SO WE DID! YOU SEE HOW WE ARE!

Little touchups to the Command Center

Endless Boss and the Trophy Room get some shine on their selected animations. Just nice adds to make it clear you have selected these items. We already have a nice green outline and placard but the shine effect puts a cherry on the whole thing.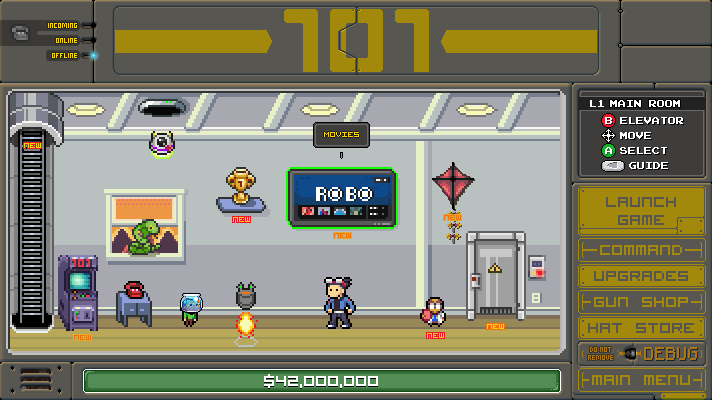 Movie Room Animated Icons done

You can see here the movie room animated icons are in place. There are only two movies in the queue at the moment but the way they work and the neat new icons for the spooling tape and movies look marvy!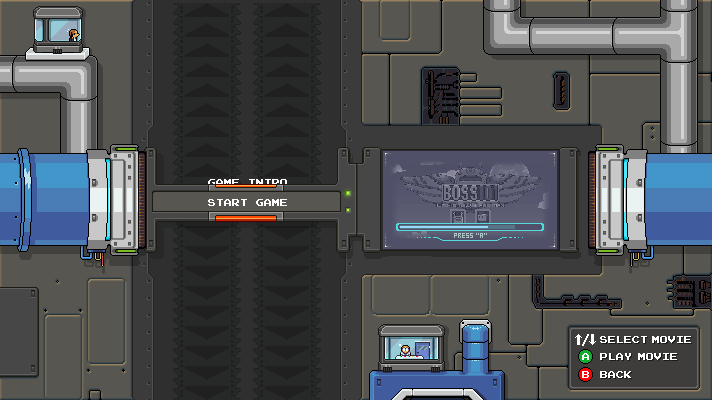 Boss 101 Screenshot of the Day

You can have a pet coffee cup in Boss 101. See him flying around outside? Man, I have always wanted one myself since it would make those morning coffee runs a lot faster. hehe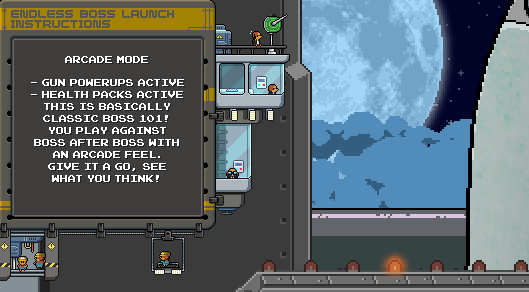 Sound and Music Updates coming!
Ok – more to come soon including updates about the Boss 101 sound and music! Thanks for checking in. Boss 101 is well on track and we are excited to bring it to you soon.
Remember to LIVE YOUR DREAMS!!

-Tim

Please put Boss 101 on your Steam Wishlist us if you would be so kind - Thank you!

Store.steampowered.com