Screenshot Challenge!
Submit a screenshot of 0.8 and gain access to the expanded armory version when the full release is ready. Expanded armory comes with unique demon helms guaranteed to make everyone else wish they were you. The best screenshots earn the Gold edition with even more prestigious items!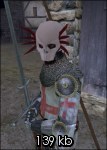 Contest ends at the full release. Don't miss out!