There is currently a SALE on STEAM! 15% off for the Early Access of Protonwar!

(Slightly technical notes, sorry :)

MSAA NOTES:
With this patch i have moved to the new forward render path in the engine. This means a few things, the best being that we can now use MSAA in VR, so the image looks much cleaner!
Set the AA settings in the settings menu accordingly, I recommend Medium, if you want a cleaner image than that you get better quality/perf by then increasing the resolution scale.
I recommend with AA enabled that you keep to the default 140% screen percentage in VR on low/mid end, 160 is good for high end.

There is a trade off that comes with this though, this trade off is that lighting is not as realistic. And i have had to remove some of the special effects.
I think this trade off is 100% worth it though as the game is just looking fantastic now!
I have had to re-do all the lighting, so there will be room for improvement here as i am still 100% learning how to best light a scene in the new renderer.

This is also why the patch is so large! Lightmaps/Textures take lots of space! :D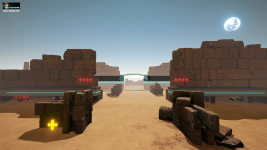 NEW LEVEL!
This patch also includes a new map DM-Overgrown. Similar in concept to DM-Ruins, but with nicer graphics ;). It is a nice outdoor level, and the first to use foliage :)
The foliage is COSTLY though, in VR when there is lots going on.
I've spent a large amount of time optimizing it, but i think that is about as far as i can go for now while keeping it dense enough :)

Other Fixes and Improvements:
Lots of small tweaks here and everywhere in the maps
All backend movement code rewritten / optimized
Fixed strafing on Trackpad movement
**Trackpad forward movement speed is now also controlled using the distance of the controller relative to the player (yes, like Onward)**
Increased Rocket jump height
Improved Rocket/Grenade explosions
Squashed more bugs!

I hope that you enjoy these changes as much as we do! Please remember this is still early access, and expect constant improvements and bug fixes.

In other news, Protonwar was recently at Paris games week, in a booth with Lenovo and ESL. The game was very well received and people were queuing up to play!
With VR's constant growth in popularity i think FPS games in VR have a very bright future that i cannot wait to be part of!
This week Protonwar will be at Dreamhack Sweden!

Thanks for the support!
-Gozu, out.