Wildfire Games, the international group of volunteers developing 0 A.D., are happy to present this week's 0 A.D. development report. If you want to find out more about the development of this open-source, cross-platform real-time strategy game or if you are interested in game development in general, it might provide an interesting read.
If you wonder about the jump from #5 to #11 - unfortunately we missed to post reports 6-10 to IndieDB. As we don't want to hijack the IndieDB front page we've decided not to post them all here. Below are links to them all on our web site (we updated it late last year by the way, there, at least two reasons to head over there for a brief visit) though if you want to check them out first:
0 A.D. Development Report #6 (Week 35)
0 A.D. Development Report #7 (Week 38+39)
0 A.D. Development Report #8 (Week 40 - 42)
0 A.D. Development Report #9
0 A.D. Development Report #10
Now back to our (not so) regularly scheduled content.
Feature of the Month: Building Construction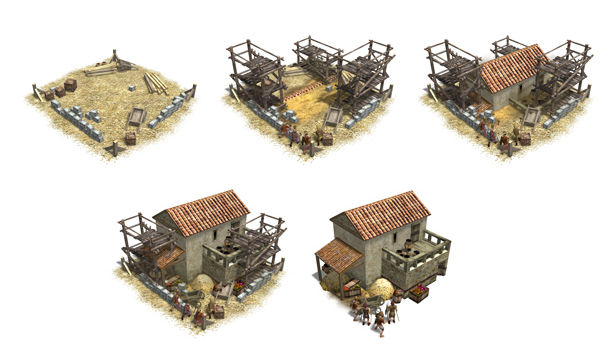 Programming & Art & Sound

Our one-man-orchestra, Omri Lahav has been busy lately, very busy. Not only has he finished a new track for the Celts, the Hellenes and Mauryans will also receive some new tracks very soon. As always, when a track is released you can check it out on Bandcamp.
historic_bruno added building previews that rise during construction (screenshot above) and a build script for OS X dependencies & bundles , making it easier for developers to work on 0 AD using OS X.
Aside from tens of bug fixes, historic_bruno also took care of textures not loading. Remember when you start a game and everything looks grey for some time? This should be a thing of the past now.
Pureon has committed the Mauryan headgear/faces and a siege onager. Long time, no siege! Currently he's tackling the Mauryan farmstead.
Enrique has been working on the Mauryan elephant units and the Mauryan Market.
Leper committed a lot of patches: player notification when receiving a tribute (by alpha123), template fixes (by qwertz/kosmo), tribute stats are added to the summary screen (by alpha123). He's also added user mod support and fixed a number of bigger and smaller bugs.
stwf has posted a patch with a rework of the sound manager. This is currently being tested and will hopefully be implemented soon.
Gen.Kenobi added normal, parallax and specular maps for all Mauryan buildings and ships.
Spahbod added a new random map, Kerala.
éminence grise Philip tinkered a bit with stats collecting (Windows 8 supported), he also fixed some static analysis warnings.
Battle detection was implemented by zoot! For example: when a battle is raging, the game will change the music from peaceful to battle music. This is only one example of the benefits of battle detection. More on this later.
ndragu committed a Mauryan warship.
Yves' Javascript debugger attracted the attention of mmayfield45, who created a web-GUI.
Mythos_Ruler committed a lot of balance changes.

See you in a couple of weeks with the latest development news!
If you want to be part of this project, we urge you to post your application in our forums. We are currently looking for Gameplay, AI, Sound and Graphics Programmers along with Animators and 3D & texture artists. You prefer to do something else than programming or drawing? Luckily for your portfolio we are also looking for a Sound Lead, Video Editors, a Documentation Manager and Scenario Designers. Still no luck? Head to our forums and join our active community
We are especially in need of (skilled) programmers who are able to help us make the game run better. Are you one of them? Redirect yourself to this thread. Your contributions are crucial.