Welcome all to the Top upcoming Indies of 2014 as picked by you! It's been a record breaking year with a great variety of games up for nomination and a whopping 111,793 votes from 8,984,330 visitors, selecting these top games. So without further ado, We are delighted to present your Top 5 Upcoming Indie Games. We are also announcing the Top upcoming Mods and mobile Apps, you're invited to check them out!
"Inspired by the infamous battle of Verdun in 1916"
Verdun is a squad-based multiplayer FPS in a realistic WW1 setting. The merciless trench warfare offers a unique battlefield for tactical squad play in the realistic Frontlines game mode, and raw gameplay in the rifle-deathmatch.
The game includes historically accurate features such as true WW1 weaponry, historical maps based on sectors of the Western Front and authentic uniforms and equipment. The game immerses you audiovisually into one of the bloodiest conflicts fought in Europe. Read more...
"A silly multiplayer co-op fighting game with ragdoll physics"
Gang Beasts is a silly local multiplayer party game with doughy ragdoll physics and horrific environmental hazards. In the current pre-alpha players can grab, push, pull, punch, and throw their friends from wrestling rings, speeding trucks, and suspended platforms. Read more...
"The spiritual successor to cRPG"
Medieval Multiplayer Combat for PC. Build & Destroy Castles in a Huge Sandbox. Join Massive Battles With Your Unique Warrior. Immerse Yourself in a Medieval World.
Melee: Battlegrounds is a pre-alpha stage standalone, 100% independent game being developed as the spiritual sequel to the popular Mount & Blade Warband mod cRPG, with the intention of making the best medieval combat game available by using what was good and improving on what can be done better. The game is made upon our own homemade engine which also will allow for heavy modding - mod anything you can think of! Read more...
"A sci fi colony sim driven by an intelligent AI storyteller."
Inspired by the space western vibe of Firefly, the deep simulation of Dwarf Fortress, and the epic scale of Dune and Warhammer 40,000.
Manage colonists' moods, needs, thoughts, individual wounds, and illnesses. Engage in deeply-simulated small-team gunplay. Fashion structures, weapons, and apparel from metal, wood, stone, cloth, or exotic, futuristic materials. Fight pirate raiders, hostile tribes, rampaging animals and ancient killing machines. Discover a new generated world each time you play. Build colonies in biomes ranging from desert to jungle to tundra, each with unique flora and fauna. Manage and develop colonists with unique backstories, traits, and skills. Learn to play this deep game smoothly and naturally with our intelligent, reactive AI tutor. Read more...
Primaeval is a 3rd person action Adventure dungeon crawler game featuring interactive logic puzzles and engaging melee and magic combat system.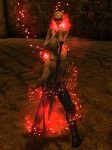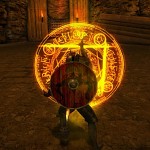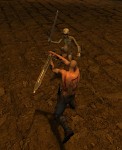 Developer Updates:
#1: Sword combat
#2: Blunt Weapons
#3: Magic Combat - Ice & Fire
#4:
Two-Handed Swords Combat
Primaeval adopts a tactical real time physics based melee combat system with wide range of attacks and moves, the player has a full control of his character, both successful and failure attacks have their respective consequences. in addition, the game features several types of weapons each with it's own play style.
The magic system is a symbol based system and heavily relies on player's memory , a magic spell may be represented by one or more symbols written on magic scrolls. During combat, the player has to remember the correct symbol that represents the spell he wishes to cast and draw it quickly to activate the spell, otherwise the player will need to reopen the scroll and waist a precious time.
The AI is designed to be challenging and merciless, a horde of enemies wont' tackle the player one by one but instead they'll attack together whenever it's possible and it's the player's job to tactically choose the best gameplay style to deal with this situation depending on his current equipments and weapons.
With many logical and mechanical puzzles designed to tease the player's brain and sometimes frustrate him! Read more...
Congratulations to all nominated upcoming indies and all the best with your future releases, don't forget to track your favorites to ensure your always kept upto date.