My good friend Delko, the artist for Indiedb.com & co-conceptualist1, has created a very awesome and expansive wave map set in the compound of several industrial buildings. What he's done with what were originally our collision mask tiles is nothing short of astounding! he's used them as regular tiles to create awesome stenciled looking numbers, and road paint!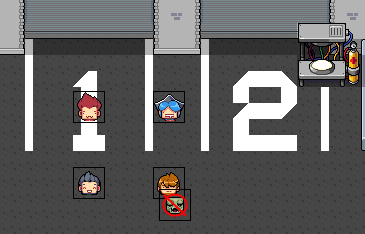 This literally made my head explode!!
The map itself is still very much in the early stages of development, but the good news is, Delko just started using the map editor last night, and he's already created a visually stunning, and (mostly) functioning map! (we're still working out a kink causing fodder zombies not to spawn) This drives home the fact that for the most part, anybody who downloads a copy of the game will, for the most part, be able to generate content for the game! We intend to use community-created content to extend the life of the game via expansions and patches (of course we'll continue to code in new weapons and create new official maps ;)) Speaking of coding, Infini has optimized how the engine draws stuff (or something?) so now we'll be able to either render more zombies, or make the game gorier! (maybe both!?)
That's all for today! I'd like to add a wrap up of what's being done in the game, as often as I can (without too much spamming, of course.) so I'm thinking of either making a fanpage on facebook, or maybe creating a devblog for the game.
1is this a real word?