After years of silent development we are proud to announce our latest game - X-Morph: Defense. A picture is worth a thousand words, so the best way to learn what the game is about is to check out the announcement trailer:
The first concept for X-Morph: Defense was created sometime in 2010, however full production started in 2013, just after we finished the PlayStation 3 version of Zombie Driver HD. Our primary design goal was to build the game in a way that will make it appealing to fans of tower defense games and shooters. At the same time we wanted to introduce new concepts to both genres. Thanks to our proprietary game engine - Schmetterling, we were able to make the game's environments almost completely destructible. Each building can be collapsed and the destruction sequence is realistically simulated using it's physics properties. This dynamic environment creates a lot of possibilities for tower defense gameplay - say goodbye to predefined unit paths. In X-Morph: Defense you can freely shape enemy movement by blowing up bridges, cutting down skyscrapers or by placing defense towers and connecting them with a laser fence. We've put a lot of effort into enemy AI, some units have special movement patterns like e.g. mechs that can jump over buildings and laser fences. Their behavior brakes up traditional tower defense building patterns and makes the challenge so much more interesting.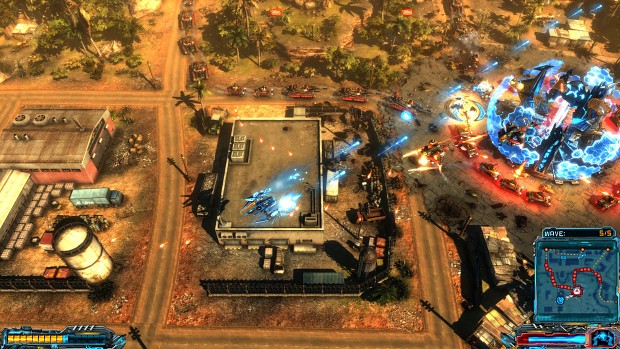 The X-Morph name originates from the concept of aliens being able to morph into many different shapes. The X-Morph fighter can morph into four distinct forms each of which has a different main weapon and special abilities. The same process applies to defense towers. Basic plasma towers can be morphed into more advanced types that specialize at dealing with different kinds of enemies. Aside from the four main attack forms the X-Morph fighter can always switch into the so called "ghost" mode in which it looses the material form completely and becomes invisible to enemies. This mode is used for placing towers on the battlefield, but can also serve as a great tactic for escaping enemy bullets.
We are planning to release X-Morph: Defense later this year on PC, Xbox One and the PlayStation 4. We're going to talk more about the game and explain all of it's new concepts in the coming months. Stay tuned!