Greetings IndieDB and Desura!
So you may have been wondering just what in the world we've been up to! Well, over the past few months we've been working day-in-day-out to get our final boss encounter done. We feel that too many games skimp out at the end, so we're committed to having a thoroughly awesome, completely satisfying, hard-as-hell end-of-game sequence. It'll test all the skills you've built throughout the game, as well as show you some spectacular new, boss-only challenges. As you might imagine, this has been demanding most of our time! We wish you could show you the fruits of our labor, but since it's super ultra secret, all we can give you is this tiny sneak peak:

You'll probably notice from the pixel size that he's quite a bit bigger than Wyv and Keep. Yeah, well he's much, much bigger than this little pic shows. We think you'll be happy :)
Anyways, on to the update!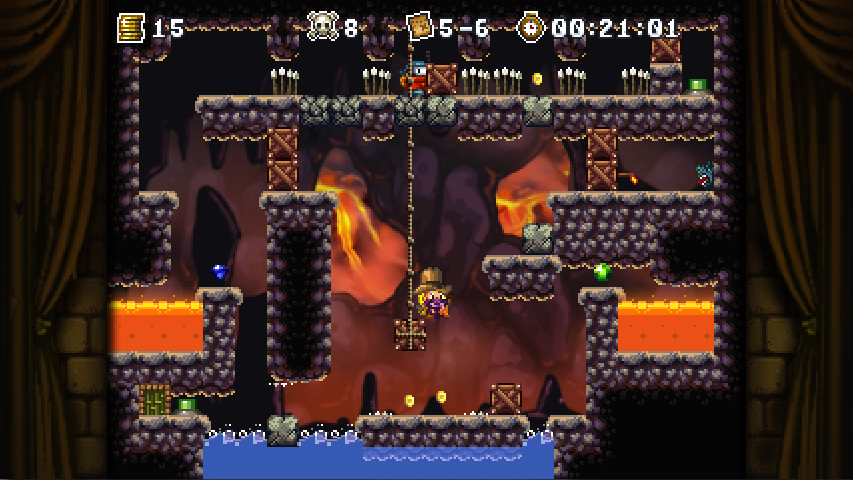 Wyv and Keep have discovered the hidden jungle temple. They've battled their way into the heart and gotten lost in the labyrinthine Inner Sanctum. They've discovered an ancient tribe of cannibalistic pygmies living in a magical village. And now they've delved deep into the depths of an active volcano.
This fifth area cranks up the difficulty, and also the rewards. Along with it, we've managed to lump in some other updates. Here's a list of some of the stuff you can expect:
- The Volcano! 10 new levels!
- The Volcano theme in the cartographer!
- Updated explosions with smoking gibs
- Added death animations to snake and pygmy
- Monkey animation updated
- Dust cloud when level door shuts
- Lift sound, lava death sound
- Two new hats from our #2 and #3 contest winners
- New fidget animation for Keep (Wyv's coming soon!)
- Player names now display in online play
- Players who go AFK indefinitely will be booted
- Some online stability issues addressed (but it's still iffy, sorry)
- Fine object placement in cartographer (hold shift)
- Scroll bar for theme selector
- Title flickering fixed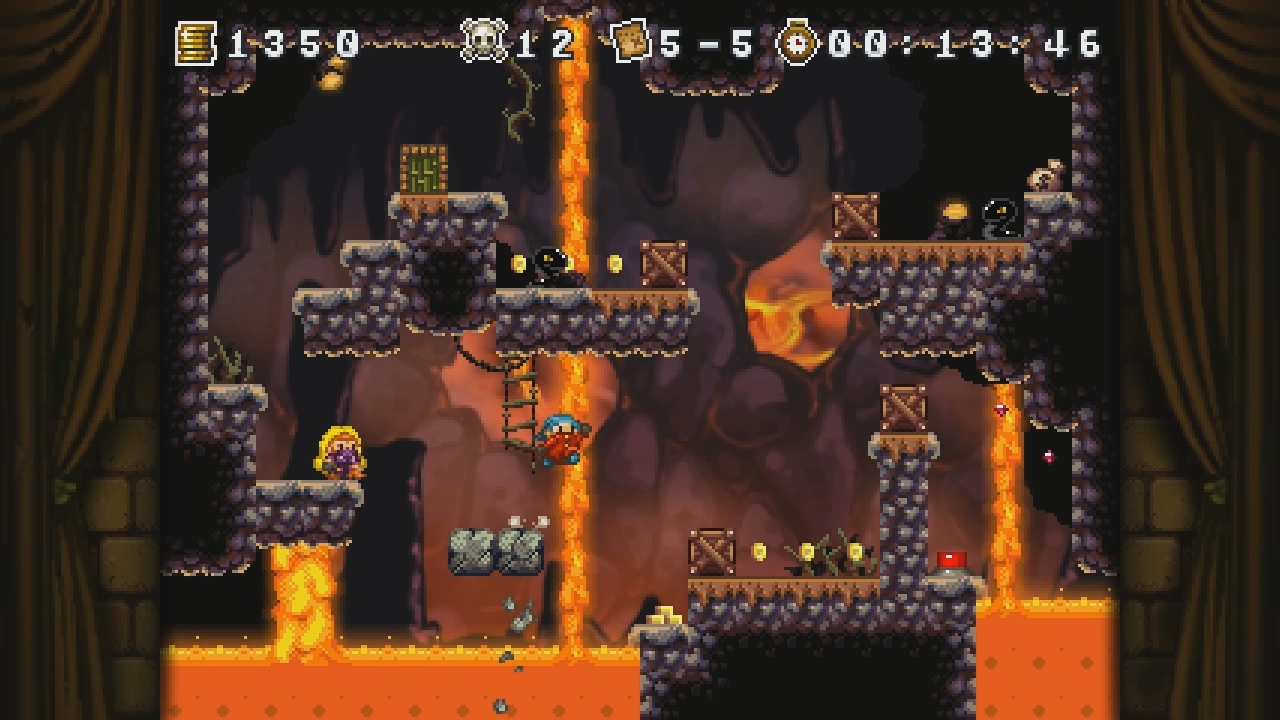 We were hoping to have a larger online update included as well, but that's been slightly delayed. As soon as we can finish it we'll have it out for you. Probably in the next couple weeks! Things you can look forward to in that are:
- Large stability updates (stability seems to be the biggest problem at this point…)
- Ability to plant flags in a space to explain to partners where to stand/place TNT/etc.
- In-game chat, for people who can't voice chat over Skype, Mumble, Ventrilo, etc.
- Ability to create passworded games
- Quickplay (one level) games to support custom maps
- Transmitted hats so your character will be wearing your hat (currently both characters display locally saved hats)
- Direct messaging via a "/msg player message" style system
And probably some other stuff. So be looking forward to that! Oh and here's a quick pic of our heroes modeling the new hats:

Wyv's enjoying the stylish "Cranial Crustacean" while Keep shows off her new timeless "S.P. Hunter". One or both of these maaaaay look a bit familiar to you! Hopefully we can keep them in the final release ;P
We're drawing ever closer to finishing the game, and still hope to make our tentative Summer 2012 deadline, even as we pass through July. So... end of August, hopefully? We'll try to get it done before September ;)
Thanks for all your support, and enjoy the update! As always, follow us on Twitter and Facebook for daily updates!