World of Padman 1.5.4 beta is released for open beta-testing. WoP 1.5.4 beta? And what's the matter with 1.5.3 beta, some of you might think. You need to know that we released 1.5.3 beta a couple of days ago but due to a major bug in bots path finding it wasn't as stable as we thought. That's why we kept silent about it and decided to release the new version a few days later to fix this bug and a few more.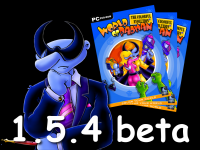 The new version solves some major game play issues like bots standing idle in CTL game mode and placing a BamBam into solid brushes. We added a new quick info (or tool-tip) feature for some of the menu items which appear on mouse over. The HUD now shows the the person voice chatting. To all the modders and mappers out there, please pay attention to the changelog. We made a few changes and additions to the game.
To install the patch it requires at least a full WoP 1.5 installation. There is no requirement of the 1.5.1 hot fix or any other prior beta installation. If you already have one installed, it's fine. Just overwrite existing files by unpacking the 1.5.4 beta zip archive into your World of Padman installation folder. Furthermore the beta version is also available via Desura (World of Padman beta). It provides an auto update service regarding upcoming updates. So keep your client up to date by using Desura, just click the button.
Our beta-test server is up and running online, waiting for you.
IP: 194.153.87.222
Port: 27961
Grab the new version and have fun.
Your WoP-Team