For those of you just joining us, Wolves is a MechAssault fangame tasked with bringing that 3rd person mech action we know and love into the modern age as well as keeping the hope alive during the long wait for an official reboot from Microsoft. We also turned two years old on May 26th, 2019 which is the reason for this article.
Difficulties (Our year in review...)
Around this time last year, we released our first (rather mediocre) attempt at a vidoc and we haven't really attempted anything since. And not because he haven't been trying. Skip ahead a few weeks into June and we pulled the trigger on a rescale project, our prefabs in Unity were massive when we originally set them up and it was costing us performance, so we ran a script that rescaled every prefab to a smaller, more performance friendly size.
This broke a lot of systems.
Frustrated, we took a small rest and then resumed our work chipping away and fixing any issues that popped up. For a long time, we couldn't even show screenshots. Next we chipped away at multiplayer and ran playtests that showed us how much work we still had to do. There were still plenty of things to fix that were caused by the rescale and almost none of our weapons functioned as intended. That, on top of other features and updates kept us busy for probably around 6 months. Most of our year was dedicated to clean up.
After things looked stable, I looked back at all our mechs to date and felt a little embarrassed for myself. There was no way I could ship a game with my mechs looking the way they did, so I decided to basically start over and rebuild them with the care they deserved one at a time. We showed the results of that hard work with the reveal of the Cougar redesign.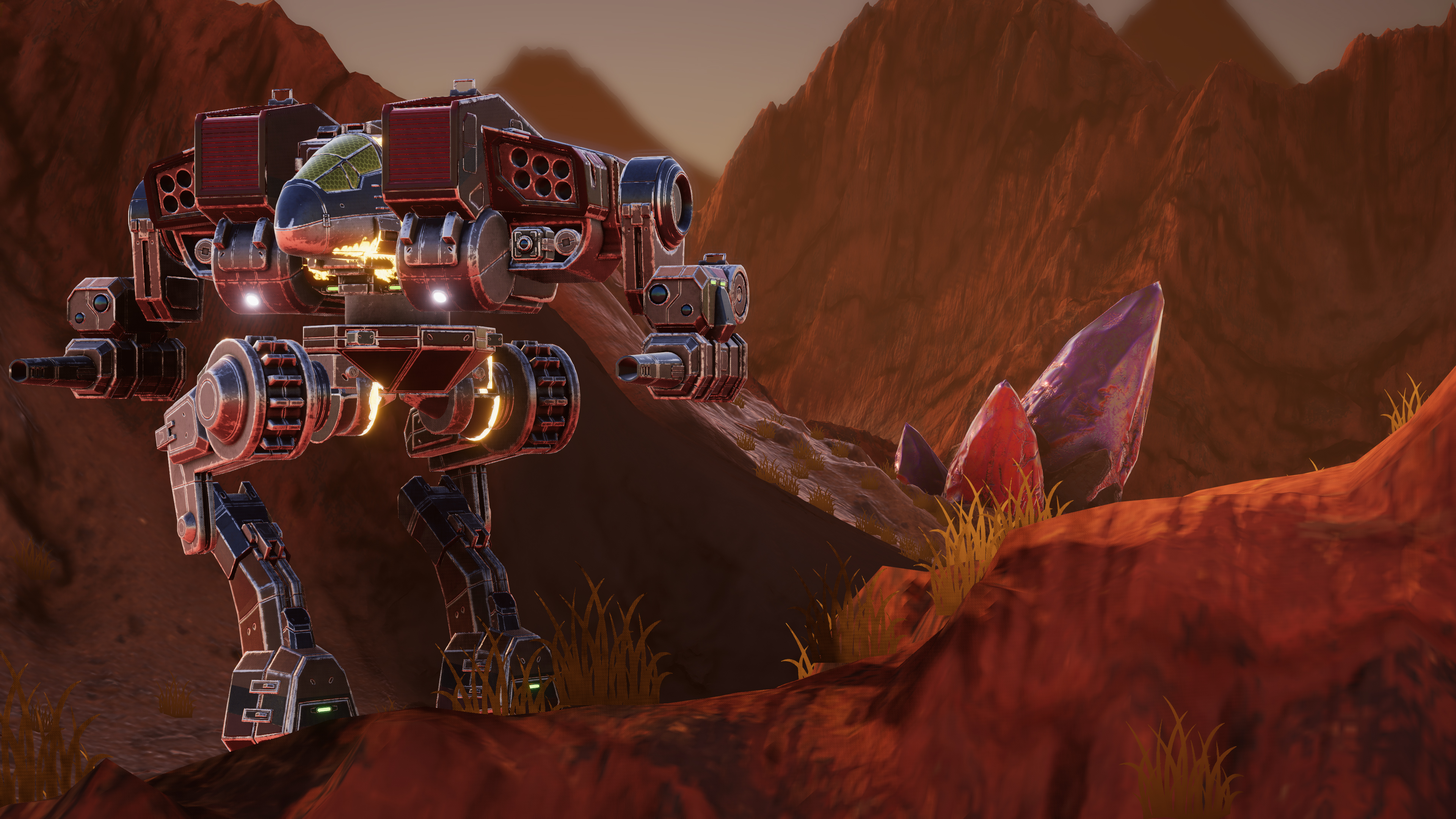 The next mech I intend to work on is the Owens. I feel like I haven't been fair to that poor little light mech, we showed it in an early trailer and that was the end of it, you all never saw it again. The reason for that is because it wasn't textured in a way that was compatible with our colour changing scripts. It was basically unusable two weeks after it was put into the game. Oops. Anyway, I'm looking forward to showing off more of the mech rebuild project once I get further along. I don't have an ETA but do keep an eye out, I won't be as secretive with the next mechs as I was with the Cougar. Should be a really exciting time.
The News Drop
Thank you all for staying so patient with us as you've been waiting for news. You may remember on Twitter and even on this platform I teased that there would be a news drop of biblical proportions. This is my biggest failure as a developer, I had a lot to learn. The news drop is still happening, don't worry. However, I won't be teasing it anymore, it'll happen when the assets I want to show are ready, maps included.
Though I'm not ready to show off any new assets today, I would like to let you all know that I'm ready to announce a mech I was originally saving for the drop...
The Arctic Wolf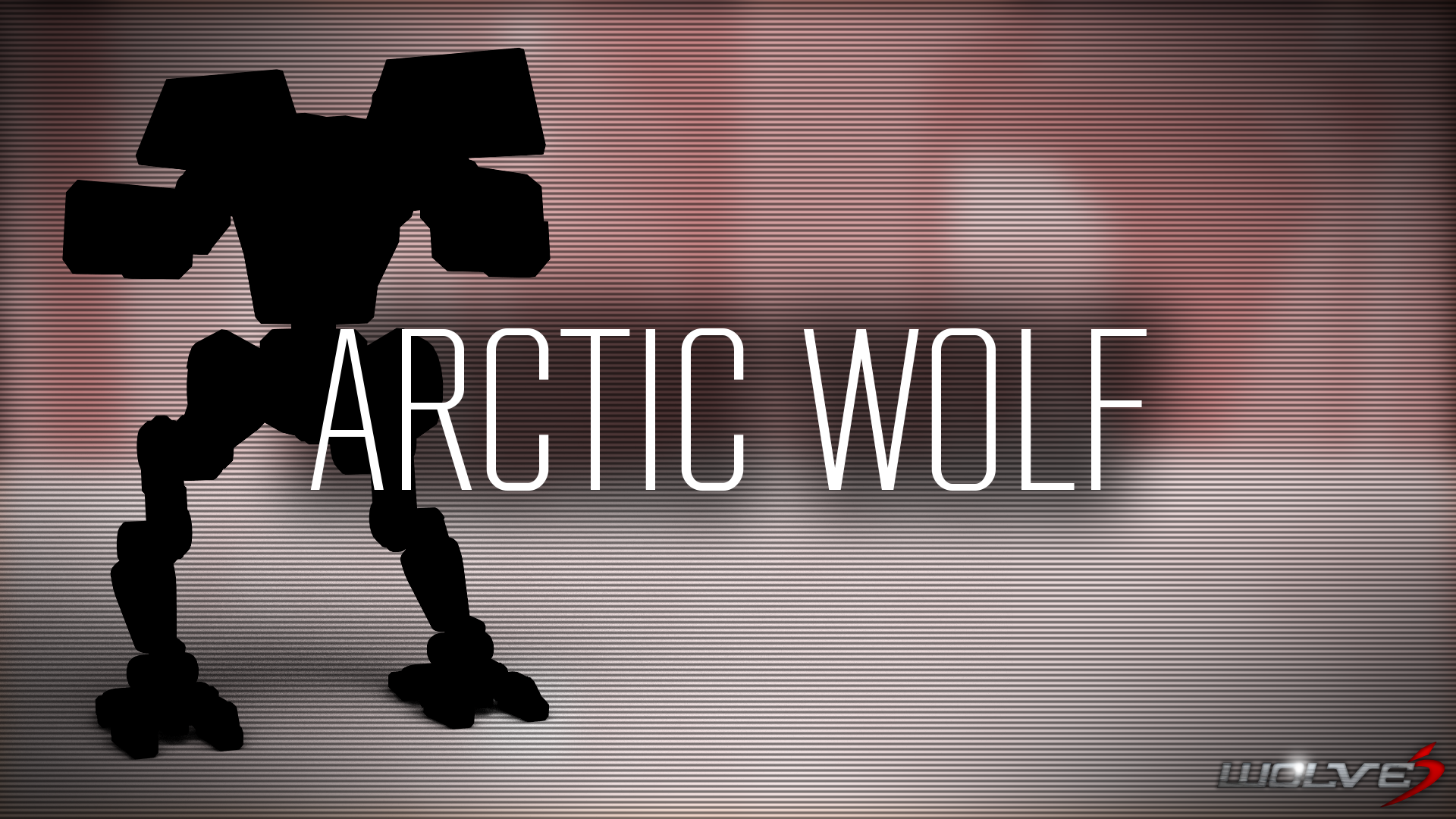 The Arctic Wolf. It's a medium mech that I've been planning since the beginning of the project. I loved it in MechWarrior 4 and love it even more in MechWarrior Online and I think it'll do really well in a MechAssault atmosphere. It'll be the replacement for the Belial. It'll give you the twin gauss madness that MechAssault players cherish.
Fun fact: That silhouette in the picture you're seeing is actually the model I intended to show, it was almost ready to go but is now pending a complete rework just like all it's metal brethren. I'm really excited to get to work on it again and I'm hoping to have it ready for early next year.
What's Next?
We're continuing to work hard on this game despite some of our setbacks this year, our resolve is strong and I'm really proud to be working with everyone who's been involved with the project over these past couple years and I have faith that we'll be able to get this game in your hands soon.
As for what's next on the development side, We just moved the game into Unity 2018 4.0 and we also adopted the HD Render Pipeline which may not mean a whole lot to you, the reader, but I'm already noticing significant upgrades to our shading and post processing. We'll have to put out a gameplay video soon, that is after we've fixed the many things that moving into 2018 broke. Whoops, we're back at it again.
Glad to see you made it, kid
This year was tough on me, tough on us. Honestly it feels like we haven't made a whole lot of progress, but that's not true. My art has been improving at a rate surprising to even myself and the project is looking so much better now than it did this time last year. Animations are smoother weapons feel great again mechanics are starting to be reintroduced and now we can focus on moving forward.
So yeah, things are going pretty well, they could always be going better, an example being that we don't have any 2D artists that can help us concept environments right now. Props like buildings and rocks have been dead in the water for quite awhile. But honestly fangame development is really difficult, not because of the inherent difficulty of actually making a game, (though that is plenty difficult) but because we do this in our spare time at a pace slower than possible with less people than is optimal. That's not a problem exclusive to Wolves either, I've had the good fortune to meet and build friendships with many people in the development community who are working on Halo fan projects and this is almost always the case.
As I said earlier, despite difficulty, our resolve is strong. We are healthy, we play lots of videogames and morale is high. And that's in no small part thanks to the community who has given us their trust and support to make this game happen. It's beyond words. I don't know how to thank you for letting us make this game besides actually making the game. So we'll carry on. :)
Thank you all for your support and thank you for following the development of Wolves. -Ryan "Pajama Boy"
Information
If you made it here, I hope you read that thank you I put at the end there, you deserve it and I really mean that. Did you know that this is just a more detailed transcription of a YouTube video we released a few days ago? In hindsight, I should have wrote this first because that video is unscripted and you can tell. Anyway, if you would like to check it out, here is the link. Youtube.com
Also, if you're new. First of all, welcome! I hope you enjoyed the article, you can follow the game's progress and chat with us on Discord and Reddit. Links to which you'll find here: Wolvesgame.com Come say hi!