Wiki-Based-RPG 0.6 released!
I'm proud to release the next version of the Wiki-Based-RPG, which has been uploaded and should be authorized soon.
As always, you can also get it right from gitHub.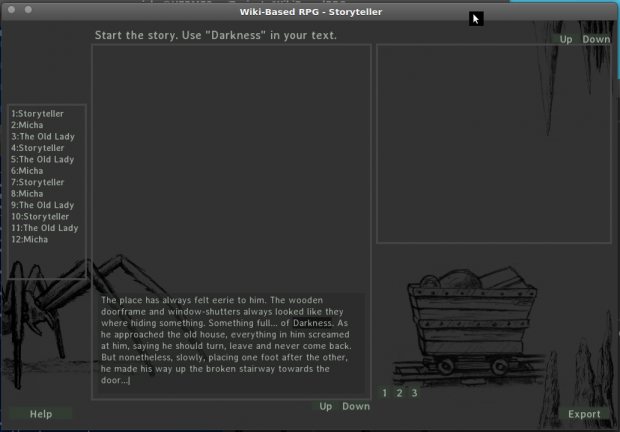 What's new:
Clients can now randomly get the chance to choose the word for the storyteller to continue the story with. Give him the word "Orange-Juice", and he'll have to deal with it!
Themes: There's now a support for (custom) themes added. The game comes with 3 standard ones, but you can change them all or add your own. Themes include images that are placed into the game as well as being able to change all of the game's colours. From now on, you can play with a theme suiting your story! (Check Readme on how to make your own theme.)
Languages: The game can now be translated more easily. Simply make a new language file and the game automatically finds it and gives the players the language as an option.
I Enhanced the text input a little. Not only are unicode characters now supported (see Readme for details) but you can finally click-to-edit the text and use the cursor up/down keys.
Bug fixes, bug fixes, bug fixes.
Translators:
Translating should take less than 30 minutes.
This game is best played in your own, native language, but I only speak so many.
I'd greatly appreciate it if you could translate the game into your own language. I tried to make it as easy as possible by putting all the language strings into a simple file.
There's also example files in German and English.
Instructions on translating are in the Readme in the .zip file.
So send me your translations!