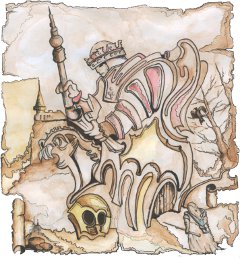 We are more than happy to see our game on Desura, and this is not the end of development! We have spent few more months on a new version and now we are ready to share it with you!
But no need to worry! Warlock's Gauntlet is still a top-down spellcasting game, yet more fun! Let me quickly summarize new stuff:
open-world adventure -- now it's up to you to decide whether you want to hack and slash monsters as quickly as possible or maybe spend little time on improving firepower. If you're feeling lost, there's always a world map available.
updated graphics -- we added colourful lights, so now levels are even more diverse than before.
town -- as usual: you kill monsters, you get gold. But now when you get gold, you can spend it on more powerful spells and build a powerful character!
improved balance -- now you have to be careful when leveling up, because winning with single spell is no longer an option!
And if you are into pictures rather than words, this is what Warlock's Gauntlet has to offer!
Don't forget to leave review and check out our Facebook page!