Hey guys, we are back with an update of our progress lately. For this update, we are showing what happened in the last month and a half, some new team members, art, and more. We plan on updates approximately once a month or whenever something update worthy is completed.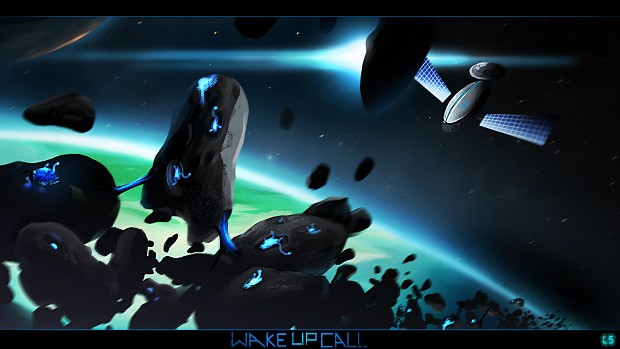 The picture that you see above is our new logo picture, and this was one of the first things we did in our absence. We decided that Wake Up Call needed a new image because of all the new progress and such, and we also decided that a new, better image was required. We first revealed the new logo here two weeks ago, and we believe this logo is really cool and we are very proud of it.
Now, onto real news. The event that sent us into a development void was really a wake up call (no pun intended) for us and especially me. Some of our trackers have been with us since the beginning and we cannot help but say we value your support immensely. That said, this void we entered into was not fruitless and is not over yet, but we wanted to share some of our progress so far to keep our fans coming back.
New Team Members:
First up, we have some new team members. This one is kind of obvious because, when you lose team members, you have to get new ones. I am sure some of you remember Luciano Giacomozzi, our new composer. Well, right here is his first piece for Wake Up Call; an inspirational piece that might premier on the OST, but right now it serves as some awesome motivation.

The Call (Wake Up Call OST) by Luciano Giacomozzi - Indie DB
In addition, we have added several other team members, including Dan Antselliovich. Dan is actually a friend of mine from school, and he is serving as the script-writer for Wake Up Call, and I am so happy to have him on the team as scripts are really not my thing. Perhaps you all will get a sneak peek of his writing in our next update.
Next, we have added several people to the art department. First up is James Kelly. James is a Character Artist with some indie experience and a recent graduate from College. Next, we have Rynell Amigable. Rynell is another Character Artist just out of College and we are happy to have him. Next is another Character Artist, Michael Fitzpatric, who is also a Junior Programmer and specializes in concept sculpting. Next we have Phillipe Jaubert, a Rigger and Animator which we are very happy to have.
Finally, we have also added a Programmer, Justin White. Justin is a very experienced C++ Programmer wanting to get into Unrealscript, and we are so happy to have him too, along with all of the new people.
More media:
In addition to the Wake Up Call Logo you saw and the new music, we have some more awesome media for you. This media includes one of our full concept sheets for the XR15 Assault Rifle and the most recent render I can show of Kyle.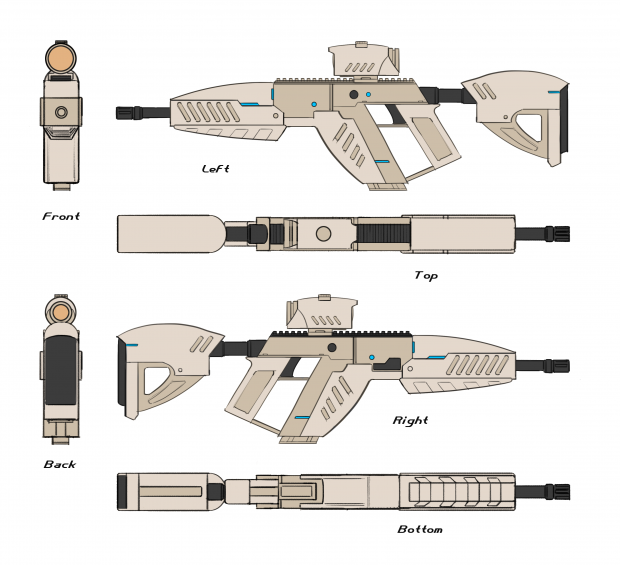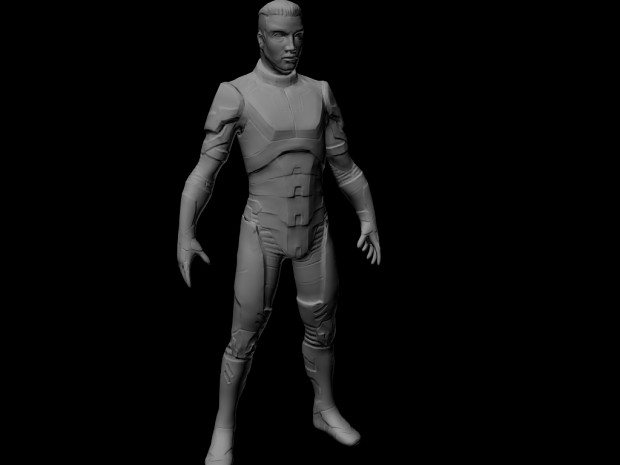 What Are We Working On Now:
We are working on many things. We have Tori being made in 3D space, Kyle is being rigged and prepped for animation, one of our levels in the game is being blocked out, weapon concept sheets are being made, Max is working on depicting scenes from the actual game's story arc, the Script is being made, more music is on the way, AI and gameplay code are progressing, and I am assembling a cast for our characters from some local people I know. What does all this mean? It means two things. One, the game is coming along well, and two, we are gearing up for a Teaser Trailer that will hopefully provoke interest in the game and perhaps blow the socks off of a few of you people.
Final Note:
As a final note, I wanted to tell everyone that we need more people. We need artists specifically, but, if you do anything related to game design, send us an email at contact@leatharianstudios.com. We are interested in working with you or anyone you know who wants to help out. Also, be sure to download and listen to Collin's music here:




Battle of the Heart - Indie DB

Awakening, New Song on Wake Up Call OST - Indie DB

Main Menu Theme - Indie DB
Thank you to all our fans and supporters and people who read this article!
Until next time, this is Millan Singh, Project Lead, signing out--