---
Following the uncharted paths of open source gaming deeper into the unknown, this week we bring you an interview with a whole lot of people involved with the development of the upcoming game 'Unvanquished'. It is considered the "spiritual successor" to the well-known, sadly dying, team-oriented FPS 'Tremulous'.

Helping me compose this interview is 'kharnov' since he has a tendency to be very verbose and I have a tendency of being on vacation at the moment of this writing. He handles a lot of things for the 'Unvanquished' project including public relations, community management, and developer recruitment. Also will also be joined by 'cron' the art director and '`Ishq' the engine maintainer who'll be talking on behalf of the core developers team, as well as some explanations from 'velociostrich' the 3D modeler and 'Gireen' one of their 2D artists. They've all decided to pool their responses together for easier reading.
Also be sure to check their their forum for any additional information. Pleasant reading!
---
Usually I ask our guests to tell us something about themselves first, so...
How did you get involved with open-source game development and what does who do for this project?
kharnov: "I'm not entirely sure where I began. I was a Tremulous player for approximately five years before being sucked up into the wonderful world of open source development. I suppose that if you play games in the broader open source community for long enough, you eventually find yourself drawn into some form of development. Becoming a well known member of the community and having the appropriate skills will get you very far, considering that projects are being forked all the time. My advice to new open source game developers would be to ensure that your project starts on a solid footing, and that you avoid dealing with any shady characters early on. Fickle dreamers are in great abundance, you want to instead associate with people that can commit time and effort to the production of something cool.
In the project, we have a variety of developers from different locations globally. We all coordinate via IRC and our forums. I suppose you can call me the meta-project head in the regard that I handle all tasks that are not directly part of the game itself. As for those that direct the game portion of the project, we have `Ishq as the coding lead, and cron as the art lead. Outside of us three, we have many other developers ranging from professionals to skilled hobbyists, and all of us put in many hours of volunteer work to make each release possible. There's a somewhat outdated credits list on our site, but once we move over to our new site, we'll have a freshly updated one."
core: "Unvanquished was formed by a mystical group of developers with magical powers of coding and animation, originally evolved from the Tremulous community. Our team is a mix of professionals, students, and hobbyists, as well as a devout cult of open source fans."
---
Now then, let us talk about the very beginnings of Unvanquished.
What were the main inspirations and how did it came to be?
core: "We wanted to pick up where Tremulous left off, to modernize the look and feel of the game and add our own flair to the RTS/FPS hybrid style of play."
kharnov: "I suppose you can say the impetus behind the early stages of our project was the slow death of the Tremulous community. The game did not receive a single update for six years, and during the meantime, the community was lead on with rumors and false promises of a fabled 1.2 release that ultimately never happened, and will not happen at this stage. Tremulous is the game that we have split off from, and with each successive release, we become increasingly different from it. We suppose that by the time we reach beta, it will be very hard to tell that we are descended from it. By the time we have passed beta, we will be to Tremulous what Tremulous was to its predecessor, Gloom."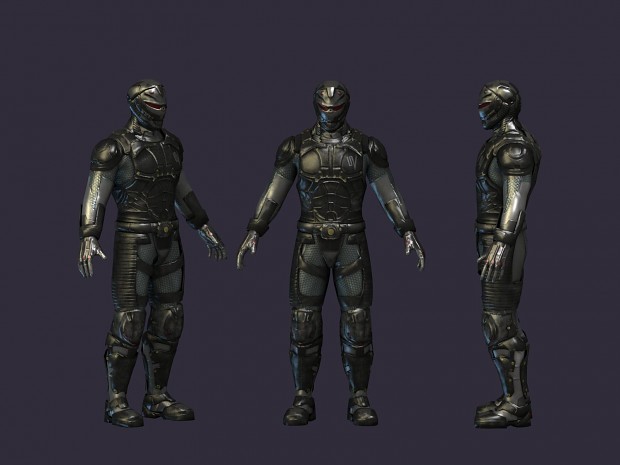 New human model; work in progress
So what are your plans in the long run? What will you be aiming for?
Do you have any gameplay mechanics which you'd like to experiment with?
kharnov: "The underlying theme of our game will carry on the traditions of the two projects that preceded us chronologically, which were Tremulous and Gloom. This means that we will create a game that pits aliens against humans, and features game mechanics that are a blend between the FPS and RTS genres. However, those two fundamental tenets are very open to interpretation. Thus, there are many directions to take the game in, and we have been discussing them both internally and with the community. Since we originate from the Tremulous community, we have already implemented several game balance changes that the community has desired, and we've made sure that they worked. Beyond that, we'd like to add in new weapons, new alien forms, and new structures for both teams. We may tilt more towards FPS, or we might swing further towards RTS. This is an exciting time for our project, as we have plenty of room to experiment and feel out our direction."
core: "We want to push Unvanquished as a competitive e-Sport, by increasing player and fan interactivity with new site features for clans, and through hosting competitive events. We will also be streaming coverage of LAN events in the near future.
We aim to improve the team assault mode of play by making it more aggressive and dynamic, as well as eventually introduce new official play types, including a single player mode."
---
Since the game is based on ioquake3,
any particular reason you decided on using this engine?
core: "Our engine, Daemon, is a fork of OpenWolf (ET:Xreal with a lot of ioquake3 ported to it). We enjoy the modular rendering system this provides, allowing us to support low-end rigs, as well as getting great looking visuals using the Xreal renderer on higher-end GPUs."
kharnov: "Our engine is actually only partially descended from Quake 3. We have many additions ported from elsewhere, such as from ETXreaL, where we derive some of our more advanced graphical capabilities. In addition, we have contributed a great deal of our own code too, mainly in the form of new features and bug-fixes. In any case, the Quake 3 engine is very well known, has abundant support, and is easy to support and produce content for while still being powerful."
artists: "Our engine isn't really ioQuake3; it's the result of taking bits and pieces from nearly all the FOSS Quake 3 derivatives that are out there to give us the tech we want. As a result, our work-flow is much more modern than a typical Quake 3 mod. The process starts with a high-poly model, unwrap and texture it, create a low poly model from that, unwrap that, bake normal maps, rig, animate, export, write configuration files and shaders, and test in- game. It's not a proven workflow, either. Most of the team has opted to stay on the bleeding edge of Blender releases, which, although stable, has caused a lot of headaches with the export process. Its a common, known engine, with many experienced users within the Open Source community. Through the existing engine changes we reached the best time-benefit ratio for the development."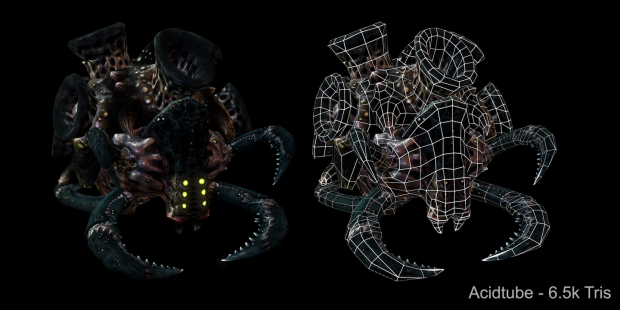 Alien Acidtube?

What about the art style and map design?
Do you have a soundtrack? What's on your to-do list?
In what way do you believe these decisions will affect the players' experience?
kharnov: "I'll mostly give this question to cron and `Ishq, but I'll say that a soundtrack is in the works. I've recruited some musicians off Mod DB, and we'll see where it goes. My aim is to produce a soundtrack that can be used in- game, in addition to promotional materials and even distributed as a standalone album to raise awareness for the project."
core: "Our art style for the human team is a near-future, Spartan, worn out look, simple yet elegant. Our aliens are sort of a gruesome and fierce mix of insectoids and reptilians. Map design is based around multilevel maps with series of corridors and rooms that allow for strategic building placement. Our soundtrack is eerie, ominous dark ambient and dark industrial.
We'll continue adding graphics enhancements to our renderer, providing better lighting and performance though more optimization. We also plan to support the IQM model format, which will also offer some performance benefits.
We want the game to look really scary, with detailed aliens and immersive environments with full featured 3D map textures, all the while keeping play very smooth for online multiplayer."
artists: "Probably the biggest problem so far has been that we have not had any sort of comprehensive backstory or concept art to guide us in the design process for a given model; when creating new models, the idea is to make them functionally similar if not visually. The basic silhouettes have remained the same, though whether this was intentional or not is debatable. Ultimately, the game should play (for the time being) similar to Tremulous, though we aim to deviate from Tremulous gameplay as time goes on."
---
Anything you can tell us about the rivalled in-game sides; the aliens and humans?
How do these factions differ gameplay-wise? How much do you predict this to change later on?
core: "Aliens are highly mobile melee fighters. Individually, they are generally stronger than the humans. As a team though, the humans have the advantage with their ranged attacks, despite their limited speed. Human building is fortress like, designed to kill intruders, while alien defenses slow down and injure human attackers. Both teams must build strategically throughout the map to guide their team to victory (or miserable defeat!). Many changes are planned, including new weapons and gear and new alien classes."
kharnov: "The aliens focus more on movement tricks and close-ranged attacks, and as a whole are more independent of their base. Meanwhile, humans have to rely on their base for ammunition and health, and while they are weak and slow physically they have access to a wide array of weapons and improved armor. At the moment, we're still deciding how they will change later on. Either team might stay fundamentally as-is, but a desirable goal is to diversify them further and add new content to both."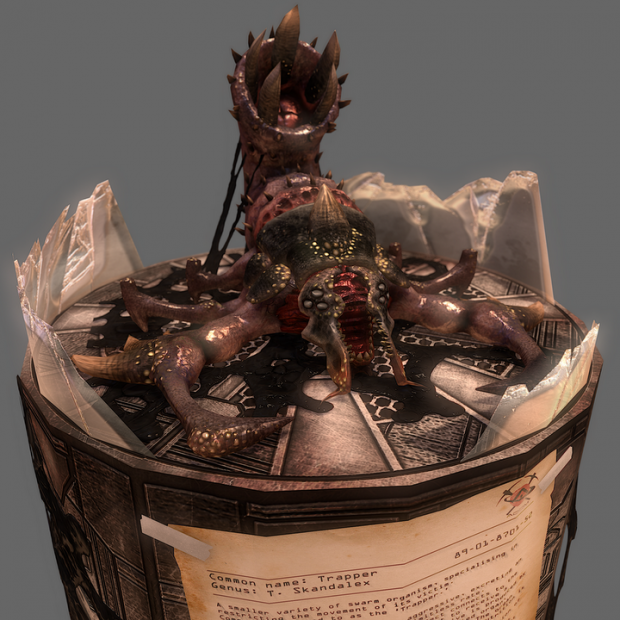 Nice spider tube thingy...... friends?
Considering it's in Alpha,
I presume you'll be needing more contributors to push the project?
What are some of the things you will be needing and how can people go about helping out?
kharnov: "Oh, loads of things can be done to help us out. First and foremost, the easiest and best way to help us out would be to play the game and tell your friends about it. Form clans, compete against other clans, discuss the game on our forums and elsewhere. In terms of development, we are recruiting in several positions, and my advertisements can be found on multiple locations, including Mod DB and the Polycount forum. Those interested in developing for us should contact me directly and ideally provide their portfolios or some other project they've worked on."
artists: "Our team is highly reliant on one-another; some finished models have been the result of as many as 4 or 5 people (not counting those offering feedback, of course). As such, anyone who can contribute to the project in any way along the content pipeline is a valuable asset to the team: concept artists, low and high polygon modelers, animators, and even programmers."
core: "Yes, we want you! We need all sorts of people for everything, really. We always need coders, 2D and 3D artists, web devs... With the open source nature of our project, everyone is invited and encouraged to get involved and contribute however they can. We may do some fundraising down the road to pay for various services and tools we'd like to use."
---
Just how big is the existing community?
Did you receive any good feedback thus far?
Mind telling us what was the biggest complaint you gotten so far and how it worked out in the end?
core: "Our community is still growing, with a couple hundred people following us pretty closely. We've gotten a lot of great feedback from some highly skilled players, and also from a couple of the former Tremulous developers."
kharnov: "We have a couple hundred people on the forums, and many more who follow our progress from the Tremulous community and elsewhere. Clans are starting to form, and we have several clans carrying over from Tremulous. Many people have been migrating in recent months, and we're increasingly being seen as the successor project. Feedback so far has been great. I've ensured that we have lively discussions with the community, and that we talk to them on a regular basis. In terms of complaints, there have been a few minor ones regarding preliminary versions of assets, but they have always been promptly fixed by the next release."
---
Anything else about the game you'd like to share?
Something I didn't remember to cover?
kharnov: "We are very optimistic about our future, and have good reason to be. For the last six months we've made an alpha release on the first day of each, and in each release we've added plenty of new visible content in addition to code changes and other new features and fixes. We expect this to go on for the foreseeable future, and we believe that regularity, in addition to an open exchange with the community is one of our primary strengths. For instance, our development channel on IRC is open to the public, and people from the community can join and watch us or provide feedback. We don't believe in hiding anything from anyone, and there's always something new every month to keep people interested. Unvanquished six months ago looked much different than how it looks now. In another six months, I expect to say the same thing."
core: "We have a lot of big changes planned for the next few releases. Come hang out with us in our chat room to discuss them, #Unvanquished on the FreeNode IRC network, and also sign up on our forum and follow us on Twitter @UNVnet."
---
And that would be all. Many thanks for agreeing to participate in this interview and good luck with your project!
kharnov: "Thank you! On behalf of the team, I'd like to express our gratitude for the interview. Please, feel free to keep in touch!"