Beta 1 was released yesterday here on IndieDB, you can download it here and give it a try.
The Beta version of the game is quite a bit different than the Ludum Dare Prototype that was released. I didn't keep a full list of the changes, but here are a handful of the big changes.
- New configuration file, that has options of the sounds, music, level generation, and language settings.
- Multiple Language support, there are detailed instructions for translating the game in the ReadMe file. If you translate the game please send me the translation and I will include it in the next version. Thanks to HunteR4708 I have a Russian translation already.
- New controls, that make the game faster to play, and more immerse.
After you have played a few round, you may want to open the configuration file and change the objects and pickups number, you can really change the feel and look of the game this way. For example here is a screenshot of a level with over 9000 pickups.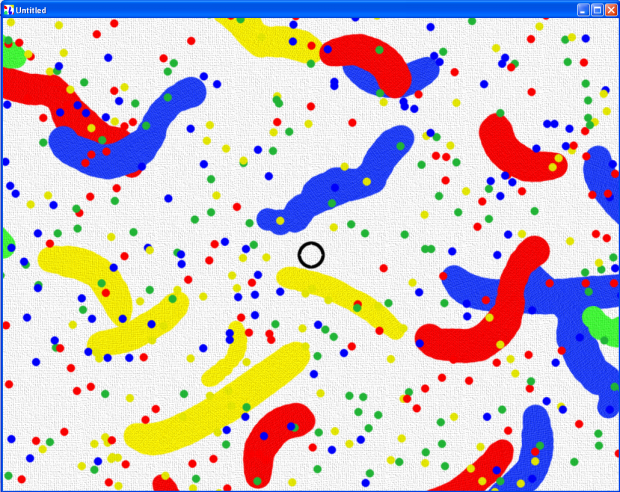 Whats coming:
- Online High Score table, you will have the option of submitting your score to the High Scores website. It will submit a number of your variables as well, such as how many objects and how many pickups you had the map generate with.
- A Graphical User Interface that will be optional, and off by default. I don't really want the game to have a GUI, but if its an option it can only be a good thing. The GUI will have all of the numbers you would expect to see.
- Abilities for when you are each color (thanks for the suggestion Paradigmthefallen). I'm still working out the details but the idea is that each color will give you an added ability that you can use to navigate the level.
That is what I'm working on adding now, if you have an idea or comment about Untitled let me know, if its a good one I will implement it.