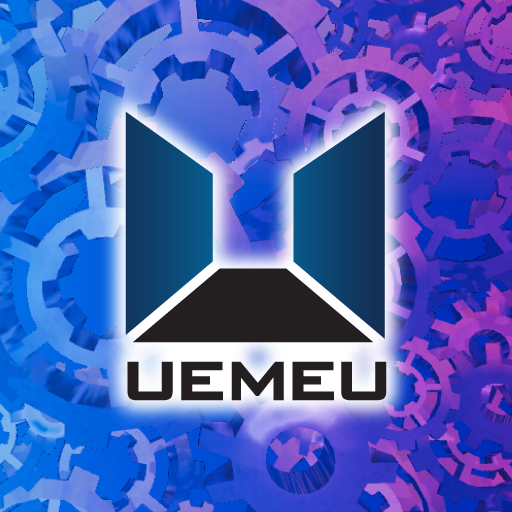 v0.23.0 Wondrous Walrus
New Features:
Added new Thruster Ue-nique.
Thrusters are special objects that are attached on other shapes in order to give them a force in a given direction. Can be activated with a keypress.
Scale from one-direction.
Players can now enable an experimental mode of scaling from one direction. It can be toggled on from game options panel.
Added new UemeU maps in the "Showcase" menu (Screenshots here):

Art Kills
Bad Henry
Neon Tree
The Castle
Landrunner's House
The Dungeon
Winter Castle
UemeU Alpha Gallery
Improvements:
General improvements and redesign to the game menu.
Added name changing instructions to profile menu.
Added "Open Directory" and "Refresh" buttons to inventory panel.
Added an indication that something is happening when leaving the dressing room.
Added a tip icon that the help menu might be out of date.
Made the path from object spawning tutorial section in the tutorial more obvious.
Re-balanced volume sounds sliders.
Bug Fixes:
Fixed a bug where buttons on physics mass sliders didn't work.
Fixed a bug where chat didn't open properly when starting in play mode.
Fixed a bug where exceptions were thrown when trying to add particles to a group.
Fixed a bug where teleporter exits and entries "active lights" didn't update properly when portals were deleted.
Fixed a bug where players were unable to enter multiplayer after checking "Do not remind me again".
Fixed a bug where items didn't delete correctly from the inverntory after the "Are you sure" prompt.
Updates:
Revamped Character Controller:New character controller is under development. I'm pleased to inform that with the progress made so far, the basic structure of the new character controller will be ready really soon. It already feels more responsive from the old controller and added many new movement abilities. In the meantime Marlon is working tentatively on keymapping new cool animations for UemaN.~ Stathis "Roiku"New Basic Movement Features:
Walking
Running
Sprinting
Jumping / Double Jump
Crouching
Sliding
[Secret]
Revamp Saving / Loading System:In order to fix a bug when loading worlds where loaded objects were falling through the floor we re-wrote the save system to load content in batches. So instead of loading an object giving it colour, material, special effects and so on, we now batched all the properties to load simultaneously instead of loading per object.~ Sam "Turbopig"Advantages:
More robust saving / loading.
More reliable loading in bigger scales.