Here's a highlight (personal fav) among the new features: The Car Smash!
You can now use cars as deadly explosive projectiles by smashing them into groups of enemies! The resulting blast is highly contagious and is likely to set off chain reactions, reducing surrounding enemies to a hot pile of bones!
Take a second to bask in the light of a screaming napalm inferno before reverting back to the ho-hum of splitting dudes in half, vertically. That's why we call it Turbo SMASH blade!
Can you dig it?!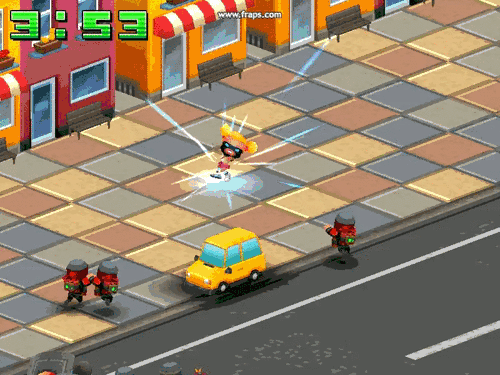 Features included so far
1. 5 types of enemies, including:
- Thug = A reactive little pest who'd be a real pain if he wasn't so fun to kill!
- Samurai = A more intelligent unit that'll avoid your attacks and think twice before striking.
- Gunslinger = A crack-shot coward that'll fire at you from a distance with his trusty handgun.
- Kamikaze = Packed with explosives, he'll run you down a 'splode right in your damn face!
- Goliath = Heavily armored, yet slow. He has the capacity to stop you in your tracks.
2. Dynamic Camera: Intuitively tracks the action so you don't miss a thing!
3. Combo System: Get combos by slaying enemies in sequence for maximum scorage!
4. Charge Attack: Charge your attack to deliver a more devastating strike!
5. Interactive environment: A-hem... Car Smash! (see above)!
6. Numerous other goodies, stay tuned!
What we're working on now
1. Level design (Level 1 - FIGHT!)
2. GUI
3. Timer/Health Bar
4. Sound FX/ Music
5. New Environments!
Don't forget to follow us on twitter (@turbosmashblade) if you want the latest news and updates.
Love,
ARCADE PULP