Design follows function
In the last article I introduced our next game TRI - an environmental puzzle game and the story and setting you will play within. We could have left them out and do a purely abstract game instead, but we love storytelling and deep atmospheric games. But mind you, it still is a game that we are going to do.
Portal's test chamber look suggested itself for a game like TRI, but it was copied too often nowadays. On the other hand this kind of setting is extremely convenient for building a game with less resources: You save on environments and textures, and the lighting and colour is always the same. There even could be no characters, probably everything is dead.
But the little storyteller inside us and the possibility to do even very fantastic games with minimalistic designs (like KAIRO does it, for example) lets us develop a loose plot around the game.
The first level we created plays in the rich men's quarter, with deep, age-old canyons, the poor men's cave, dusty prisons and catacombs.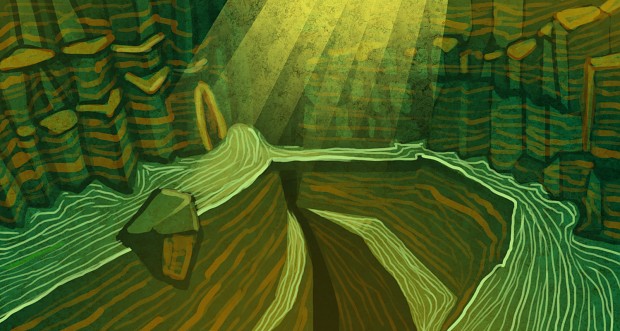 Minimalism ahead!
For the sake of gameplay and reproducibility we decided to work towards an abstract look that still can tell stories. And in the end the gameplay demands minimalism, as the the tris you build in the game cannot become solid and usable as long as there are obstacles and level geometry intersecting them – this means we have to chamfer edges and build much free space, rather than spending too much time on details that stand in the way.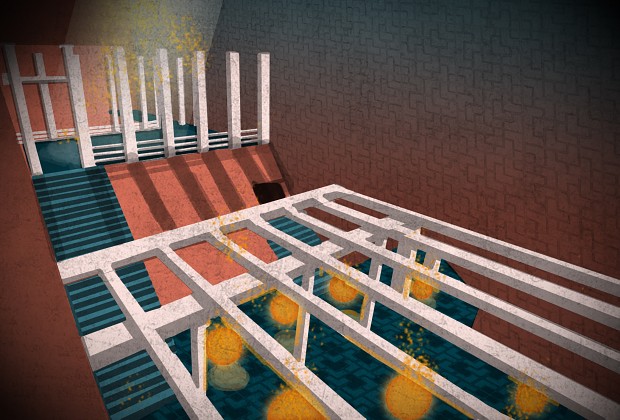 So I hope we find a design that allures your imagination but does not look like we needed to save on polys.
Colours and lighting are two other points where I really want to improve my style. I don't want the game to look like a child's birthday party, but strong contrasts, colours, gradients and textures is what I'm currently working on. The rooms are designed with a method we learned by creators from animated movies; e.g. they create a certain light situation for every scene. We don't just look where to put doors and windows, but also create interesting shadow and lighting situations. This makes a room more interesting, although there are less details or even texture repetitions.

Well, this is THE PLAN. All the pictures you see are mockups after 3dsMax renderings I edited in Photoshop a bit to help me create our art style. The next step is making playable and fun levels that look as much like these sketches as possible.