It's been over a year, but I finally finished the new version of Through! I completely rewrote the game in the Unity engine, so now it's got a web version as well that hopefully Mac and Linux players will be able to enjoy.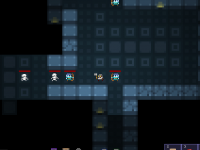 A lot has changed since the last version of Through, but the core vision has stayed the same. This is a simple and approachable graphical roguelike that contains lots of a depth, rewards careful play, and gets quite difficult (especially on the highest difficulty). Some of the items have been removed. Nearly all of the items have changed. All the enemies have been rebalanced to provide a more tactical combat experience where the player will be taking on waves of enemies at once rather than individuals.
If you've never played the game, now is a great time to jump in. I have added simple in-game tutorial messages (that are easy to turn off for experienced players) to get you up and running in no time. Veteran players will find the game has substantially changed from when they last played it, but I think all the changes are for the better.
Please tell me what you think and tell me any bugs you find either in the comments or message me here, or email me at willswannack@gmail.com.