Those of you with a good memory may recall the teaser trailer for The Spire which we released almost exactly one year to the day. The feedback was immense and caught us by total surprise, at which point we committed ourselves to seeing the project through to completion.
Videos & Audio - The Spire Game - Indie DB
That was well over a year ago now and we haven't been releasing regular updates but we were working tremendously hard behind the scenes as can be seen by the fact that the team has doubled in size and we have completed a publisher demo for The Spire. Our company name has also changed from Raw Games to Undrawn Reality to reflect a new phase in our corporate development.

We recently demonstrated this to members of the press and industry at the LAUNCH conference in Birmingham on November 16th. The demo received an excellent reception across the board and we have had some fantastic comments and follow ups as a result.
Of course we also want to share our hard work with all of our fans and so December 2011 is going to be the start of more regular community updates. We have kicked this off with some in game screenshots from the game along with some great concept art pieces to give you a real feel for the atmosphere we are looking to achieve.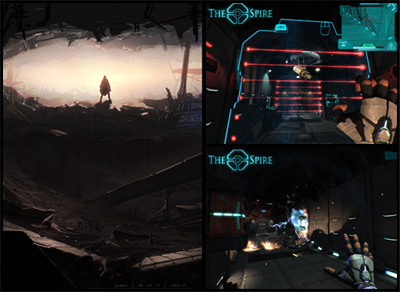 We also have a brand new look website and a community forum under construction which shall be opening soon. To coincide with the launch we are adding the finishing touches to a brand new video showcasing the gameplay in action and something else rather special!
Get involved with our new Facebook and Twitter pages as we love reading your comments and there will be plenty to be looking out for in the coming months.