We get hit with a lot of questions and while we do try and answer everyone individually as emails and comments come in, it does put a bit of a drain on time. So, we've put together some of the most common questions we tend to get for those who are curious.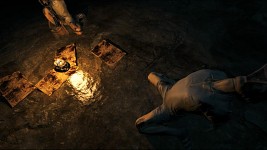 Q: When will the game be released?
A: Early Access starts on May 22, 2014!
Q: Will I be able to use my Xbox 360 controller?
A: Yes!
Q: Will you support motion controllers for those actions performed in the trailer? (wood chopping, smashing heads, carrying birds)?
A: We haven't announced official support for motion controllers yet, but we will be aiming to support the most popular motion controllers as the virtual reality platform develops.
Q: Will this game run on my computer?
A: We haven't released official hardware specs, but we aim to have the game run well on as broad a range of hardware as possible.
Q: Will there be co-op?
A: Co-op is not planned for the initial release. However adding some form of co-op play will be one of our focuses after the initial release of the game.
Q: Will there be a peaceful mode / Can you turn off those mutants?
A: Yes. You will be able to play the game as a more traditional survival/exploration simulator, with the horror elements effectively disabled.
Q: Where can I buy the game?
A: The game will be available on Steam, as well as from our store on the game's website: Survivetheforest.com. We are also looking into other different options for selling the game and will update this question when things are confirmed.
Q: How much will the game cost?
A: The initial Alpha release will cost $14.99.
Q: Who is making this game?
A: Endnight Games is a 4 person indie studio based in Vancouver, Canada. We also make significant use of outside contractors, depending on production needs there have been anywhere from 5 to 10 people working on the game at a given time.
Q: What game engine are you using?
A: Unity 4.
Q: Why does it look so good for an indie game?
A: With our background in VFX and the use of some very talented artists/coders we have been able to aim as high as we can for the visuals of the game.
Q: Will there be a wiki for the game?
A: Our official wiki will be on Theforest.gamepedia.com
Q: Will I be able to build shelters anywhere; such as a hill, on the island or in a cave?
A: Currently you can build structures almost anywhere above ground.
Q: Will there be more than one type of shelter?
A: Yes, you will be able to build many types of shelters, from basic leaf-covered to large wooden cabins and more.
Q: Will the axe be an item I can craft in the game?
A: Yes, it is possible to craft simple axes from items in the environment.
Q: Will you be able to climb trees or mountains?
A: Currently you cannot climb trees, although enemies in the game will make use of them. Access to mountain areas will be blocked off in the first alpha release.
Q: Can you build defensive structure or bases in the caves and underground?
A: Not at this time.
Q: Are there different suits you can wear like camouflage or ghillie suit like things?
A: There will be clothing you can craft, as well you can cover yourself in mud/leaves as camouflage. Everything will be made from items found in the forest.
Q: Are there bows and arrows in-game?
A: Not at this time.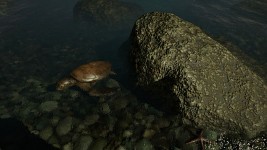 Q: Can you hunt and kill animals?
A: There will be different small animals you can hunt.
Q: What kind of environments will there be?
A: There will also be different environments based on North American forest. The environment will include caves, swamps, lakes and mountains.
Q; Can you scavenge from your plane?
A: Yes you can.
Q: Can you play as a female character?
A: Not for the initial alpha release.
Q; Why don't you guys give more regular updates?
A: We are a very small team working tirelessly to get the game finished. We get carried away making the game. :)