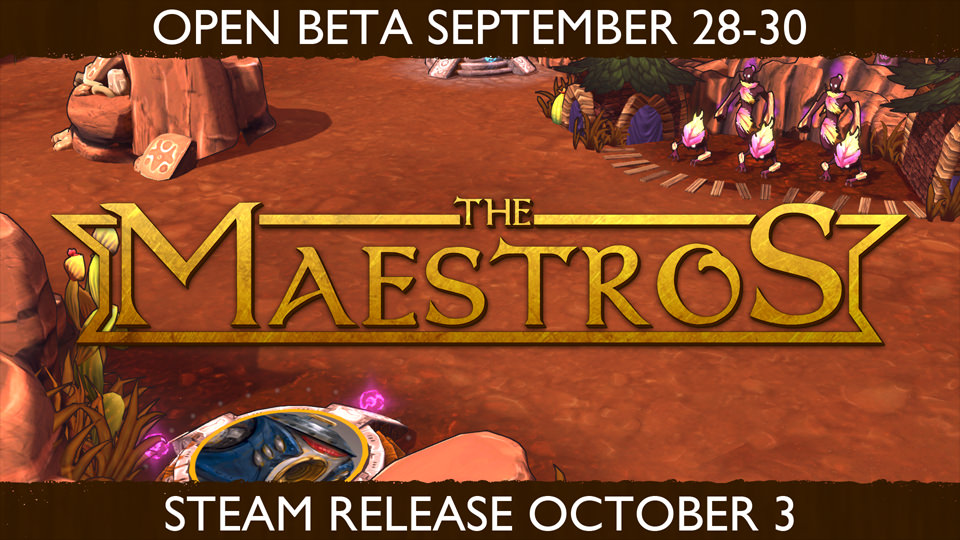 The Maestros, our multiplayer action-strategy game inspired by Warcraft 3, Pikmin, and innumerable custom games from similar titles, will hit Steam Early Access next Wednesday, Oct. 3rd. To give players a chance to test out the game, we will run an Open Beta Weekend starting Friday, Sept. 28th.
Steam Early Access Details
Release Date: Wednesday, Oct. 3rd
Platform: Windows
Language: English
Pricing:
USD
Full - $12.99
Launch - $9.74
CDN
Full - $14.49
Launch - $10.87
GBP
Full - £10.29
Launch - £7.72
Open Beta Weekend Details
Start: Friday, Sept. 28th at 5:00 pm PDT / 8:00 pm EDT
End: Sunday, Sept. 30th at 5:00pm PDT / 8:00 pm EDT
Keys grab keys here, while supplies last. Keys received for previous closed betas will continue to work.
Available Content: Open Beta players will be able to play all commanders from our first faction*, and leveling will be capped at 5 for all players throughout the weekend. Three maps will be made available: Sacred Arena, Sunset Isles, & Fissure
*note: players from closed betas will keep all commanders they previously unlocked