Hi everybody! We wanted to give everyone an update as to what we are doing right now at Team Desperados with "The Last Shoga". Some of you may have read our last article in which we showed you some of our awesome concepts for our hero and various scenes of the game. If you haven't seen them already you can head over there here. When you have a team of really talented people you tend to get things done at a very high quality and a lot faster, and we are blessed to have such talent here. For now, I'd like to show you our hero, fully modelled!

While our hero has certainly mastered many of the skills required by the Shoga Clan, he becomes too confident in his abilities, giving him an arrogant and somewhat rebellious personality. He cares not much for order, or being told what to do, and sometimes he even loses control of himself. Although he has some flaws, he is by far one of the strongest warriors of the Shoga Clan. But with a short temper, he is definitely not someone that you would want to meet in the dark alleys of ancient Asia.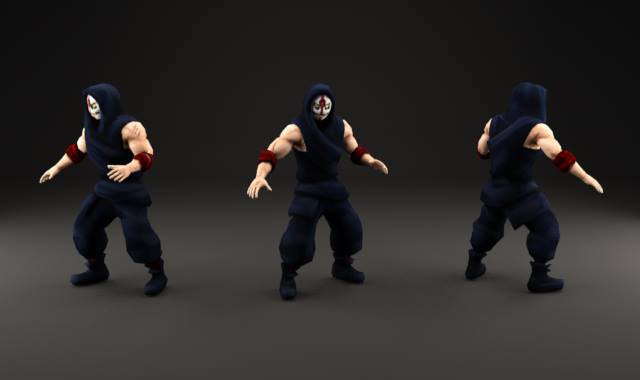 With regard to the creation process, the absolute crucial part here was to have a more or less final picture of the character before you start modeling. We are fortunate to have a very talented concept artist who created some sketches and where only after a few iterations and adjustments everyone was happy with the overall look and style. Having the concept in mind the modeling and texturing went pretty smooth. As our main target platform is mobile we always kept an eye on the poly count considering the overall detail of our game world as well as the camera logic, i.e. how close is the camera to our character.
The next tricky part was and still is to animate the ninja and make him believable. This is still work in progress and we are continuously improving the overall motion, locomotion and timings when testing the animation in game.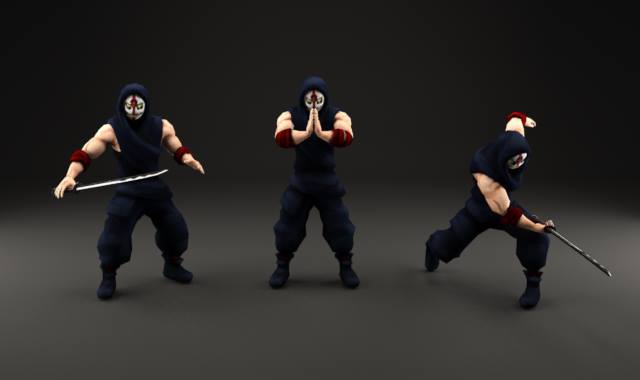 Here are some technical details: The model consists of approx. 3.000 triangles and 1.600 vertices. Texture size is 512x12 plus a separate 128x128 texture for the weapon. The rig / skeleton is built up of 30 bones and we have already added a number of basic animations (idle, run, combat) while more are about to come. An interesting feature we are also working on is a sophisticated ragdoll system integrated into our character that allows us to physically simulate the body and limbs when being hit or dropped to the ground.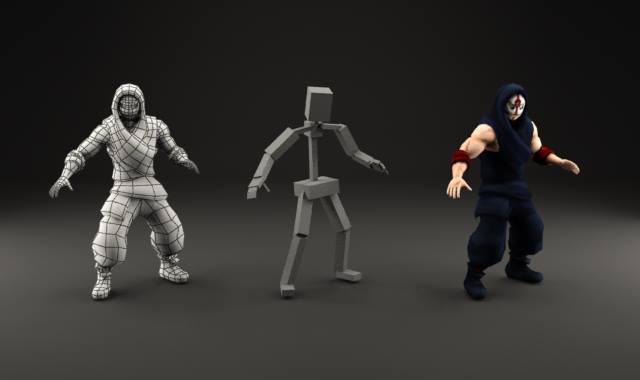 We spent a lot of time discussing, designing, iterating on this character, so I hope that you like it. If you have any thoughts, feedback, or comments or just want to say hello, just drop us a message or post a comment! All is highly appreciated!
Thank you for reading and be sure to watch our game to get the latest updates!