Howdy! We've been working away, despite the holiday (Thanksgiving). To say the least, we ate hearty. Besides stuffing our faces, here's what we've accomplished during the month of November:
---
HARBOR PROGRESS
Continuing work on the West Trading Harbor (working title), it has since improved. Previously, what was shown in the screenshots of October's Progress was about the extent of what was the harbor. Now looking the other way, the area is contained! The buildings are obviously placeholder and the scene is still WIP.
This is the Harbor Lighthouse (WIP), spoils of continuing work on the harbor. In the gifs above, you can also see more of the harbor, at a distance.
---
Jon has continued working on encounters, particularly with guards reacting to crime. Now, when someone is detected committing a crime (in a scene with a garrison), a bell will toll and guards will start to appear!
---
MISC. GOODIES & BUG FIX
New cursor graphic:
Fixed: water now has refractions again! Thus, fixing some of the shader issues from one of the Unity updates.
Adjusted/increased radgoll forces from weapon hits.
We've been working on supporting lower shader LODs, so the game can run on a wider variety of platforms. Here's a preview: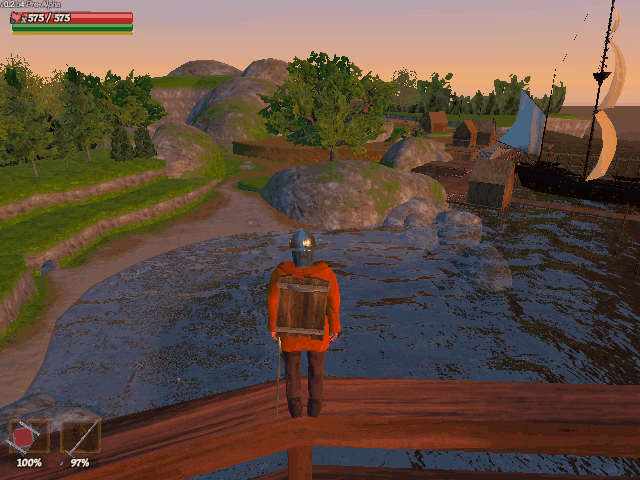 ---
We are still encountering the issue of our player's falling/passing through certain colliders and have linked it to using Unity's CharacterControllers… Jon has tested a preliminary Rigidbody motor and found no issues with passing through colliders, as of yet. We may have to switch over to this "Rigidbody motor" in the near future.
For some good news, we can now build the game again! For a while there, we had lost the ability to build the game, due to build errors, after one of the Unity updates and the many changes we'd made. So now we can actually start really testing this version of the game properly.
---
And we leave you with a preview:
I did a little landscaping outside of the Lava Cave. :)
---
Until next time.