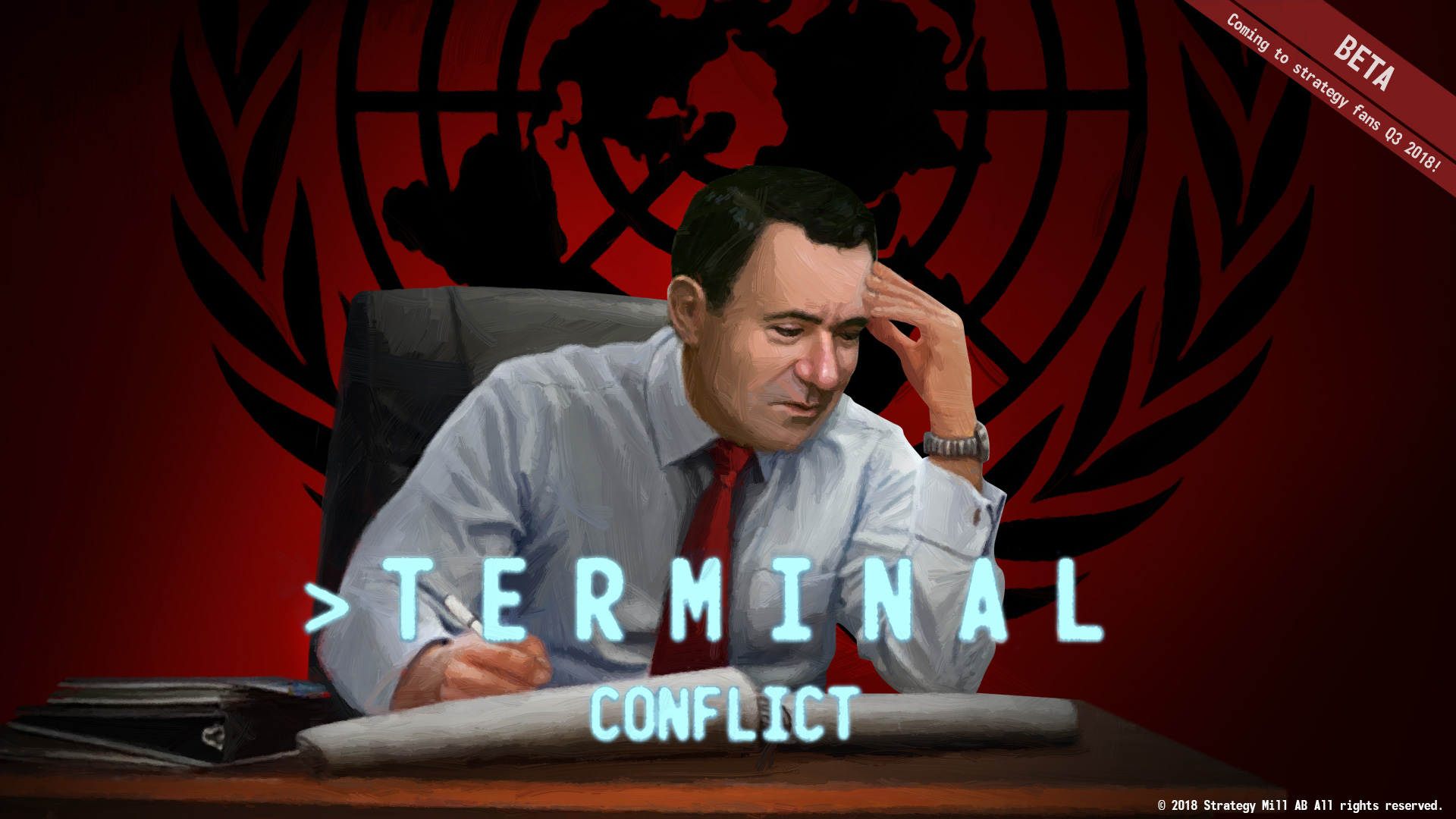 Comrade General Secretary,
It is with great pleasure I present to you the latest developments in strategy making technology! Our great computing scientists have improved upon the technology created by the decadent Americans, still unaware of our successful infiltration. The terminal in front of you is equipped with the latest improvements.
NEW Policies
Depending on timeline and theater, we and our American "colleagues" can now initiate faction unique policies. Our ally Comrade Mao, has begun his struggle to secure victory for the people of China by enabling a set.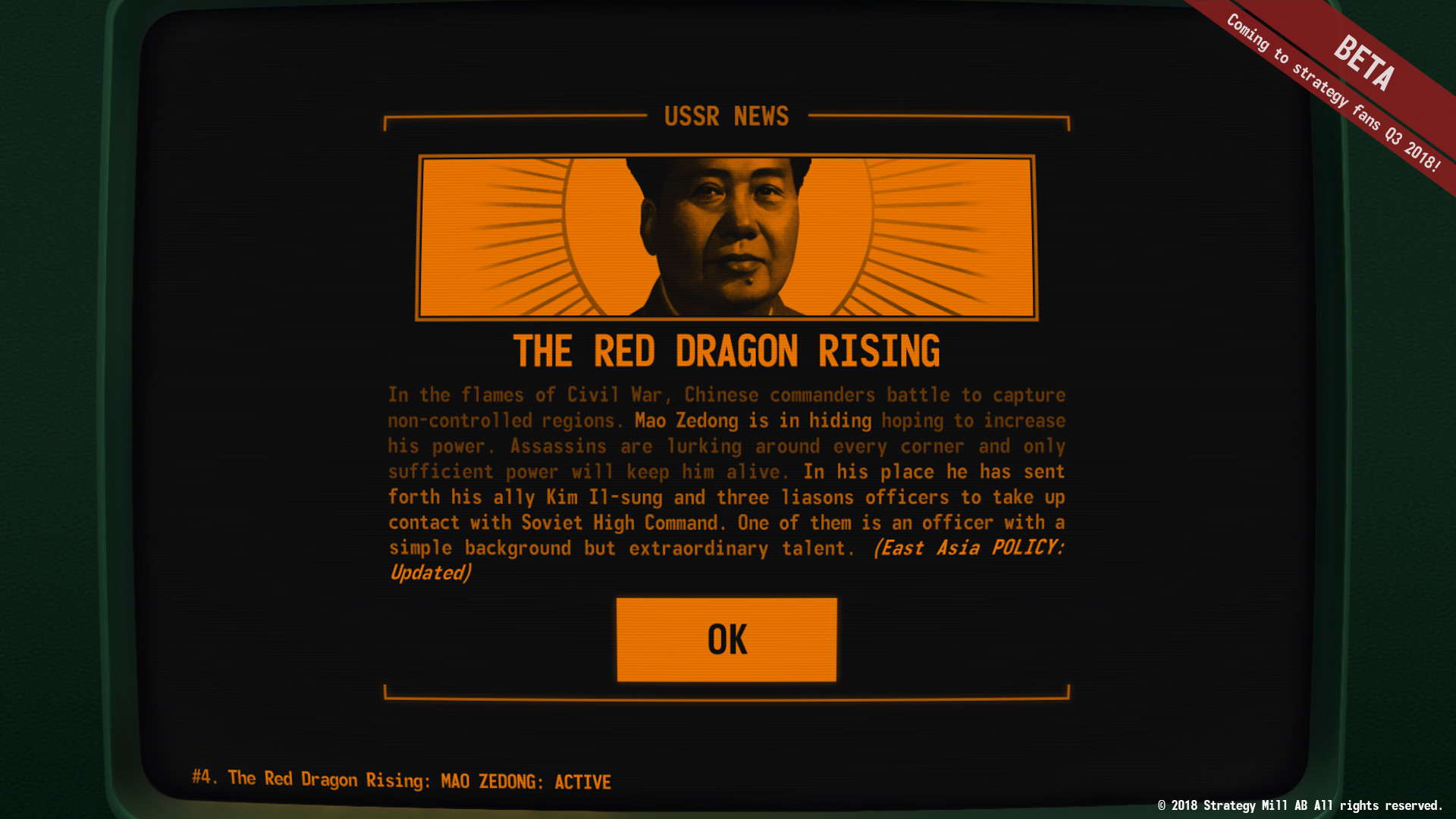 The Chinese Dragon, once an Imperialistic entity, is now rising anew - Red. This policy allows Mao to make peace in regions under communist control during Arms Race Focus. A feat that otherwise would be off limits but now is just another step in ending the Civil War in victory.
Mao also provides his own liaison officers at your disposal to coordinate Chinese Policy, bringing you decisions and more. The power of great leadership and well chosen policies. Let me introduce Peng Dehuai.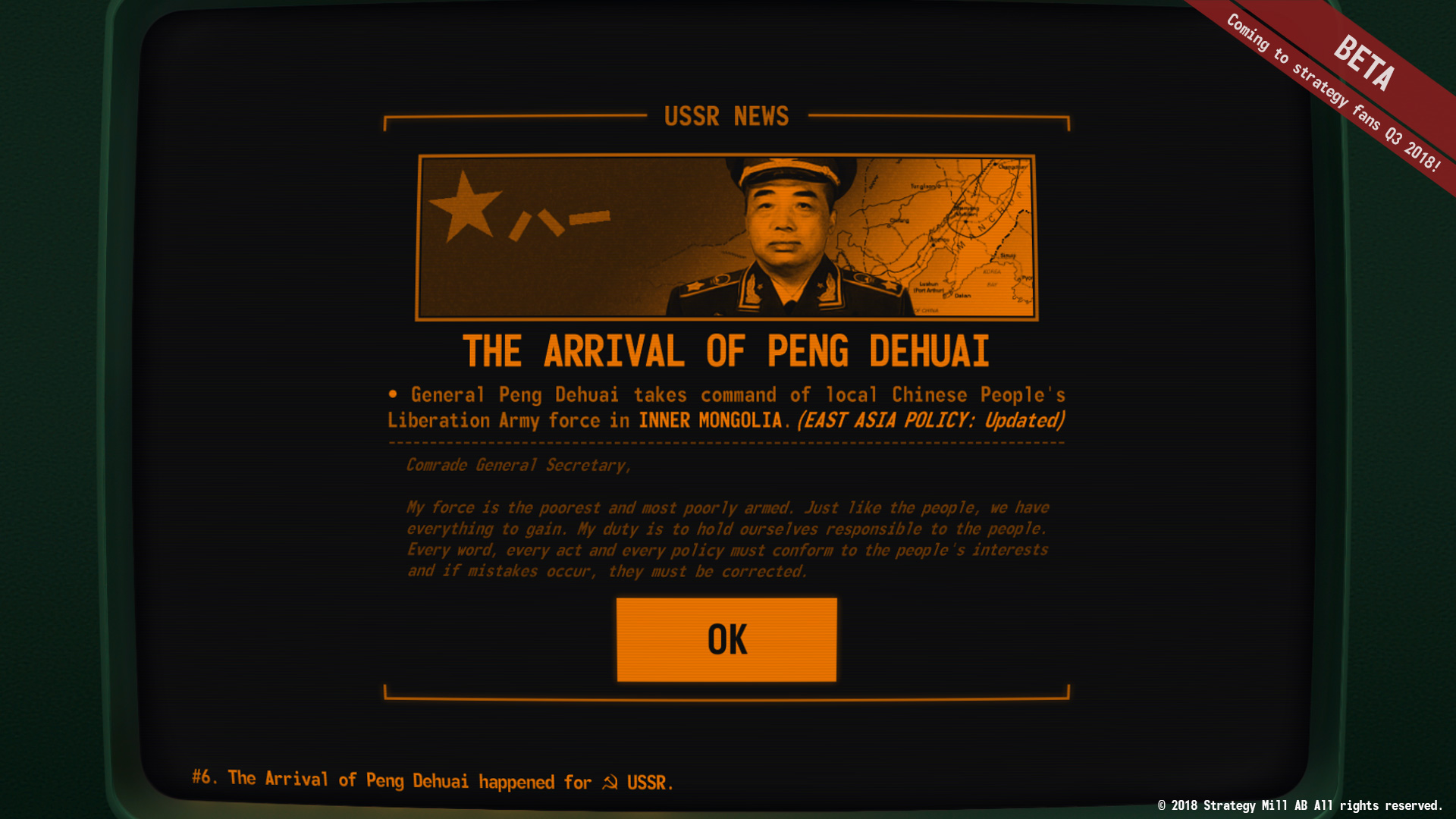 Updated World Overview
As for the updated terminal right in front of you, Comrade General Secretary, what you are seeing outlined is our administrations Focus, the East Asian Theater. There we also have two flashing regional decisions awaiting your attention.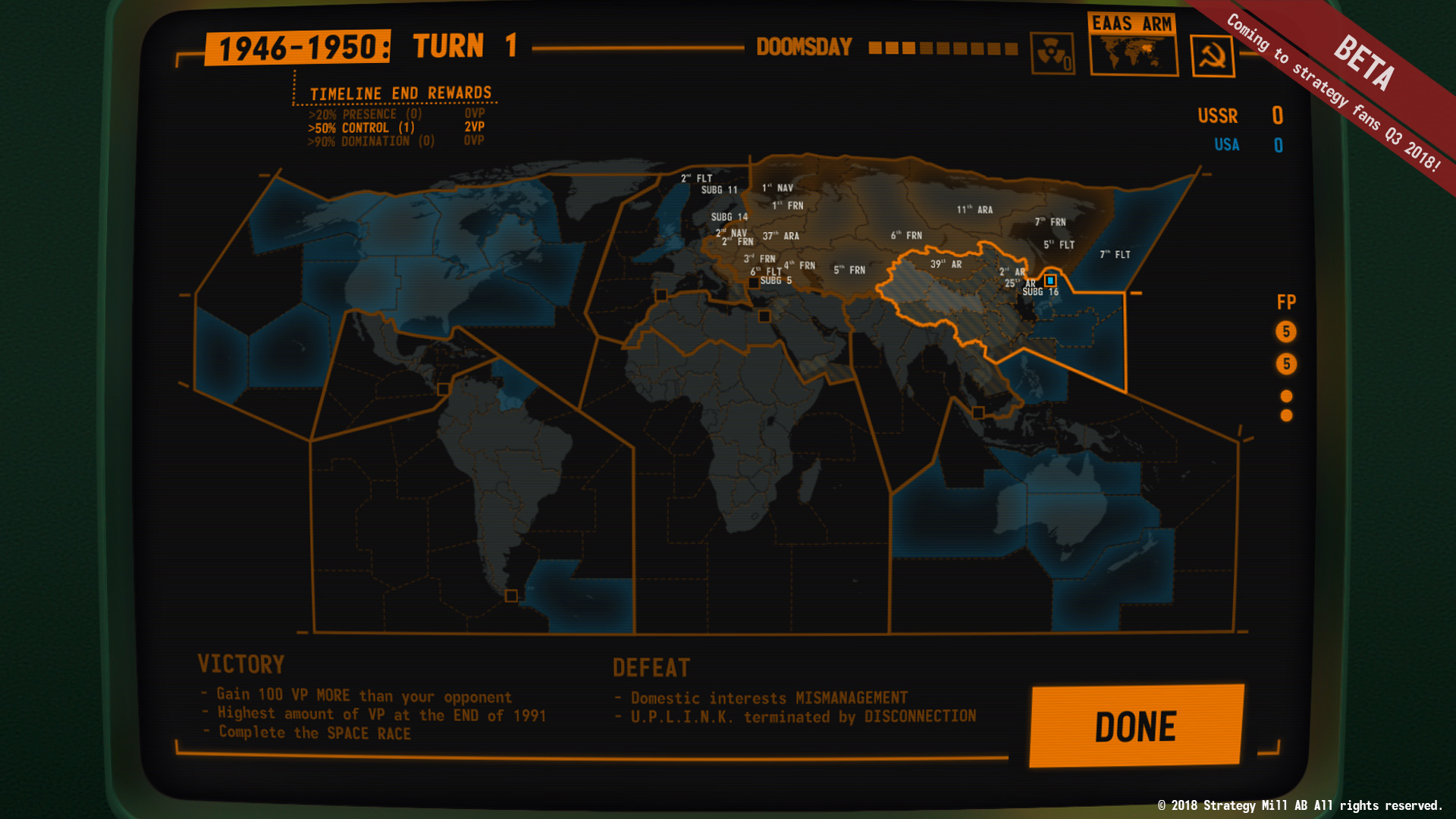 Enhanced Notifications
I would like to highlight the new terminal feature of "CLICK and HOLD" technology. When making decisions of outmost importance to the whole world, it is only natural for any leader to crave the best available information to secure the best possible outcome. With the new routines of the Mainframe Intelligence Remote Vector Identity Network in place, all things of importance can from now on be examined in detail, marked by a HOLD marker.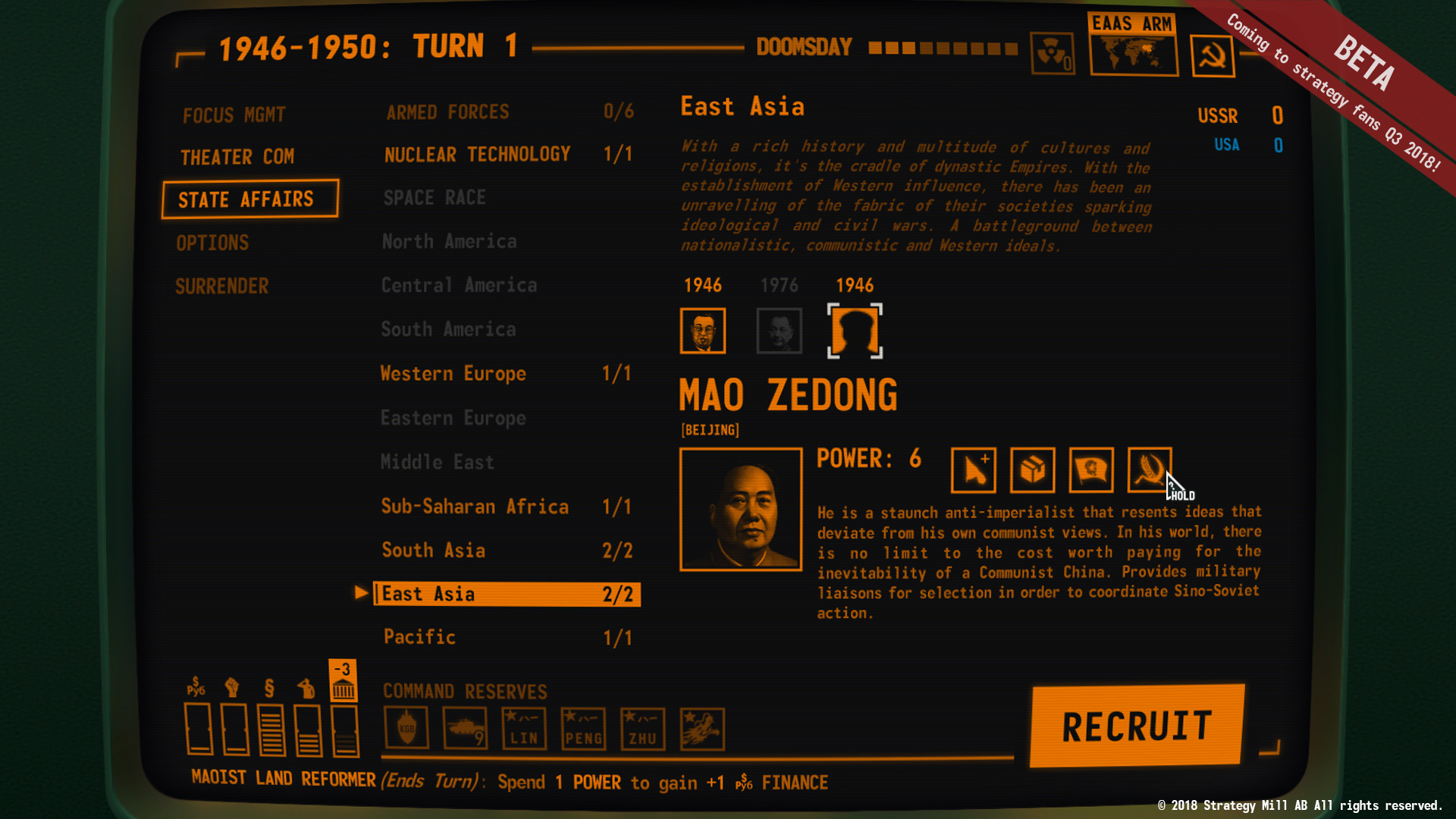 Estimating consequences, conditions and requirements for every decision you may make, we shall make the best of this information. May the Revolution continue for all the Workers around the world!
Thus, recruiting foreign leaders and their followers by implementing well planned policies is an essential pillar in statesmanship and we will be sure to update you on any developments. In closing, our heroes at the KGB obtained this terminal, glory to them and glory to the USSR!
Please accept my congratulations with sincere Bolshevik greetings!
Permanent Representative of the Soviet Union to the United Nation
******************************
We are incredibly humbled by having grown to 1500 followers on Facebook. Celebrations are in order while we work hard to bring your terminal up to code. Until then, make sure to get your voice heard on our Twitter , Facebook , or on Reddit. We'll always notice a fun, well written post anytime.