Two weeks and a half ago, we started a new development cycle for the game. Now it's time for a review.
One goal in this cycle was to paint the decorations of the park for a space-themed environment. Here are some of them:
Then we had to create some icons to illustrate the score lines at the end of the level: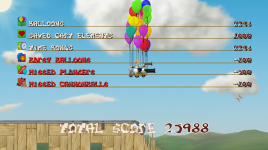 We have also built the levels of the first three series (21 levels), implemented the score system for the combos, added a power up that allows to shoot more plungers at once and another to repair the cart. Moreover, since there was time for some unplanned work, we were able to animate and colorize the text on the panel at the beginning of the levels.
Here is a video showing most of the new elements:
Finally, now that this hard work is done, it is time to… do the remaining work :).