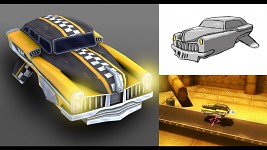 The final design of the Jetpods starts in a blank paper. A few pencil lines and a sketch is the origin of the final levitating car.
We scan the doodle to improve the quality using Photoshop and use the concept in paper as a guide for the 3D modeler in Studio Max. Every concept has six sketches (front-back-right-left-top-bottom).
When the High poly asset is done, we made a low poly version of the jetpod in order to import the model to Unity... and voilà!
You´ll see more images and artwork in our Steam Greenlight concept page. In the game will be over 100 different Jetpods to collect.