Greetings! We are Rusty Oak Games and we are making our second game called Streets of Cyberworld. This is our first devblog and there is so much to tell about the game that it would not be possible to include it all in a single entry. Therefore, we will dedicate this article for a brief introduction on what we have in the works.
Streets of Cyberworld is a digital card game wrapped in a gritty cyberpunk setting where four factions fight for the supreme reign of the cities of the world. You are the agent of these influential forces who hunts down the best contract work in the city to rise in the ranks of it's crew.
Evolution of Emmet, the Paper Cop (PenWo Corporation)

With Streets of Cyberworld we approach a card game through a strategic angle. In SoC, players battle for the control of the city by fighting for terrirory, aka districts. Player who wins 10 districts first – wins the game.
We are designing Streets of Cyberworld to be a competitive game with as little randomization and luck factor as possible. Therefore, in SoC players use two decks (character & support), two different types of resources (credits & information) and tons of unique character abilities to help them to acheive victory and feel in control of the flow of the battle.
Combat stage: Player chooses an attacking character, opponent selects defending one. Character with the bigger power wins the fight and thus, a district that it attacked. A full view of the battlefield (pre-alpha footage). We are currently working on the visual side of the game a lot: adding new shaders, making the battlefield more alive and dynamic. There are plans for a 3d version of the battlefield as well to make the map pop up, where a hologram of an actual city would be visible to players.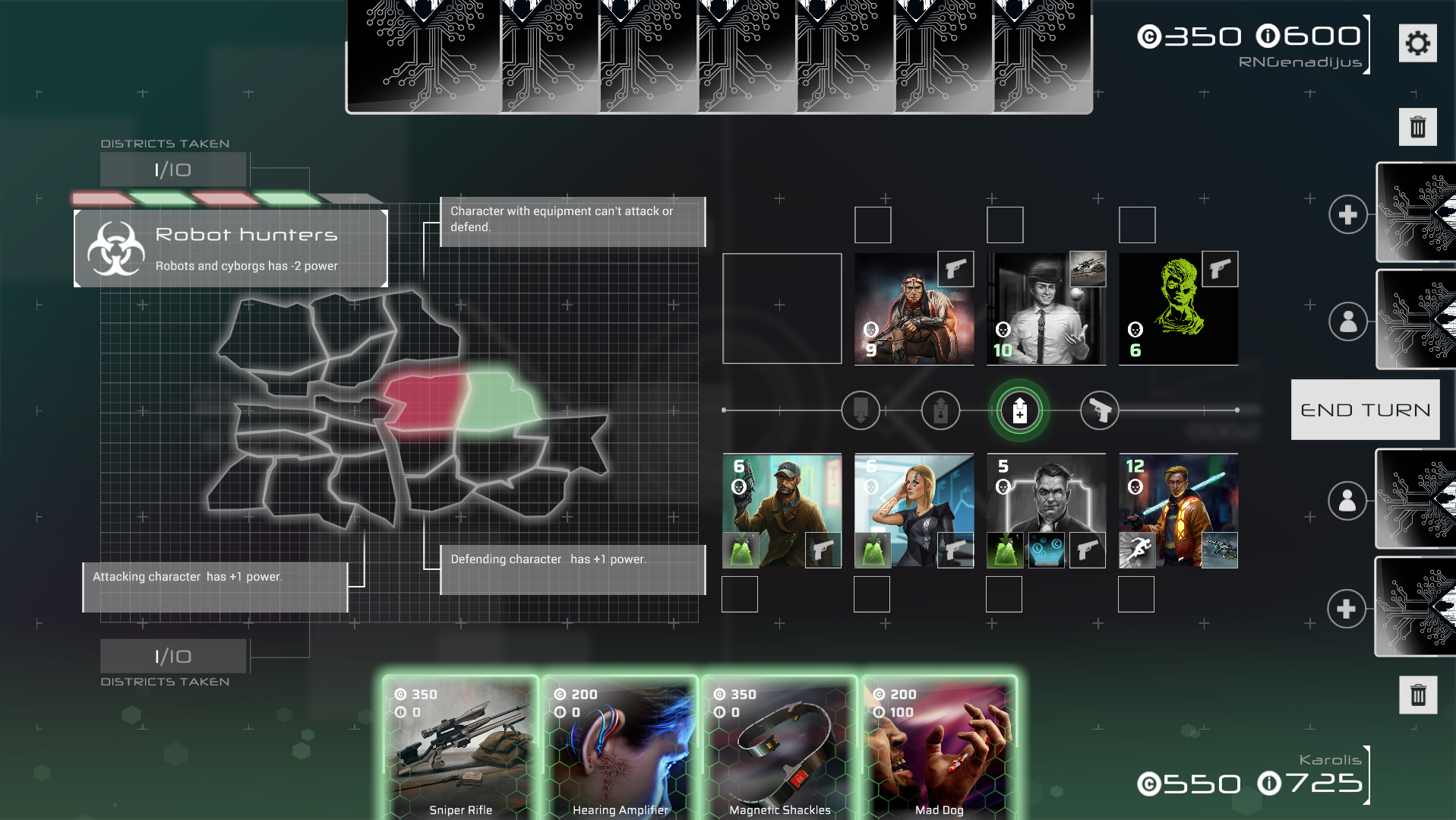 Thats it for this time folks. There is so much more to tell about the game: factions and skills, characters and their abilities, types of support cards, district modifiers, circumstances, all of it... We will cover all of these in depth in the future blog posts.
For now a big thank you for reading our baby blog and till next weekend, where we will dive deeper into the gameplay of Streets of Cyberworld itself! Cheers!

Rusty Oak Games

Contact us: info@rustyoakgames.com

Website
Twitter
Facebook
Instagram