June 19 2018
Digital Canvas Studio Stoopidthegame.com
The denizens of Digital Canvas Studio are hard at work at developing "STOOPID!", a digital card game in which players wage fast-paced madcap mayhem and shenanigans against rival landlords. Players burn Common Sense by playing one of five different kinds of cards, each with opportunities for greater silliness. Don Armstrong, creator of "STOOPID!" and the founder of Digital Canvas Studios invites you to support his project, currently on IndieGoGo. All backers above the base level will be given Beta access to directly help the developers to better tailor the title.

Digital Canvas Studios was founded in 2012, after Don lost one of his twin daughters to cancer, and needed to stay at home to care for his family. Don created and self-published STOOPID! in 2015 before graduating from the Interactive Media Design and Production program at Fanshawe College in 2017. His stated goal for Digital Canvas Studio (DCS) is to give people with autism and other disabilities a place to work and thrive within the game industry.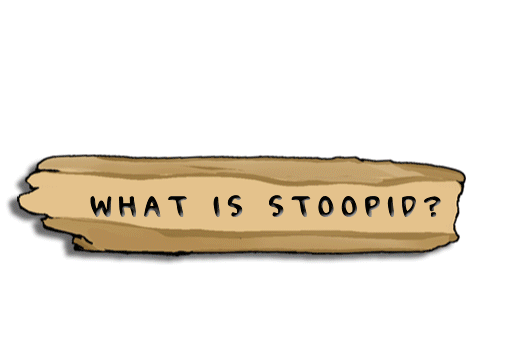 A Typical Game
STOOPID! is a very quick game with minimal set-up.
To start the game, players roll a d20, and the person with the lowest value goes first. Both players then draw a hand of five cards. At the start of a turn, each player draws a card and adds five CS to their pool. They may use their pool to play any cards, provided they meet the cost. They may also hold it over for the next round, as there is no limit to the size of their pool. Red skirmish cards can be played at any time provided the costs are met, while all other cards (unless otherwise specified) can only be played during one's turn. Each player may have a maximum of 7 cards in their hand, immediately discarding down to 7 if they exceed that number.
Players start with 20 health, and are eliminated from play once they reach 0.
Card Types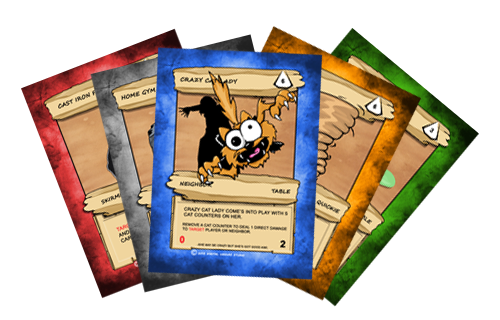 There are five card types:
Skirmish (Red) - These can be played at any time, and can do any number of direct actions (such as damaging an opponent).
Things (Grey) - These cards are beneficial to a player, as they enhance other cards.
Neighbors (Blue) - These characters are your offensive and defensive lines. Most have special abilities, and need to be turned on their side after becoming EXHAUSTED (IE, after attacking)
Happenings (Brown) - These event cards can alter the course of the game by altering the rules.
Accidents (Green) - Played on your turn, these cards have lasting effects for other players.

Gameplay
Main Phase - Players may play their cards or skip this phase
Scrap Phase - Players can declare that neighbors on the board are attacking their opponent.
Defense Phase - The player being attacked may declare which neighbor they are using to
block the attack.
After Phase - At the current player's turn, they may continue to play cards if they have remaining CS.
End Phase - The turn ends, and the next player begins their Main Phase.
Players may play skirmish cards at any point during their opponent's turn.
What's New
"STOOPID!" was originally released as a print-on-demand CCG, so the shift to digital cards necessitated a couple of tweaks. Obviously, the 3D maps which form the play environment are a novel addition, as well as the 50+ new cards added to the collection. With all the new and silly additions to the digital version of "STOOPID!", we hope you will consider supporting us by backing and sharing our project with everyone you know.
Thanks kindly
"STOOPID!" Dev team.

Follow us on Twitter and Facebook
Facebook - Facebook.com