A new patch (v.0.44) is here and brings finally Steam Achievements.
Currently there are 36 achievements implemented but more are planned!
The more standard achievements are the ones for beating the game with every character. There is also an achievement if you beat the game with every character on hard difficulty.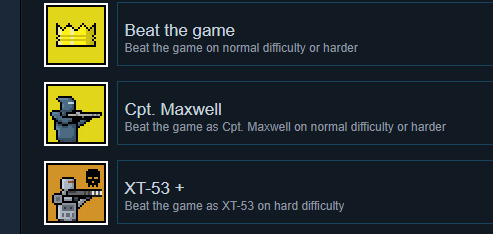 Also each of the challenges has its own achievement represented with a medal!

If you have a hard time beating the game, don't worry, there are also some achievements like exploring a lot of rooms, destroying a lot of enemies and collecting a lot of credits!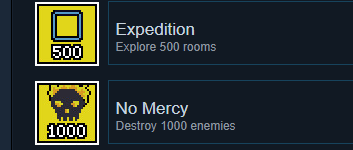 If you are very good in the game, you can take on an extra challenge for a speed challenge! Beating the game in under 15 minutes and under 20 minutes. In case this is to easy, there will be an achievement for under 10 minutes in the future! :)

And in case you want a really really hard challenge, try it without any item!

You can see all available achievements on this steam page:
Here is a detailed list of all changes of the patch v0.44:
added:
- 36 steam achievements
- achievements for beating the game with each character on normal and hard difficulty
- achievements for collecting credits
- achievements for completing challenges
- achievements for exploring rooms
- achievements for destroying enemies
- and several special achievements
changes:
- code rewrite collecting credits
- code rewrite for saving stats
fixed bugs:
- armor collecting for player 2
- lil buddy following player 2


The next patch is already in developement and will have more and improved animations as well as optimized keyboard and gamepad key binding possibilities!