Hello and welcome to StarMade!
Improved Gravity Physics
In older versions, the gravity physics were a bit buggy. The camera orientation got messed up, if the ship was rotating, and the character could fall off a fast moving ship. I revisited the gravity physics integration and fixed all those bugs. The character will now be steady on any surface, no matter how fast it is moving or turning.
Block Orientation
As promised, block orientation is now implemented. It will be possible to add weapons on the sides and back of your ship. Also, the gravity module will adjust the gravity given to the player by its orientation, so players can walk on walls or even on the ceiling of any structure.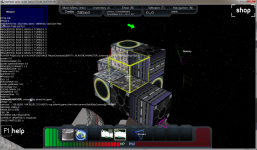 What comes next
I'll complete block orientation, integrate the space stations as a game element, add some compartments to the space stations, and add textures and icons for the new modules. There is also going to be a very special feature for space stations soon, so stay tuned...
Thanks for playing StarMade.